Conoce a los ganadores de THE BIZZ EURASIA 2023
En el vibrante corazón de Astana, Kazajstán, THE BIZZ AWARDS celebró su prestigiosa ceremonia de entrega del Premio a la Excelencia Empresarial del 25 al 28 de mayo en el Hotel Sheraton Astana. Este premio, un símbolo mundialmente codiciado de la excelencia empresarial, fue orquestado con el inestimable apoyo del Turismo de Kazajstán. El acto reunió a unos 100 pioneros empresariales de más de 30 países.
Como es habitual, WORLDCOB reconoció la excelencia empresarial de diferentes organizaciones de todo el mundo con el premio THE BIZZ, el galardón empresarial internacional más importante. En esta ocasión, los asistentes disfrutaron de una Recepción de Bienvenida el 25 de mayo, la ocasión perfecta para establecer contactos y conexiones.
Diferentes empresas de todo el mundo estuvieron presentes disfrutando de este gran evento, entre algunas de las empresas que fueron reconocidas en la última ceremonia se encontraban destacadas empresas de Kazajstán, entre ellas MEGA PLAZA, AIR ASTANA AIRLINE, "JUSAN MOBILE" JSC, e INTERNATIONAL MEDICAL CENTER ZHAS-AI, disfrutaron del protagonismo en este gran evento. También se rindió homenaje a empresas de todo el mundo que han dejado huella por su excepcional rendimiento. De Ghana a Perú, de Arabia Saudí a Nepal, entre los galardonados se encontraban organizaciones líderes como The Dhaka Mercantile Co-operative Bank, Coral Impex, Caja Huancayo, Hospital Wood Medical Center, Escort Security Services, LAT Online School Inc. y Amenfiman Rural Bank, entre otras. La lista completa de galardonados está disponible en la web oficial de THE BIZZ AWARDS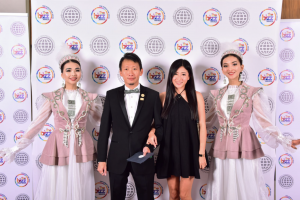 Todos los miembros pudieron disfrutar de este evento de tres días con la participación de la Junta Directiva de WORLDCOB y donde los representantes de las empresas participantes pudieron disfrutar de actividades como: recepción de bienvenida, meet & greet, entre otras.
"Tenemos grandes expectativas con todas las actividades que estamos preparando para nuestros eventos de este año, especialmente porque es la primera vez que celebraremos eventos en Anaheim, Lisboa y Houston" – Jesús Morán (CEO – WORLDCOB).
Las nominaciones para los premios THE BIZZ ya están abiertas y puede presentar la candidatura de su empresa a través de: www.thebizzawards.com