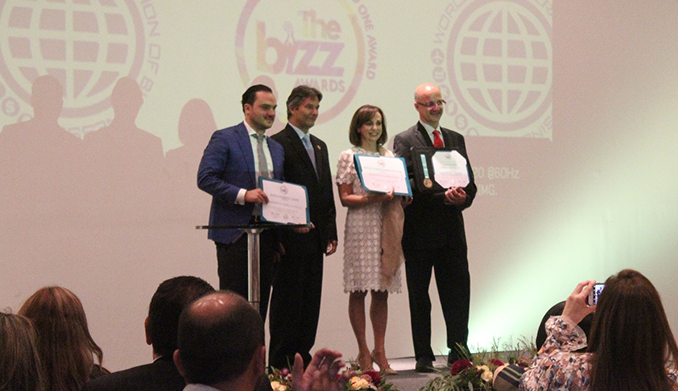 CORPORATIVO TEMBO de México Ganadora del Premio THE BIZZ
La empresa CORPORATIVO TEMBO, S.A. DE C.V de México se ha alzado con el Premio THE BIZZ por primera vez en ceremonia privada realizada en el Centro Cultural Toluca el pasado 27 de julio.
Corporativo Tembo es una empresa orgullosamente mexicana que cuenta con 17 años de experiencia en los cuales ha creado más de 1,500 hogares buscando siempre la satisfacción de sus clientes a través de la calidad, superando expectativas y proporcionándoles gran calidad de vida.
La ceremonia fue conducida por nuestro director de Relaciones Internacionales, Nicolas Caffaro, donde la Directora Corporativo  la Señora Martha Doménica Naime Atala, quien agradeció a todos los colaboradores de la organización por este reconocimiento.
"Me sentí súper orgullosa de que se nos reconozca el esfuerzo, de que se nos reconozca todo el trabajo que hay detras de hacer una  casa, me siento muy comprometida también con mis colaboradores, con los clientes que nos prefieren y con la académica que hoy nos reconoce porque esto no nada más un reconocimiento hay que buscar año con año otras categorías y lo vamos a hacer es un compromiso y es un Gran orgullo"  expresó la directora del Corporativo Tembo Dominica Martha  Domenica Naime Atala
En la ceremonia también fueron reconocidos de forma individual otros miembros de la organización, el Licenciado  Mariano Salgado Naime, la Arquitecta María Fernanda Salgado Naime y el Director General Antonio Naime Atala, cuyos aportes fueron clave para alcanzar este logro empresarial.
Con estos reconocimientos el grupo empresarial se perfila como una empresa líder en su rublo dentro de la región y les da la plataforma para ampliar los objetivos planteados.
Fuente http://diarioportal.com