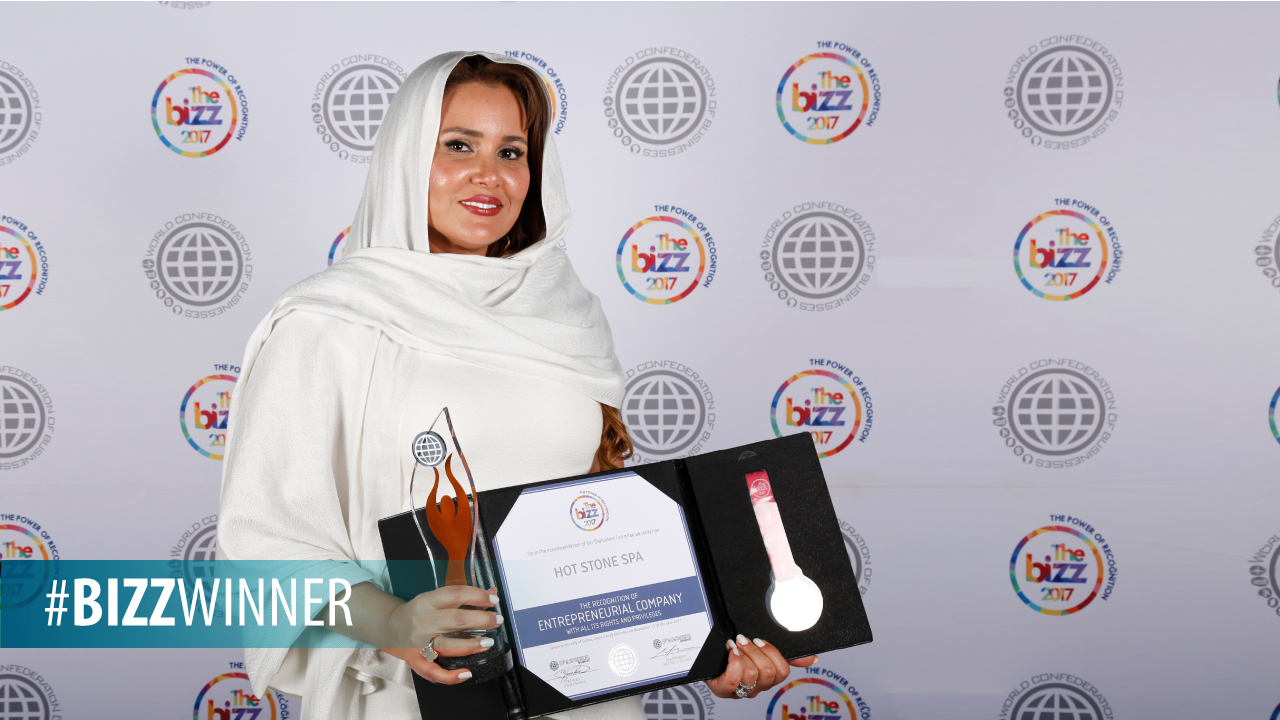 Hot Stone: a Lifestyle Salon and Spa.
Hot Stone, a Lifestyle Salon and Spa, offers the finest treatments and services delivered by Licensed Estheticians, Massage Therapists, Hair Stylists and Nail Technicians. Hot Stone's full-service menu offers every treatment a woman body needs from hair treatments to spa indulgence body services, in addition to catered cuisine that includes a wide range of Drinks, Salads, Sandwiches and desserts.
The company received THE BIZZ Award last year in the city of Dubai and this year will receive it again for the second year in the row on the ceremony which will take place at Miami Beach.
We had an interview with Mrs. Mouna Saber, Owner and Manager operation regarding this recognition and these are her impressions:
A brief description of your company
Hot Stone Spa has been in the market since 2007 and today the Spa is equipped with the latest hi-tech machines from abroad. It also uses international techniques and effective methods of advanced treatment not just for simple beauty care but also for specific problems regarding the skin, body and hair. In addition to Thalgo products based on the riches of the marine universe and vital for health and well-being. Hygiene is given prime importance in Hot Stone where all appliances are sterilized.
Step into Hot Stone's world where each client's unique needs are met through a personalized series of skin and body care treatments, prescriptions and spa packages. Our mission is to provide you with an oasis to simply "practice doing nothing". Prepare to leave Hot Stone pampered, relaxed, invigorated and refreshed.
Business sector
Our Business sector is: Spa & Beauty
What are the goals of your company? 
To raise awareness and define the spa experience.
To expand and open more locations.
To be recognized globally as one of the best spas in the world
What are the competitive advantages of your company?
Our competitive advantages are:
Good Experience in the business.
Good management
Good staff with professional skills
Good repetition
What has been achieved by your company since its creation?
During these years the center has achieved remarkable successes and has been chosen as one of the best and finest centers and more successful not only in Riyadh but throughout the world.
Hot Stone Spa was being a Nominee in the Luxury Spa & Wellness Center category of Saudi Arabia at the Luxury lifestyle Awards 2015 the Middle East and the luxury Lifestyle Awards 2016 Middle East & Africa. We make a good financial achievement.
What projects has your company developed?
To satisfy our clients, we opened a privilege branch in king Salman Social Center In Riyadh and we start the franchise business
What are the most challenging goals that your company has accomplished?
The most challenging goals that our company has accomplished are:
Maintaining the high stand of professional services.
Keeping our client's trust.
Keeping providing customers with a relaxing, rejuvenating atmosphere where all of their mind and body needs can be met.
Institutional Information
Company Name: HOT STONE SPA
Company Representative: Mrs. Mouna Saber
The position of Company Representative: Owner and Operation Manager
Phone Number: +966500094305
E-Mail: info@hotstone-spa.com
Website: http://www.hotstone-spa.com/