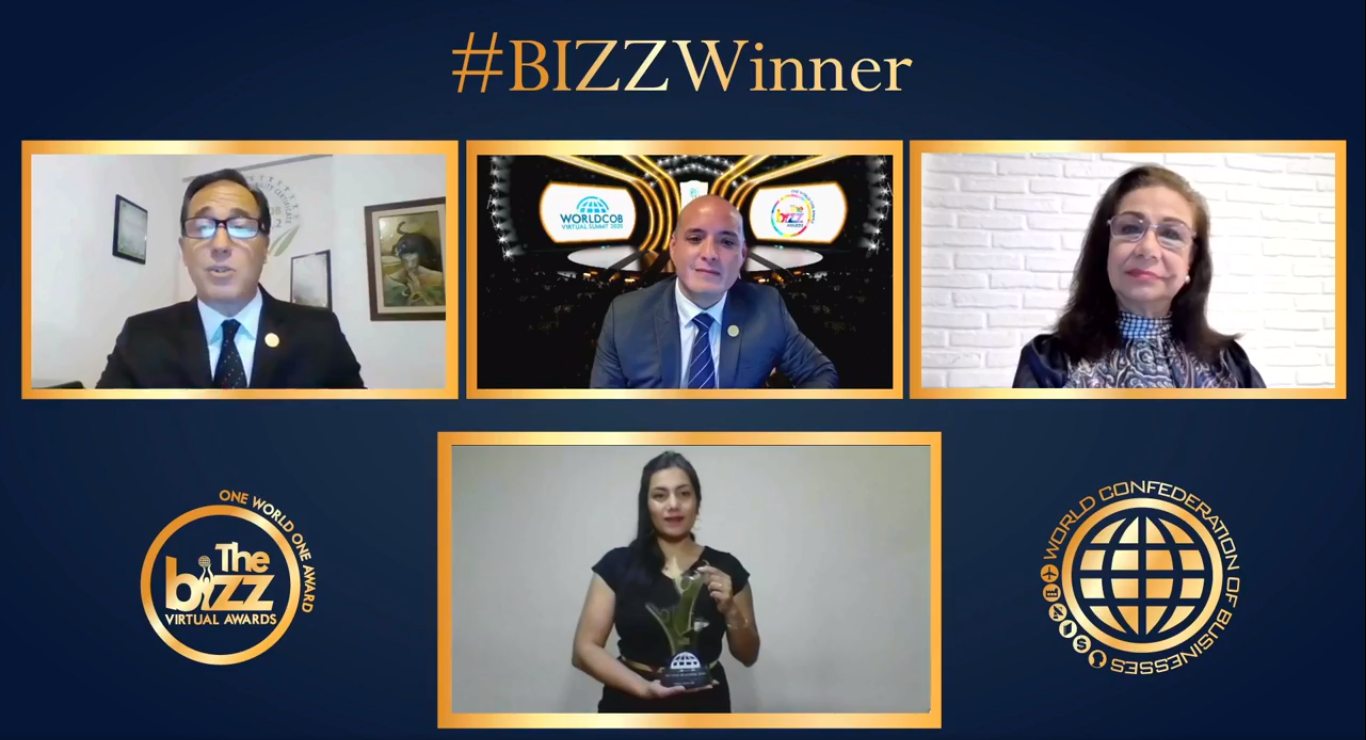 WORLDCOB Recognition Meeting
El pasado 4 de noviembre se llevó a cabo las primeras WORLDCOB Recognition Meeting, un espacio virtual creado por la Confederación Mundial de Negocios para reconocer y premiar a empresas ganadoras de THE BIZZ, incluso en los momentos de distanciamiento social que se sigue viviendo en muchos países alrededor del mundo.
Los eventos organizados por WORLDCOB a ser realizados este año, tuvieron que ser pospuestos para 2021, esto dado a las restricciones de viajes producto de la pandemia actual, no obstante, la junta de directores de WORLDCOB ideó una nueva forma de seguir promoviendo e incentivando el desarrollo empresarial, a través del reconocimiento, y poder celebrar THE BIZZ.
En esta oportunidad 3 empresas fueron premiadas de forma totalmente virtual, Deco Locks de Panamá, Colegio Online de Chile y Dental X de Canadá, en la cita los principales representantes de la empresa en compañía de algunos miembros de su staff se unieron para ser reconocidos por sus logros empresariales.
Estos recognition meeting fueros liderados por Jesus Moran (CEO), Daniel Javier (Director de Calidad y CSR) y Nancy Branger (Directora de Desarrollo Humano).
"Hay un gran esfuerzo detrás de esta experiencia; gracias a la tecnología y a aquellos que se anticiparon al fututo podemos estar aquí disfrutando de esta maravillosa experiencia" – Nancy Branger.
Cada empresa galardonada recibió días antes en su país de origen a través del servicio de envios, junto con sus diplomas y el recognition kit, como parte de sus beneficios por ser miembros WORLDCOB.
La ceremonia completa, con el total de todos los ganadores de esta edición de THE BIZZ Virtual podrá ser disfrutada el próximo 16 y 17 de diciembre en el marco de WORLDCOB Virtual Summit, para participar regístrate aquí de forma gratuita https://worldcobvirtual.com/registration