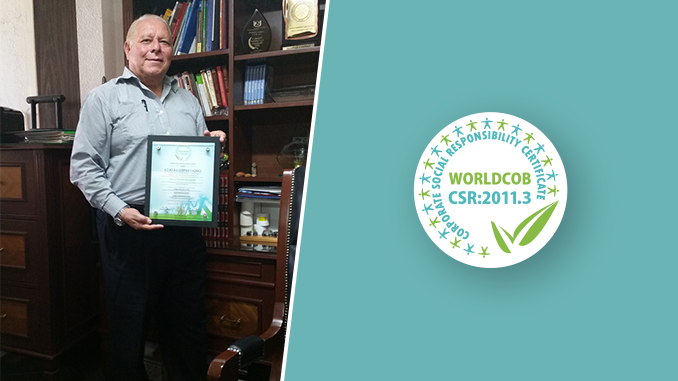 "CARGA Y EXPRESS" has obtained WORLDCOB-CSR revalidation for the seventh time
The company "CARGA Y EXPRESS S.A. DE C.V." from México has revalidated for the seventh time the WORLDCOB-CSR standard for maintaining sustainable business policies with corporate social responsibility.
"Carga y Express" are specialists in the provision of transportation services and delivery of goods for Laboratories Manufacturers of Medicines.
In conversation with Jesús Cabrera Bravo, General Director of the organization, he expresses the importance of this revalidation for his company and what it represents for its objectives.
What did you think about the certification process?
It is a process whose simplicity does not detract from the most important aspects of verifying and analyzing the objective, which is why it is in all respects a recognition of the projects executed and whose importance is noted in the development and productivity of socially responsible companies.
What value has he recognized in the certification process?
In this company we have always been concerned about the environment, assigning it a specific value and commits us , even more,to continue acting in the same way and in this way induce our entire circle of influence to consider this aspect within their own productive structures.
What are the benefits of being certified?
In this company we have specialized in the service to the group of laboratories that manufacture or distribute medicines for general and controlled use, therefore being certified in social responsibility opens the doors to a market whose commitment we share.
What are the goals of your company?
Create an organization that offers security opportunity and professional development to the staff and profitability in its investment to the partners, so that united in this purpose it guarantees the preference of our clients both for the quality of our service, and for the added value of the responsible social enterprise provided and that as a final result, allows us to grow and maintain ourselves as business partners, in their transport logistics.
What do you think CSR improves in companies?
A fluency in the provision of services and the production of consumer goods, by the same order and collaboration of all members of economic entities.
All this results in a society by the values that are practiced in these economic entities that in turn are translated and in a constant practice within their circle of influence of workers and collaborators.
What value have you recognized in the process of obtaining the WORLDCOB-CSR:2011.3 certification?
We definitely believe that for now is an important part that every company should consider for our society to improve, in these times of information and openness of global culture called globalization this same consideration will become an essential requirement for any company or corporation work socially and economically before a society that will increasingly be demanding with the fundamental rights of every living being that inhabits our planet.
What are the benefits of being certified in CSR?
It is definitely notorious mainly in the trust of our customers, suppliers and our collaborators.
In addition to that, it translates to a certain extent to the improvement of the quality of our service.
What would be your message for companies interested in obtaining a certification in social responsibility?
That from now on we should not consider this certification to the point that by legal means it is obligatory, that it is time to do it and so they will be able to observe the benefits that this certification represents above all for the recognition of the whole environment in which they are developed. the care and consideration of our natural resources and human capital of their entities.