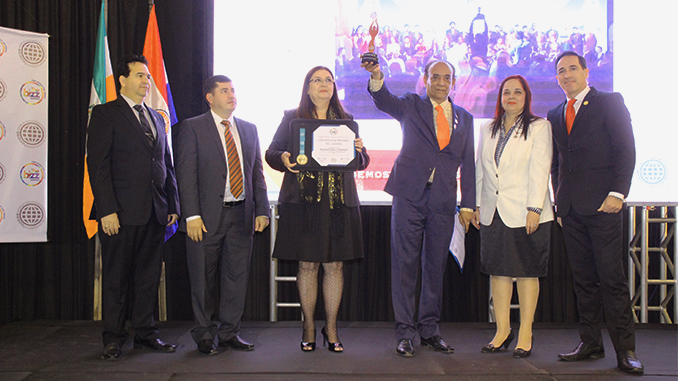 Universidad Privada de Guairá Received THE BIZZ Award in Private Ceremony
The Universidad Privada de Guairá located in Villarrica in Paraguay has been awarded with THE BIZZ for business excellence in the "Inspirational Category", this being the first time that the organization receives this recognition from WORLDCOB.
For the occasion, a private ceremony was prepared in the city of Villarrica where our Director of Quality & CSR, Ing. Daniel Javier, attended to honor the rector of the University, Dr. Aristides Gaspar Fernández Bittar, who received the recognition on behalf of the organization.
The Universidad Privada de Guairá is a tertiary education institution with more than 20 years of experience in the city of Asunción and in the city of Villarrica, Department of Guairá that it was created with the mission of promoting the development of men and women in the various orders of the knowledge, training professionals with integral education based on human, scientific, technological and ethical principles; capable leaders, with a vocation for excellence, creative and educated who contribute positively to the development of a more just, progressive and competitive society, inspired by democratic values, safeguarding and enriching the artistic, cultural, national and universal heritage.
The University offers careers in Education sciences, social sciences, legal sciences, sciences, and technology, among others.
With this international recognition, the organization hopes to continue growing within its region, as well as to encourage the trust of its members and students.