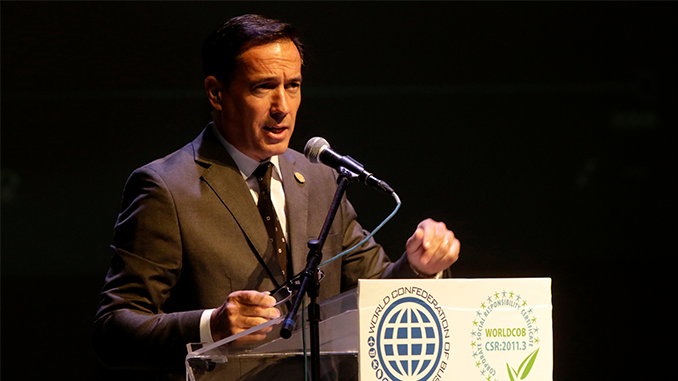 "The success of CSR depends on communication" by Daniel Javier
The media "Corresponsables" from Spain, specialized in Corporate Social Responsibility, interviewed our Director of Quality and CSR, Eng. Daniel Javier, in relation to WORLDCOB's position on Social Responsibility.
Then the full note:
WORLDCOB has been organizing CSR meetings for 5 years in various countries around the world. They are given as opportunities to continue learning about these topics. Due to the above, "Corresponsables" interviewed Daniel Javier, Director of Quality and CSR who pointed out some of the challenges that Latin America has in CSR.
For our readers, tell me a little about the certification work was done by WORLDCOB
As of the signing in 2008 of the PGNU, we committed ourselves to be a socially responsible company and also to promote CSR. Obviously, the next step was to consider how we could help the members of our Business Association to be socially responsible companies in the believe that this would bring benefits not only in image but also in economic terms.
For that, we began to incorporate CSR issues in our free business excellence workshops and began to organize CSR workshops in different countries with prominent panelists.
The next step was to develop a standard that at the service of our members, will help them in an accessible and easy way to be socially responsible and that is how the WORLDCOB-CSR standard was born: 2011.3 which has proved to be excellent especially for SMEs.
This standard is private and certifiable, which means that it has requirements and that an audit must verify compliance. In 2015 we worked with The British Standards Institution ensuring that it is edited according to the highest international standards.
Having certification means having acquired a public commitment to CSR, in that sense, how important is it for organizations to communicate their actions in this area, both externally and internally.
Precisely the first requirement of the standard is that there is, on the part of the company, an explicit commitment to CSR and that it be public. The success of CSR depends on communication.
If the inmate is not properly informed, it is impossible to successfully implement a system that manages it.
Adequate communication with stakeholders is essential for strategic planning. If the interest groups are not well communicated then the company will not be perceived as socially responsible and will not receive the benefits of being so.
Good personal actions are good that are anonymous, but companies are in a competitive framework, which sometimes is not even fair or loyal, so it is imperative that they communicate what they do well, so it will be a comparative advantage and they will receive the election and loyalty of clients and allies.
Since 2012 CSR meetings have been held, how has this field evolved in Latin America?
It's showing that it was not a fad. CSR is a new way of seeing the relationship of the company with its environment. It is being proven that socially responsible companies are more profitable, have better control of risks and are sustainable over time, while the impact of their activities is positive and generates value for employees, the community and the environment.
What challenges in the field of CSR do you think Latin American companies have and why?
It is working well to promote the issue with companies, but it is not yet very present in the political agenda and there is a lot of lack of awareness among consumers.
Investors have clear benefits and are an important factor that motivates companies. But consumers, who are all of us, have to understand that in our decisions is the key to a better world.
If we demand that companies that are responsible corporate citizens, we must assume our share of responsibility as citizens.