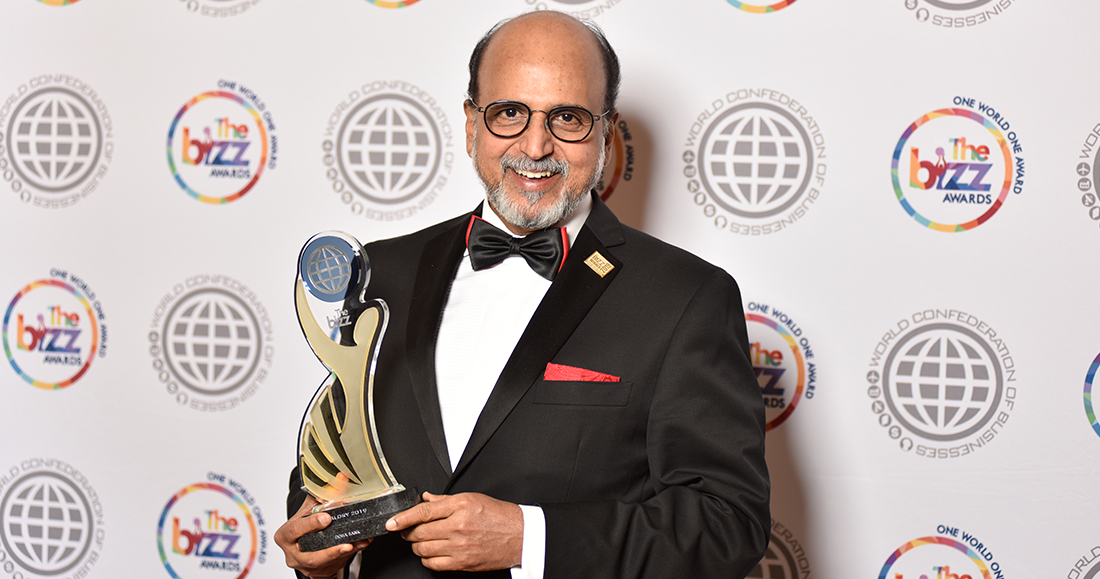 Doha Bank: "Has Build a reputation as an innovative bank in Qatar and has leveraged on technology to provide better solutions to our customers"
The company "Doha Bank" from Qatar has just received THE BIZZ Award on the last ceremony held at Amsterdam, where the organization was granted with the GLORY trophy, one of the highest distinction given by WORLDCOB.
To the award ceremony attend Mr. Raghavan Seetharaman, CEO of the company, who also received the "WORLD LEADER IN FINANCE AWARD" for his professional achievements in the finance sector in the region.
Regarding these recognitions, Mr. Raghavan Seetharaman gave us an interview to learn more about "Doha Bank" and the trajectory they have in the Middle East.
Brief description of your company
Doha Bank have been incorporated in 1979, Doha Bank is the third largest local conventional bank by assets in Qatar with assets totaling     exceeding $26bn,  Loan portfolio exceeding $16bn and  Deposit portfolio close to $15bn as at 31st March 2019.  It is listed in Qatar exchange. This year we are celebrating our 40 years of Banking service. Doha Bank has been driven by participative leadership philosophy. It provides domestic and international banking services for individuals, commercial, corporate and institutional clients. Doha Bank has a strong market presence in contract financing (29% market share), trade loans (13% market share) and real estate (11% market share) and has been fast growing (7% net loans CAGR since 2009) as at 31st March 2019. It has 6 International Branches and 14 Representative offices.
It has a   Brokerage and financial services associate in India and also has a fully owned General insurance subsidiary in Qatar, Doha Bank Assurance Company.
Business sector
Doha Bank operates principally through four business groups: Wholesale Banking, Retail Banking,  International  Banking  and  Treasury  & Investments
Doha Bank has a strong domestic franchise with the 2ndlargest retail footprint with 27 local branches, 7 e-branches including pay offices, 1 active mobile unit and around 100 ATMs as at 31st March 2019
Doha Bank has one of the largest international networks of the Qatari banks through branches located in UAE (Dubai and Abu Dhabi), Kuwait and India (Mumbai, Chennai &  Kochi)  and  representative  offices  in  United Kingdom, Germany, Turkey, Singapore, China, South Korea, Japan, Hong  Kong,  Australia,  South  Africa, Canada, Sri Lanka, Nepal and Bangladesh.
Doha Bank's long-term local and foreign currency rating was assessed at A3 / BBB+ / A / A+ by Moody's, S&P, Fitch and Capital Intelligence respectively.
Doha Bank has a Client base of more than 420,000 customers including customers under Wages Protection System (WPS).
What are the goals of your company?
Consolidate position in Qatar Market.
Continue targeted international expansion.
Further develop international branch network.
Improve credit quality
Further improve Operating efficiency.
Digital transformation.
What are the competitive advantages of your company?
Operating in a resource and infrastructure growth driven economy, Qatar.
Qatar is one of the richest countries in the world in terms of GDP per capita, with investor-friendly
regulations and an oil/gas – income diversification policy
We are a systematically important bank in Qatar.
We have built a very good brand equity over the years.
Advanced retail banking product offering.
National branch network of 27 domestic branches supported by pioneering alternative distribution channels and products such as mobile and internet banking, multiple currency ATM and e-branches
Award-winning, state of the art mobile banking and customer care centre.
We have an international footprint as well.
Capitalize on investment opportunities arising from Qatar's successful bid to host the 2022 FIFA World Cup.
Leverage on presence in one of the largest and fastest growing economies in the world – India.
Established QETF on March 5, 2018 – The first Exchange Traded Fund in Qatar. The fund generated a total return of 20% in 2018; outperforming most ETFs in the world.
What has been achieved by your company since its creation?
Doha Bank is one of the leading banks in Qatar in terms of assets.
Doha Bank is one of the key contributors to Qatar's non-hydro carbon diversification.
Doha Bank has international presence in those countries which are major trade partners with Qatar.
Doha Bank has Achieved ISO 27001 for Entire Banking Operations in the State of Qatar.
Doha Bank was adjudged as the 'Best Regional Commercial Bank' The Banker Middle East for the 4th straight year.
Doha Bank has an unshakable commitment to excelling in trade finance and providing competitive and innovative solutions to our customers. In recognition of this Doha Bank was awarded as 'Bank of the Year – Qatar Domestic Trade Finance' by Asian Banking & Finance.
Doha Bank has in the past claimed various other awards such as, 'Bank of the Year' – The Banker, 'Best Commercial Bank in the Middle East' – Global Banking & Finance, 'Bank of the Year' – ITP Group, , 'Best Bank in Qatar' – IAIR Award and 'Best Bank in Qatar' – EMEA Finance.
What are the most challenging goals that your company has accomplished?
Doha Bank Navigated Doha Bank successfully during the Global financial crisis in 2008-2009.
Doha Bank is a key player in Qatar's non-hydrocarbon diversification sector with presence in trading, contracting and real estate sector.
Doha Bank has Build a reputation as an innovative bank in Qatar and has leveraged on technology to provide better solutions to our customers.
Doha Bank has taken initiatives on Corporate Governance and have adopted Sustainable development as part of our core values. In recognition of this Doha Bank honoured at Global Good Governance (3G) Awards.
DOHA BANK has also been selected in the FTSE4 Good Emerging Index. The selection highlights DOHA BANK's continued leadership in environmental, social and governance (ESG) performance.