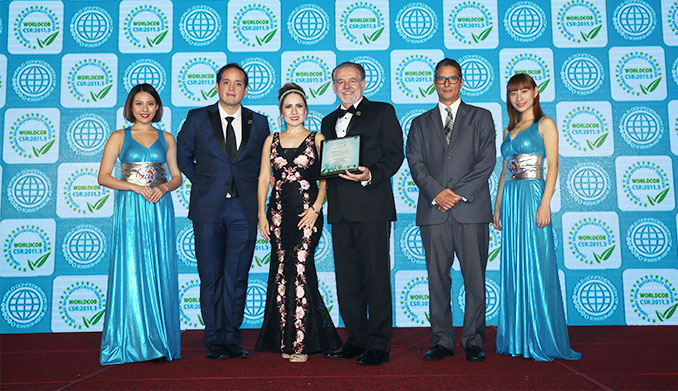 Fletes Sotelo Recibió Certificación WORLDCOB-CSR por Séptima Vez
Durante la ceremonia de Premiación THE BIZZ Awards AMEA 2018 el pasado 14 de noviembre en Hong Kong, la junta de directores de WORLDCOB, decidió entregar la certificación WORLDCOB-CSR a la empresa mexicana Fletes Sotelo.
Manual Sotelo Suarez, representante legal de la empresa, asistió a la ceremonia de premiación THE BIZZ para recibir el premio GLORY en la categoría Entrepreneurial, ocasión en la que además recibió certificación WORLDCOB-CSR.
Con este logro la empresa alcanza la séptima revalidación de la normal WORLDCOB-CSR en su historia, lo que evidencia el interés de la empresa por mantener políticas empresariales acorde con la sostenibilidad ambiental y las causas sociales.
WORLDCOB-CSR es una norma que establece los lineamientos que una empresa debe tener para ser reconocida por su adhesión a una cultura de valores éticos, mantener un sistema de gestión que integra la Responsabilidad Social Empresarial y estar en un proceso de mejora continuo.
Para más información visita http://www.worldcob-csr.com/
[kad_youtube url="https://www.youtube.com/watch?v=7YRP5OQdD4E" ]