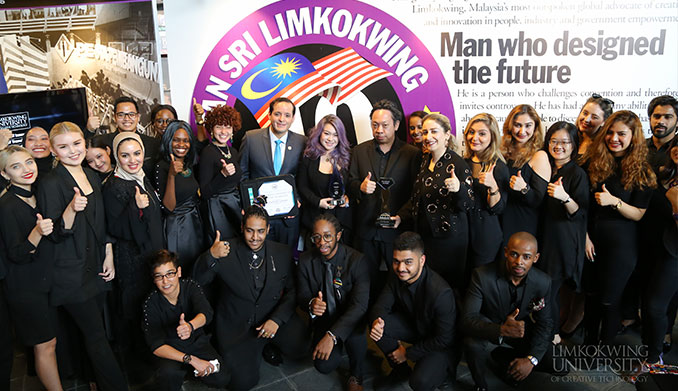 Universidad Líder con Presencia en Asia, África y Europa Recibe Premio THE BIZZ en Ceremonia Privada
Limkokwing University y su fundador recibieron condecoraciones honorificas por parte de la Confederación Mundial de Negocios en ceremonia privada celebrada el día 12 de noviembre en Malasia.
El Co-Fundador y Presidente de WORLDCOB, Jesús Morán, arribó a kuala Lumpur, capital de Malasia, donde fue recibido por  Dato' Tiffanee Marie Lim (VP Brand Creativity and Talent Development) y Dato' Sri Timothy Limkokwing Jr (Centre for Content Creation CEO) en representación de Tan Sri Dato' Sri Paduka Dr Limkokwing, líder de la organización, quien recibió además el LEGEND IN INNOVATION AWARD, una distinción única y especial creada por WORLDCOB para honrar su carrera y logros alcanzados en 40 años de trayectoria.
Así mismo, Limkokwing University recibió THE DIAMON AWARD, la más alta distinción, a la fecha, otorgada por la Confederación Mundial de Negocios a las empresas que han logrado adjudicarse con THE BIZZ en nueve oportunidades consecutivas.
"Este es un tremendo reconocimiento para una leyenda que ha pavimentado el camino para muchos", dijo Dato 'Tiffanee después de aceptar el premio.
Limkokwing University ahora emprende proyectos para inaugurar sedes en 4 nuevos países en el próximo año, Nigeria, Namibia, Uganda y Zambia.
[kad_youtube url="https://www.youtube.com/watch?v=NXlFqRG7knU&t=13s" ]