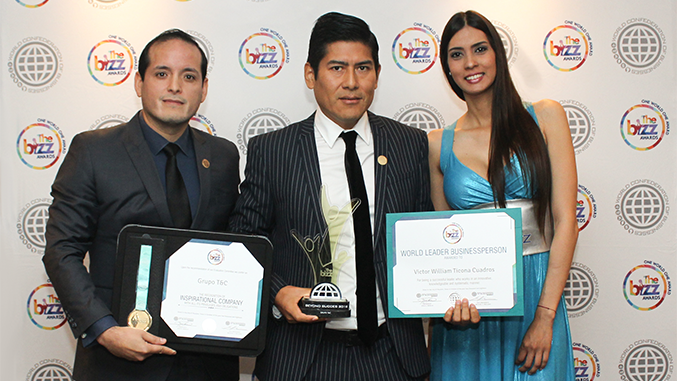 Importante Empresa Del Sector Inmobiliario del Perú Recibe Premio THE BIZZ en Ceremonia Privada
Grupo T&C, una de las empresas inmobiliarias más grandes del Perú, ha sido seleccionada por la Junta Directiva de WORLDCOB como ganadora del premio a la excelencia empresarial THE BIZZ, por tercera vez en su historia, por lo que recibieron el trofeo BEYOND SUCCESS en ceremonia privada realizada en la ciudad de Lima-Perú el día 30 de octubre del 2018.
La ceremonia fue dirigida por el co-fundador y presidente de WORLDCOB, el Sr. Jesús Morán, quien entrego el trofeo al Gerente General de la organización, el Sr. Victor William Ticona Cuadros, quien además, recibió la distinción individual WORLD LEADER BUSINESS PERSON por su aporte y liderazgo como la cabeza de la empresa.
"El ver que estamos avanzando, y el que una organización tan importante como WORLDCOB se dé cuenta de ello y nos ha otorgado este reconocimiento; estamos muy complacidos  y sumamente satisfechos del reconocimiento que es resultado de los logros que tenemos".- Afirma el Sr. Victor William Ticona Cuadros.
La empresa, que anteriormente habría sido premiada en ceremonias realizadas en París y Hawái hoy recibe su reconocimiento en casa, en una ceremonia privada, una alternativa que ofrece WORLDCOB para sus Elite Members; evento que contó con la presencia de varios de los colaboradores de la empresa, así como clientes y asociados.
Comenta Victor William Ticona Cuadros –"Anteriormente habíamos participado en premiaciones en París y Hawái, las cuales fueron maravillosas, pero estuvimos solamente pocos miembros de la organización, en esta oportunidad, hacerlo en nuestra ciudad, en nuestras oficinas nos permite incorporar al evento a mas colaboradores, y eso es sumamente gratificante".
Actualmente la empresa emprende proyectos en el sector hotelero del Perú y espera seguir creciendo y consolidando su liderazgo en el sector inmobiliario nacional.
Empresa: Grupo T&C
Representante de la Empresa: Victor William Ticona Cuadros
Cargo: Gerente General
Página Web: http://www.grupotyc.com/
[kad_youtube url="https://youtu.be/MlnT4dHw3zU" ]