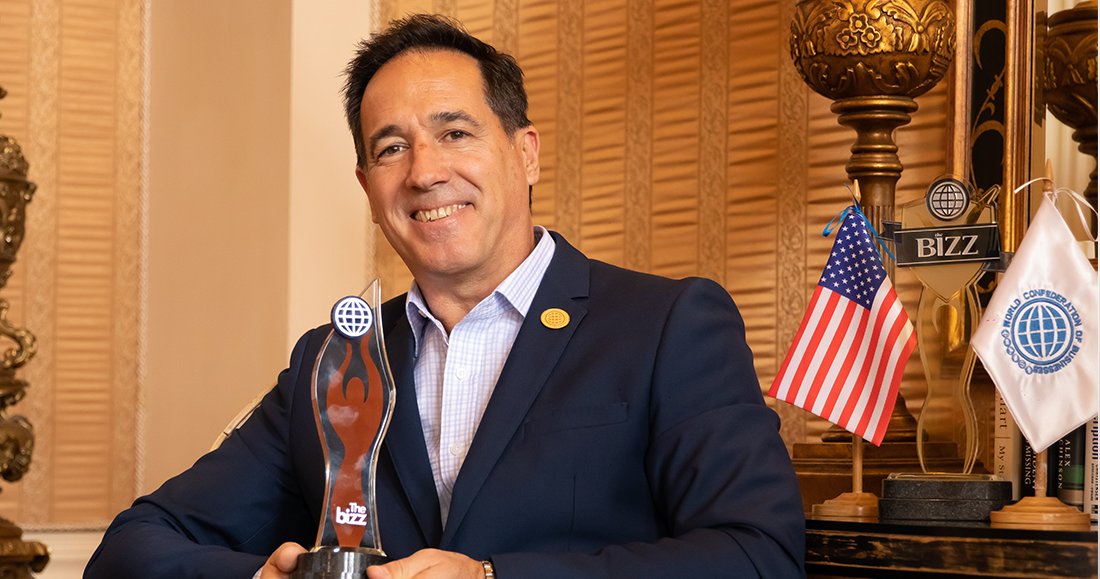 Interview: Business and Events Magazine by Daniel Javier
I am pleased to share the interview conducted by the magazine Companies and Events of national circulation in Peru.
1.What goals does WORLDCOB pursue?
The main mission of WORLDCOB is to promote business development worldwide. This makes pursuing 3 objectives: motivate and stimulate companies with our recognition of business excellence, THE BIZZ; promote socially responsible business culture in the world; generate business tools (networking) among our members.
2. In these fifteen years, what achievements have marked a milestone in the organization?
The celebration of the 10 years in Hawaii was very special, however I think the main milestones have been when we reached the number of 3500 member companies in 130 countries '; When the WORLDCOB-CSR certification was launched in 2011 in Rome and precisely now in San Francisco that we present a new product at the service of members and commerce in general, the WORLDCOB TRUST SEAL (WTS), international seal of business confidence, a tool to build trust and facilitate business.
3. Regarding The BIZZ How was born the idea of ​​recognize business excellence?
The idea stems from the creativity of two great friends, our CEO, Jesús Morán and our Vice President Michael Bellido. They had the idea of ​​motivating and stimulating small, medium and large companies in the world, making them part of an international organization that promotes networking to generate new business among its members. They started very young with this idea and have decidedly led these 15 years of growth of the organization, adding a talented and committed team.
4. What has been the scope of this award worldwide?
In 15 years we have been able to reward more than 3500 companies from more than 130 countries. We have also organized more than 100 ceremonies in the 50 most important cities in the world (Dubai, Paris, New York, Hong Kong, Monaco, Doha, Marrakesh, Rome, Washington, Abu Dhabi, Houston, Venice, Muscat, etc).
Every year we organize 3 awards ceremonies. One in Europe, America and Asia. The next ones will be in Kuala Lumpur (November), Lisbon (May) and Toronto (August).
5.  For companies, what does it mean to be socially responsible?
A socially responsible company is one that creates wealth but is responsible for the social and environmental impact of its activities. Trying to make this impact positive and when it isn't, trying to mitigate or compensate for it.
Each company is a separate world, the way of working is by analyzing interest groups, defining communication channels and identifying needs and expectations. CSR seeks relationships of reciprocity, collaboration, creation of shared and sustainable value. Donations and philanthropy are good and necessary things but they are not CSR.
I think it is necessary today for all types of companies since there is a change, the New Management, which recognizes the importance of managing the company with reference to the stakeholders and looking for win-win relationships responsibly.
Technological changes, mainly internet and digitalization, globalization, are changing the relationship between consumers and businesses, with more judicious choices and the requirement for companies to justify their existence beyond the fact of giving profits. The almost "big brother" transparency makes everything known in the end, so it is better to comply with laws and regulations and do what is said to be done.
Certifications in general help generate TRUST. These assure us that a third party endorses (according to a certain standard and audit procedures) that a company does what it says it does.
The fact that a company obtains the WORLDCOB-CSR: 2011.3 certificate indicates that it has passed a WORLDCOB audit and that our organization has a reasonable conviction that the company complies with the requirements established by the standard.
6. What is the impact of having a CSR policy?
Defining a CSR Policy is to assume a public commitment, mainly with employees, society and the environment. It helps build trust in stakeholders and provide a purpose for employees. The impact is certainly important as it has to do with the identity, the DNA of the company and the criteria with which management decisions are made.
7. In what way can medium and small companies benefit from these parameters? What benefits does it generate?
The benefits can be greater positioning and visibility of the company, opportunity for new business, innovation spaces, increased productivity, less turnover and absenteeism, customer loyalty, savings, license to operate, risk control, among many others. University of Toronto by BOB Willard, on average, in addition to the great intangible benefits there are potentially 7 concrete benefits of CSR:
Income increase 9%
Energy consumption savings 75%
Less waste 20%
Less inputs 10%
More productivity 2%
Less returns, defects 25%
Reduction of risks
According to these averages, SMEs can increase their profit up to 51% in 3 to 5 years, while large companies up to 81%.
As pioneers in CSR certification, what do you consider the biggest challenges facing companies that want to be certified?
It is true that being pioneers forces you to open paths.
The biggest challenge for companies is cultural and behavioral change, that senior management commits to, understand the reasons of CSR, achieve adequate communication with workers to gradually consolidate a collaboration from which both parties benefit. Move from a workers' struggle – political pattern to rely on a common cause, with understanding and respect.
8. What has been your greatest satisfaction in the field of CSR?
Satisfaction is every day! Every day we see how certified companies commit more, work successfully, earn more money and at the same time meet the expectations of their stakeholders and take care of the environment by helping to improve the world.
They share their achievements and we communicate them on our networks, to show that it is possible to succeed by doing things well and is not the exception but the rule.
On a personal level it is very enriching to collaborate in the working groups and in the summits of the Global Compact, of the GRI, of FAO, with governments and other organizations, on behalf of our members.
In 2015 I had the opportunity to work with a team from The British Standards Institution reviewing the edition of the third version of our standard, the current one.
But the most enriching is the possibility of meeting businessmen from all over the world, charismatic leaders, from different cultures and from all areas.
It is a happiness to have a job in which we are doing things well and collaborating with others to do things well.
9. What other services and products does WORLDCOB offer companies?
We have three types of membership, Silver, Gold and Platinum with different benefits. Between them
Main services include Bizz training, Corporate Image Consulting, Intermediation in international business, CSR Consulting and Certification and the new WORLDCOB TRUST SEAL (WTS) product to promote relationships of trust.
For example, in the last 2 years we have made more than 500 videoconferences with entrepreneurs, advising free of charge in CSR and we have organized dozens of free CSR workshops in different countries with accumulated participation of more than 2000 entrepreneurs.
In many cases collaborating with the academic sector and helping the bonding.
10. What projects or events are coming for the remainder of the year?
At this time, while we make the note we are in San Francisco in one of our most important international events with the presence of more than 80 companies from around the world, with networking, workshops, coaching and a gala dinner where THE BIZZ Award will be delivered , which is the most important business award in the world.
Then we will have a similar event in Kuala Lumpur in November, where we expect even greater assistance.
Meanwhile, we are doing about 10 free videoconferences every week, advising on CSR and we have scheduled a few on-site and virtual audits to do before the end of the year.
11. Finally, what is the long-term vision for WORLDCOB?
Our vision is to be the largest and most international business association in the world, to reach 10,000 members with representation in 200 countries, all companies with proven business excellence. Also, add more and more companies to the culture of CSR and thus collaborate with the SDGs and a better world.