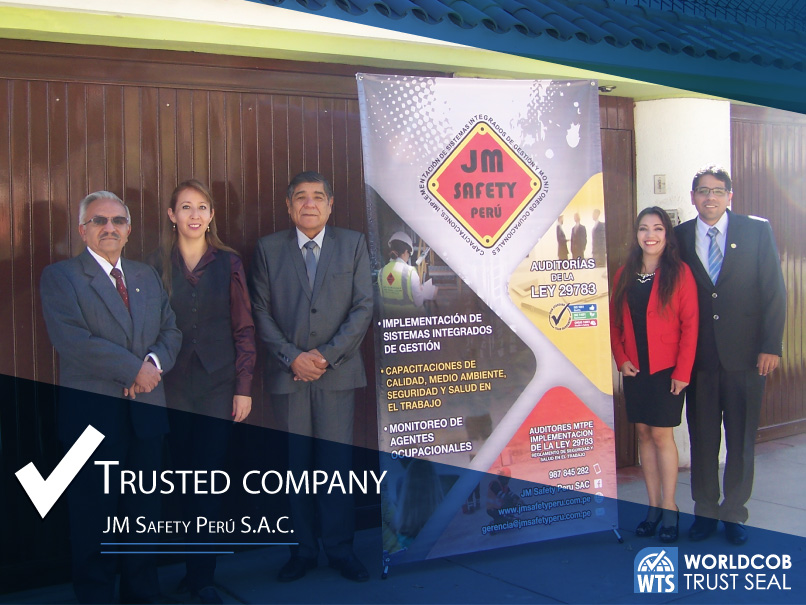 JM Safety Peru S.A.C: A Reliable Company Verified by WORLDCOB Trust Seal
JM Safety Peru S.A.C has received the WORLDCOB Trust Seal (WTS), granting this company the title of reliable company verified by WORLDCOB.
Thus, Ing. Jaime Montoya Tejada, the Director, granted us an interview where he tells us what it represents for his company to receive this seal of business confidence.
Brief description of your company.
The JM Safety Peru S.A.C company provides services that are capable of satisfying the needs of other companies through consultancies and services related to security, occupational health and the environment, with the implementation of Integrated Management Systems based on international standards such as: ISO 9001, ISO 14001, ISO 45001, ISO 39001, ISO 37001, BASC; Training services, Monitoring of Occupational Agents and Audits of Law 29783 "Law on Occupational Health and Safety", with authorized personnel by the Ministry of Labor, capable of performing a quality service to their clients by offering added value with the benefits that this entails. This, in turn, helps the company to stand against the competition.
What are the objectives of your company?
Satisfy the requirements of our customers
Prevent environmental pollution and protect the environment
Prevent occupational injuries and illnesses to our workers
Comply with the requirements applicable to our organization
Continuously improve by providing the best service to our customers
What are the competitive advantages of your company?
Modern equipment
Trained and committed personnel, not only with our company, but also with the client
Personnel with over 15 years of experience and competent skills
Why do you consider it important to verify the existence of your company in the international market?
Because the services we provide are not just to meet the needs of our customers in the country, but also to meet the needs of customers from other countries.
WTS allows you to show credibility and trust to your clients and investors. Do you think that these are important elements that your clients and investors consider when initiating commercial exchanges with your company?
We believe that it is important, since most of our customers have external capital, so they must meet certain legal requirements. And is where we support them in helping them to fulfill all these requirements, so they can focus on what more they know best: THEIR business.