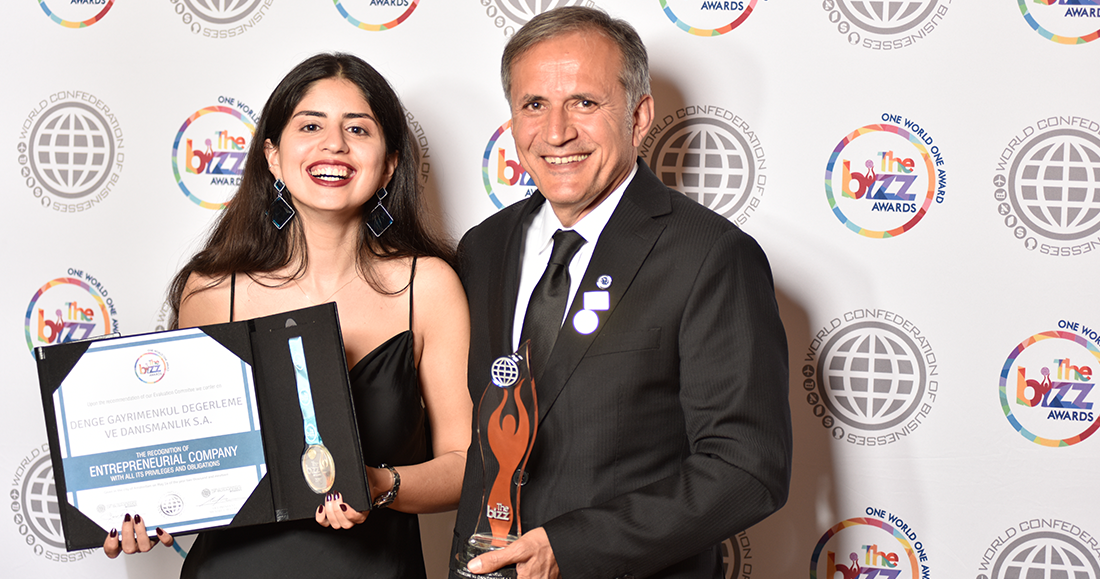 Denge Valuation Inc: "We never stop growing even the crucial economic crisis have been occurred in our country"
Denge Valuation Inc from Turkey received THE BIZZ Awards for the first time in history, on the ceremony held back in May in Amsterdam.
Regarding this recognition achieves by the company, BAKI BUDAKOĞLU (PRESIDENT) gave us an interview where he shares what THE BIZZ award represents to their organization.
Brief description of your company
Denge Valuation Inc., with a history of growing in line with the development of the appraisal sector, has emerged from the alliance of professional managers, who have gained their experiences in the challenging courses of the business world. It has acquired an effective position in the sector through careful and diligent studies, strictly committed to the laws, professional principles and corporate values. We generate rapid solutions in compliance with international standards by specialists experienced in valuation and consultancy services, using its scientific methods and advanced technological infrastructure, and appends its signature under reliable reports. It believes that contributing to the business world, the society, its employees and the appraisal sector with an objective and impartial approach and an awareness of corporate responsibility is essential for its professional understanding.
Business sector
Appraisal, an indispensable service in the world today, is the independent and impartial assessment and reporting of the value of assets, real properties, rights and benefits associated with real properties, as of a certain date. The appraisal profession of appraisal, which has brought international standards to value assessment and reporting, is rapidly acquiring a corporate character and contributing to the commercial life in Turkey with the regulations of the Capital Markets Board and the Banking Regulation and Supervision Agency.
What are the goals of your company?
Our Company has assumed the principle of sharing its earnings with its Society, Personnel,
and State. Our Company, which has received the Bureau Veritas ISO 9001 Quality Certificate and was found worthy of the Special Project Award in the field of manager development by TMI in 2015, continues to support our National, Moral and Social values along with the projects that pioneer in the sector.
What are the competitive advantages of your company?
Denge Valuation, the experienced and dynamic organization of the appraisal sector with extensive knowledge, generates fast and reliable reports by its solely appraisal-focused
operation, tens of experts and technological hardware. All of our experts are of engineering or architectural education origin, and they have been authorized by the CMB and the BRSA. Operating services throughout Turkey, Denge Valuation operates multiple solutions at a single address, hence makes facility appraisals including plot, building, and machinery, and provides these in the form of a single report if requested. Our reports are under "Professional liability insurance" coverage.
What has been achieved by your company since its creation?
In 2018, our company was honored with "Excellence In Quality" award and Mr. Baki Budakoglu, our chairman, was honored with "Manager of the year" award by European Business Assembly in London during Leaders' Summit. Also in 2019 we have been honored by WORLDCOB in Amsterdam.
What projects has your company developed?
Appraisal of the world's most luxury hotel: Mardan Palace, Turkey's biggest urban transformation Project: Suryapı, 6th best workplace in the World: DHL Express
What are the most challenging goals that your company has accomplished?
We never stop growing even the crucial economic crisis has occurred in our country.