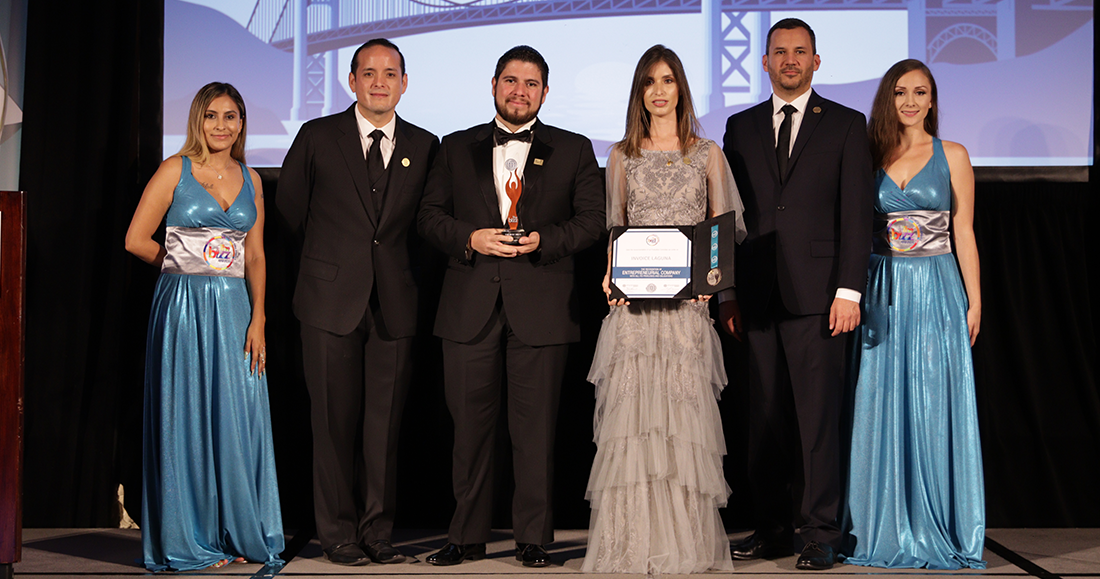 LAGUNA INVOICE: "Our Goal is to Help our Customers who are Just Starting a Business"
The Laguna Invoice company in Mexico received THE BIZZ award for the first time in its history at a ceremony that took place in San Francisco, California in the mid part of this year.
For this reason, Ernesto Apolo Valenciana Martinez (CEO), gave us an interview where he expresses how important this recognition is for both himself and his organization.
Brief description of your company
Laguna Invoice was created from the need of entrepreneurs that were interested in developing their vision like larger companies but lacked the appropriate accounting-fiscal administrative Advice and financial resources that would allow them to access highly qualified professionals.
For this reason, we decided to offer our services, 9 years ago, to one-man companies, SMEs, large corporations, and parastatal government organizations, with an outstanding professional development work team, and extensive work experience in areas such as: management, financial-fiscal accounting, and outsourcing. We offer our customers the experience and knowledge acquired including permanent training and updates in various topics, which allow them to have an interdisciplinary group that provides ideas, solutions, and support when implementing administrative processes and management in a timely or permanent manner. The business concept that we offer to our clients is based on a mutually beneficial relationship that allows room for the growth of both parties.
Specific Activities of the Company
Fiscal-legal administrative advisory services.
What are your company's goals?
Expand and establish ourselves as a corporate revolutionary in administrative services infusing a seal of quality and excellent work in good business practices, in terms of administrative and financial advisory services as a role model of how to properly manage a business. We also want to make our customers and their personal brand as a transcending administrative and organizational brand, relying on our experience from the commercial service area to the marketing area.
"Turn a long-term goal into objective and short-term decisions."
What are the competitive advantages of your company?
As a corporation, we have direct contact with our office employees and personalized attention from our group of professionals and employees sufficiently qualified to always attend the queries and concerns of our customers.
Determine whether the company, in the course of the operations it conducts, complies with all applicable legal standards.
Being a professional corporation in a personalized, reliable, timely, and economical way that provides—permanently—support to management development, allowing owners, managers, and the employees of their companies to dedicate themselves to their business goals.
Review the organizational structure of society, its objectives, strategic plans, and policies to achieve them and comply with the same.
We take care to implement the procedures and comply with the management entrusted to us, establishing the necessary controls with both responsibility and direction.
Tests to determine the reliability of required information and controls.
Accounting-tax and administrative advice in accordance with the Tax Statutes and Public Accounting Technicians, from business creations to marketing area departments.
Experience, security, confidentiality, economize on costs, responsibility, and compliance in all our actions.
Constant training and updates of our staff.
Assess the degree of efficiency and effectiveness in achieving these objectives expected by society and in the management of available resources.
Accounting, tax, financial, administrative, and labor recommendations.
State-of-the-art accounting equipment and programs.
Experience, security, confidentiality, cost economy, responsibility, and compliance in all our actions.
What has been achieved by your company since its creation?
Apart from receiving international or national recognition for our work, our goal is to help our customers who are just starting a business and taking them on an organizational path  based on their marketing objectives or to provide advisory services to help them become a stable business. In addition, by creating stable jobs within their organizations, making our corporation an impressive "networking" link among employees, and establishing ties beyond a client-provider relationship in an advisory role of constant administrative changes—generally speaking—leads to the development of trust as a result of work-administrative strategies.
What projects has your company developed?
Since our corporation was founded, we have always been concerned with developing "tailor-made" administrative strategies based on the needs of each of our clients in general, and always monitor the development of proposed activities to analyze the projected advances of these corporate strategies. In this way, we have initiated a "networking-commercial" effort between our own customers or business partnerships, from those who are starting a commercial business to those who already have an advanced role in the service-trade area.
What has been the most significant challenges for your company?
Over the years, we will always face the constant political-economic changes in the so-called macroeconomics and microeconomics that go hand in hand with tax matters and the constant tax reforms in Mexico. From the traditional change in administrative accounting to the great revolutionary change in current technology, this type of business practice is already considered more feasible on how to manage different types of administrations, where information is already available in network interfaces, and strategic decisions in tax matters with more accurate data is processed in real time.