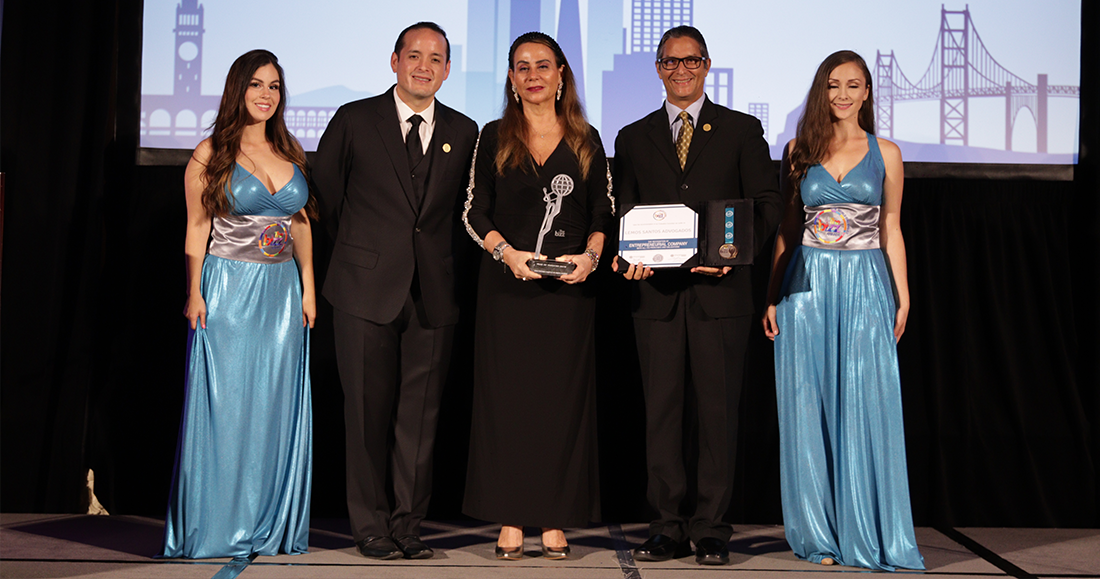 LEMOS SANTOS ADVOGADOS: In the 38 Years of Uninterrupted Activity, the Office has a Growing Clientele, Which Works with About 12 Thousand Clients
Lemos Santos Advogados from Brazil has received THE BIZZ award for business excellence for the second consecutive year at THE BIZZ Americas ceremony held in San Francisco, California on August 24.
For this reason, Ana Cristina de Lemos Santos (President) granted us an interview where she expresses what represents her and her company to receive THE BIZZ recognition.
1. Brief description of your company
Lemos Santos Advogados provides judicial protection to citizens and / or companies and civil society entities, with the main objective of exercising social justice. Our activity focuses on litigation, proposing lawsuits, defending lawsuits, giving advice and recommending the best way for the client to conduct themselves to always be within the law.
2. Business sector
Labor, union, associative, social security, civil areas, including the rights of corporate, tax, commercial – corporate consumers, contracts, bankruptcies and judicial recovery. Civil liability, inside and outside the country, and preventive counseling of trials.
3. What are the objectives of your company?
Promote excellent legal services, empathizing with an honest and loyal dialogue with clients, with experience in a motivating work environment that requires constant recycling and improvement, with talented and dedicated professionals. We operate with ethics, proactivity and discipline, focusing on the result desired by our customers, always with the brand of modernity.
4. What are the competitive advantages of your company?
Lemos Santos Advogados is formed by a team of professionals who are committed to permanent updating, training and information as instruments of success, adding a high-level technical consultancy to their legal body. And from the technique and quality of our services, we offer agility to overcome problems and partnerships that promote the commercial success of our customers.
5. What has your company achieved since its creation?
In the 38 years of uninterrupted activity, the office has a growing clientele, which works with about 12 thousand clients, distributed throughout the judicial spheres. The economic profile of the company's clients is eclectic and ranges from small causes to those that are considered of great economic and jurisprudential, national and foreign imports.
6. What projects has your company developed?
The office is and will continue to be a school office, where we train interns and lawyers. We provide lawyers who have no professional experience space to live our daily lives and learn, from the basics: how to behave with the client or how to sit at the hearing table, to the most capable: an oral argument in court, a Conference for big businessmen and legal ethics classes, where they study ethics and morals, applied to the profession.
The office also develops a free social assistance project for many segments of civil society, where there is no fee payment for the part that we provide assistance.
The profile of the office is to train professionals. The individual enters the office as a student, becomes an intern and becomes a lawyer, and the office follows all these stages of professional development. Accompanying it from the first hearing, explaining ethical behavior and disciplinary behavior.
The office also participates in cultural projects, social projects, supporting, sponsoring and promoting the professional advancement of these people.
7. What are the most challenging objectives that your company has achieved?
In times of NAFTA, MERCOSUR and Globalization, it is essential to advise versatile and informed professionals about social evolution and the resulting effects. Lemos Santos Advogados has a team that strives for commitment, performance, knowledge, commitment, creativity and dynamism, both by judicial means and by the use of modern negotiation, mediation or arbitration techniques. These are amazing features and the differential in the performance of our professionals in conflict resolution and prevention.