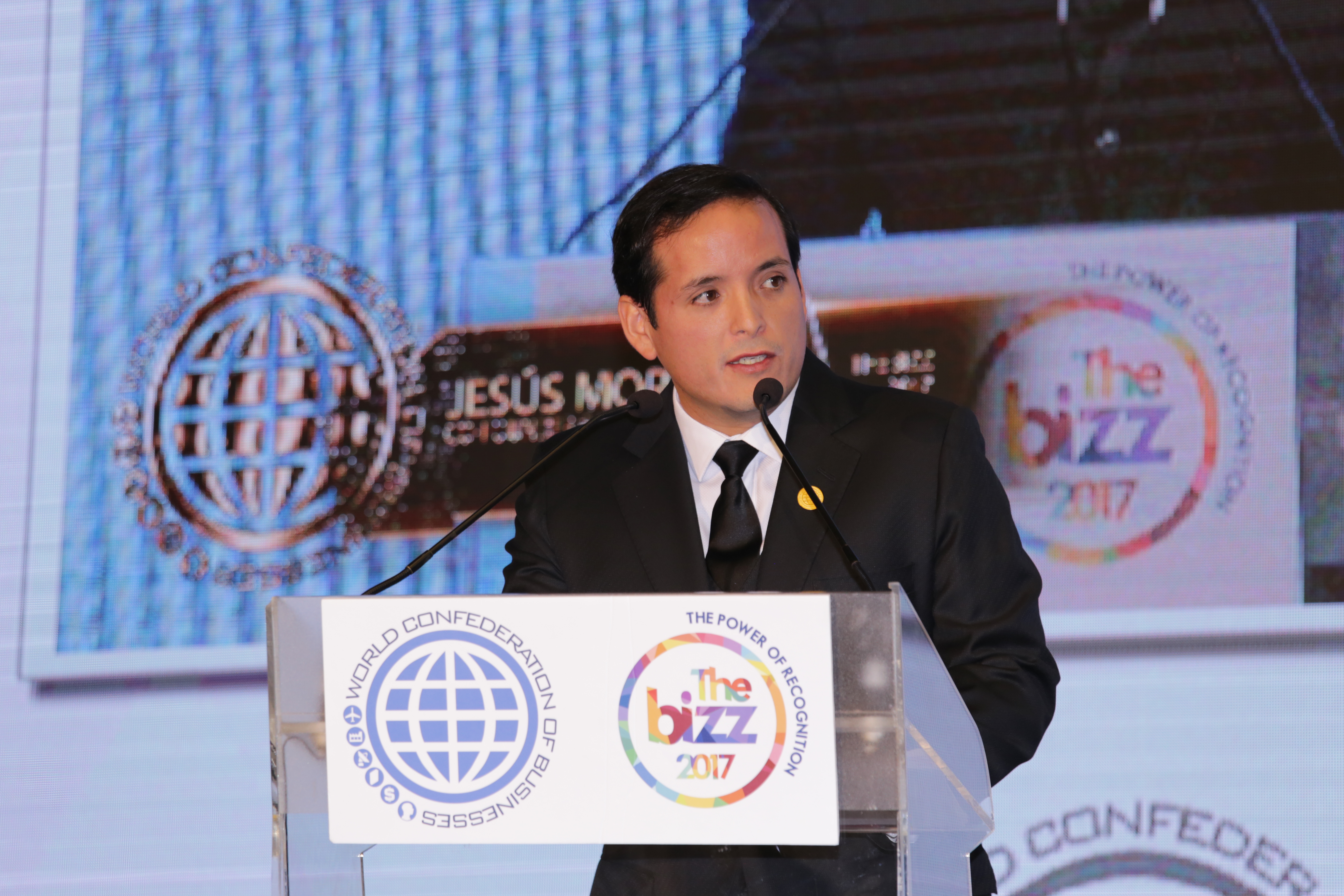 Muscat Daily interviewed WOLDCOB'S CEO
We share the interview that Muscat Daily did to WORLDCOB'S CEO, Mr. Jesus Moran
Headquartered in Houston, US, the World Confederation of Businesses (WORLDCOB) is a leading organisation that encourages business development worldwide. WORLDCOB has been organising one of the most important business awards, THE BIZZ, since 2005 in different cities around the world.
This year's prestigious international award ceremony THE BIZZ AMEA 2017 will take place on Wednesday at the Burj Al Arab Hotel in Dubai.
In an interview to Muscat Daily, chief executive officer Jesus Moran speaks about WORLDCOB's objectives, evaluation criteria for THE BIZZ awards and participation of GCC companies in the awards.
Can you tell about the primary mission and objectives of WORLDCOB?
WORLDCOB was founded in 2004 in Houston, US. Its primary mission is to promote business development worldwide, recognising and boosting the growth of leading businesses and businesspeople in every country through the special tools and services that it offers its members.
The objectives of WORLDCOB are:
Honour and distinguish successful business experiences worthy of being imitated, in order to motivate and stimulate leading businesses and businesspeople with one of the most important business awards in the world, 'THE BIZZ'.
Develop and promote mechanisms that generate commercial relationships between our members and other businesses worldwide, such as WORLDCOB's business network, as well as EXPOBIZZ, which includes business meetings, conventions, fairs, etc.
Promote corporate social responsibility (CSR) worldwide through our WORLDCOB-CSR:2011.3 standard, which certifies good business practices based on adequate labour relations, social support and care of the environment through CSR workshops, which are organised every year in different countries.
How many companies have become members of WORLDCOB and how many of them are from the Middle East?
We have 3,300 member firms and around 400 of them are from the Middle East region.
What are the main objectives of THE BIZZ award?
We believe in the power of recognition and the objective of THE BIZZ is to motivate and stimulate companies that contribute to the daily growth of their local economy. We also believe that THE BIZZ is a great opportunity to recognise not only the owners but also their team work, directors and managers.
Apart from awards, what other main services does WORLDCOB provide to companies?
As part of WORLDCOB, we provide many tools to our members.
Networking: Members have access to a directory of other WORLDCOB members, a highly effective tool for establishing commercial relations. They can also meet them in person at our EXPOBIZZ.
CSR certification: Certification in corporate social responsibility WORLDCOB-CSR: 2011.3, a standard promoted by WORLDCOB, where members may apply for evaluation at a 50 per cent discount, and receive personalised advising to ensure compliance.
Consultancy in business brokerage: To search for products and/or services you want to acquire worldwide.
Corporate image consultancy: Members have a free evaluation of the corporate image they project in the market. After an in-depth analysis, our specialised team will prepare proposals to help improve a company's corporate image.
Online business training: Workshops specialised in different areas of business and delivered by facilitators from different countries.
What are the selection and evaluation criteria for THE BIZZ 2017 award?
We have a research team that compiles data from around the world on businesses. The research team forwards the data to WORLDCOB's evaluation committee, which then screens the data and matches it against a business excellence questionnaire. Their review is based on a 100 point scale, which uses the following business excellence criteria to determine award eligibility: Managerial leadership, management systems, quality in goods and/or services, managerial creativity and innovation, social responsibility, business results, certifications and other recognitions.
Companies that receive 90 points or more are considered to have achieved business excellence and thus selected to receive the world's most important business recognition, THE BIZZ. The award is aimed at any company that is at least two years old.
What is the level of interest among the GCC and Omani companies to participate in THE BIZZ award and become part of WORLDCOB network?
In this 2017 awards, the level of interest has continued to grow. If we compare with the last two years, the level of interest is 35 per cent higher this year in the region.
THE BIZZ gathers and recognises leading businesses from different regions. How many companies would be honoured in the upcoming THE BIZZ awards in Dubai on Wednesday?
More than 100 companies around the world are going to be recognised this year.
In your view, how has the economic slowdown in the Gulf (due to weak oil prices) affected corporate efforts and approach to achieve the highest standards of business excellence?
The economic slowdown because of the situation of Qatar and weak oil prices has affect many companies in the GCC. However, I honestly believe these factors will not stop economic growth in the GCC. On the contrary, I believe that crisis equals opportunity; so companies will become stronger and more successful.
What would you say about the importance of business excellence amid current economic uncertainties in the Gulf region?
It is necessary that the companies affirm their excellence as much as they can, especially during the current economic uncertainties. Nowadays companies have to practice business excellence in all of their procedures in order to maintain the trust of their clients and show strength in the critical moments.
Research indicates that companies that practice business excellence tend to improve their financial indicators, increase customer satisfaction, improve efficiency and effectiveness, and enhance innovation, idea generation and product reliability.
A good way to measure business excellence of the companies are the award-based models like THE BIZZ award because it evaluates their achievements, corporate social responsibility, management system, leadership, quality of products or services, creativity and innovation.
http://www.muscatdaily.com/Archive/Business/WORLDCOB-to-host-THE-BIZZ-awards-ceremony-on-Wednesday-in-Dubai-54yb#ixzz4zdWNTYPi