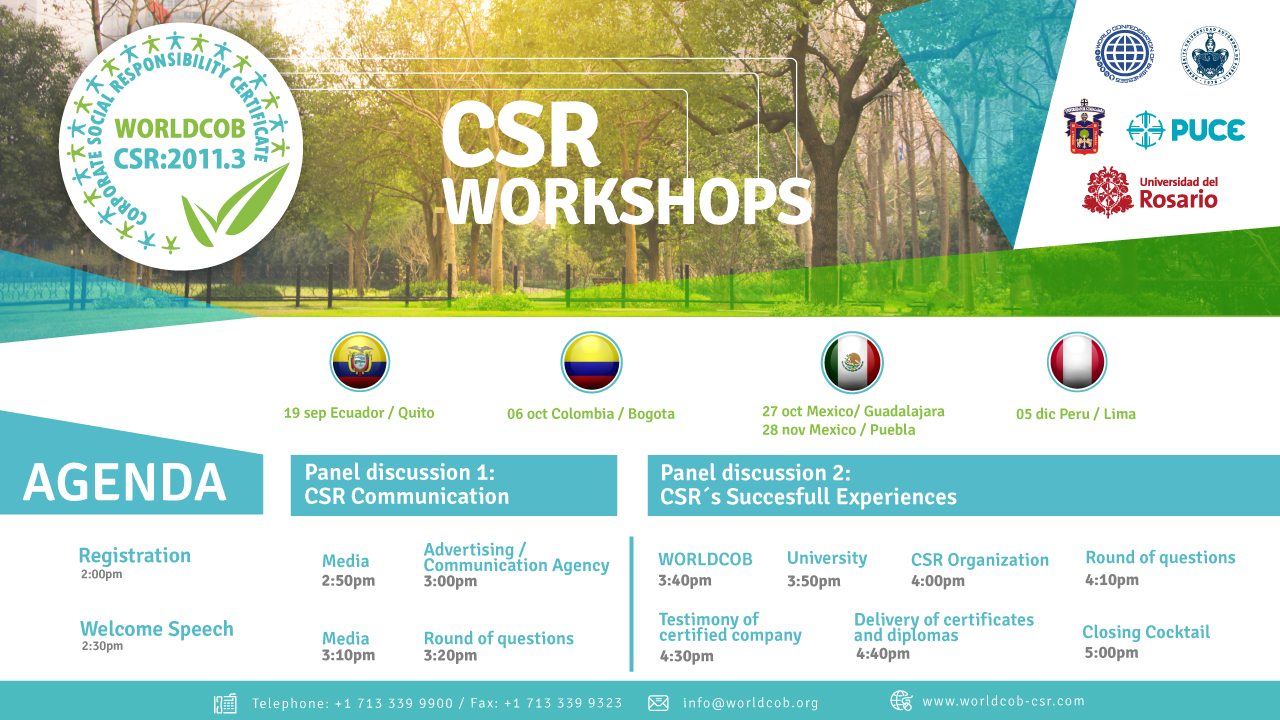 Renowned speakers will participate in the corporate social responsibility meeting
In its firm commitment to promote a Corporate Social Responsible culture, The World Confederation of Businesses (WORLDCOB) will begin their CSR meeting tours, which will include the most important speakers in the world.
It is important to note that these events where CSR practices are promoted are offered free of charge since 2012. And, as of last year, we are privileged to have the support of the most important universities in the world.
The meetings will be held at the following locations:
September 19 in Quito – Ecuador (The Pontificia Universidad Católica del Ecuador)
October 06 in Bogota -Colombia (Del Rosario University)
October 27 in Guadalajara-Mexico (University of Guadalajara)
November 28 in Puebla – México (Benemérita Universidad Autónoma de Puebla- Meritorious Autonomous University of Puebla)
December 05 in Lima- Peru (Chamber of Commerce of Lima)
During these meetings, two panels will be developed with the following themes: the first will discuss "CSR and Communication", which will expose the role the media plays in promoting Socially Responsible policies. In addition, learning how CSR communicates to provide valuable information to society and dispel the perception that their actions are merely advertising, will be covered.
The second theme to address will be: "Successful CSR Experiences" where the positive impact of policies, evolution, and learning which changes have occurred—both in its approach and practice including business management trends—will be discussed.
In Ecuador, international communications agencies will participate along with the president of Komite, Roque Iturralde; the editor of Líderes Magazine, Pedro Maldonado; Ecuadorian Correspondent Director, Catherine Cruz; The manager of the Shared Value and Sustainability Economic Development Agency (CONQUITO); Daniela Ugazzi.
Participants in Colombia will be the Manager of Corporate Social Responsibility of RCN Television, Laura Pareja Ayerbe; the General Manager of P&M Magazine, Carlos Fernando Vega; the Director of Sustainability and Education Academy (AISO), Johanna Botero; the Coordinator of the Green Leaf Program- (Environmental Corporation Company – CAEM), Ferney Augusto Rojas.
Participants in Guadalajara, Mexico will be the General Director of the Mileno Group, Jaime Barrera; the Director of Channel 44, Gabriel Torres; The Director the Jalisco Radio System and C7 Television, Alberto Mora Martín del Campo; the Director of the Council of Industrial Chambers in Jalisco.
Participants in Puebla, Mexico will share their knowledge with attendees and will be the Director of V Más Ideas (VMAS IDEAS), Miguel Angel Hernández Acuña; and the Director of Volatil, Jorge León;
For more information, go to our online website www.worldcob-csr.com, and find us on Facebook as: worldcob-csr.