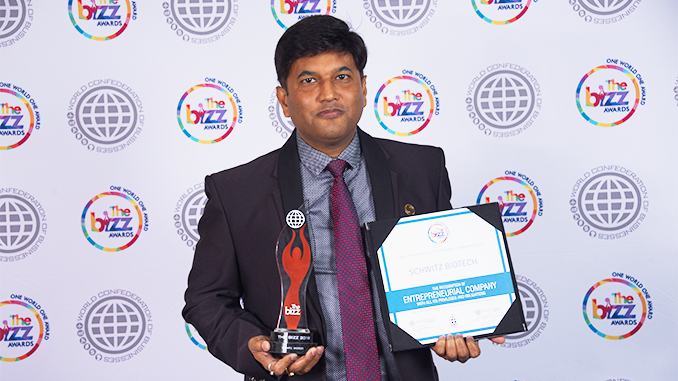 Schwitz Biotech: As a global Healthcare organization, we have our marketing network in three continents and more than 15 countries
Schwitz Biotech is a Pharmaceutical group based on India who had been rewarding with THE BIZZ Award in the  Entrepreneurial category in the ceremony who took place in Miami Beach.
We had an interview with Rakesh Bhattacharjee, CEO, and this is what he told us:
A brief description of your company
We are a name to reckon with in the Pharmaceutical horizon across India and globally at large. Headquartered at Ahmedabad, India. We are a leading manufacturer, exporter, marketing and Project Consultant of a wide range of pharmaceutical formulations in Tablets, Capsules, Syrup, Injections, Ointment, Soft gels and Small & Large volume parenteral and other segments like Nutraceuticals, Homeopathy, Herbal preparations, Disposable surgical, Biomedical & Critical Care Hospital Supplies,  Hospital Furnitures and Equipments& Innovative API's.
Business sector
pharmaceutical manufacturing, Marketing, Exports and Project Consultants.
What are the goals of your company?
Our goal is to introduce new improvements & innovation in the pharmaceutical formulations segment which have been instrumental for our huge success in India as well as a worldwide exporter.
What are the competitive advantages of your company?
We are WHO GMP recognized the company with the varied product portfolio for Domestic & Export markets. The products are manufactured adhering to the Stringent quality standards following the Standard Operating Process (SOP) as per the WHO-GMP norms & have been drawn up in recommendations specified in the the US, British & Indian Pharmacopoeias, for each of the operations.
What has been achieved by your company since its creation?
The company has developed more than 700 products since its inception in its Export & domestic product portfolio ranging from anti-malarial, antibiotics, antiviral-drugs, anti-inflammatoryantipyrehotics-analgesics, anti-allergic-drug, cerebrovascular-head-injury, dietary-supplements, gastroenterology-products,heart-disease-blood-pressure-gastrointestinal&iv-fluids.
As a global Healthcare organization, we have our marketing network in three continents and more than 15 countries viz. AFRICAN countries like Nigeria, Liberia, Sierra Leone, Ghana, Republic of Guinea, Angola, Benin & Togo, Mozambique, Malawi and Yemen, Botswana, South Africa, Swaziland and Asian countries like India, Sri Lanka, Bangladesh & Bhutan.
CENTRAL AMERICAN countries like El Salvador, Guatemala, Dominican Republic, Honduras, Bolivia & Nicaragua. CIS countries like Russia, Ukraine, Azerbaijan, Moldova, Belarus, Tajikistan etc. & ARAB countries like Iraq and Iran.
Awards
Indian Leadership Award For Young Entrepreneur–2013 (NewDelhi, India)
Akhil Bhartiya Udyog Kranti Award–2013 (New Delhi, India)
Asia Pacific Achievers Award–2014 Tashkent [Uzbek–Russia]
International Quality Crown Award–2014 (London)
Winner in New York of the International Quality Summit Award-2016
Quality Summit-New York
London Quality CrownQC 100
What projects has your company developed?
Commencing with a mere 10 Products range,  we have been continuously developing newer specialty products and strengthened our Regulatory Affairs Department as well as the R & D structure to enter into the International Markets.  Year after Year we have developed new products and explored newer markets to get an upper edge in the Markets, especially the African Markets, where we are known very well for our Anti-Malarial Range of Products & the Antibiotics.  At the same time, we had collaborated with the WHO grant, where we had been awarded the Government Institutional Tender Supplies for Countries like Nigeria, Swaziland & Mozambique.
In the Nutritional Dietary Supplements, we have developed Rarest of the Amino Acid Combinations as well as the Pro-Biotic combinations, by which we could penetrate the CIS Markets as well as some of the European Markets.
What are the most challenging goals that your company has accomplished?
Schwitz Biotech took the challenge & forayed into developing drugs in the area of Oncology, HIV & various vaccinations & has a goal to accomplish the certified & approved Anti-cancer, Anti-HIV drugs & vaccinations within 2 years of time by 2020.
Rakesh Bhattacharjee
CEO
Schwitz Biotech
www.schwitzbiotech.in