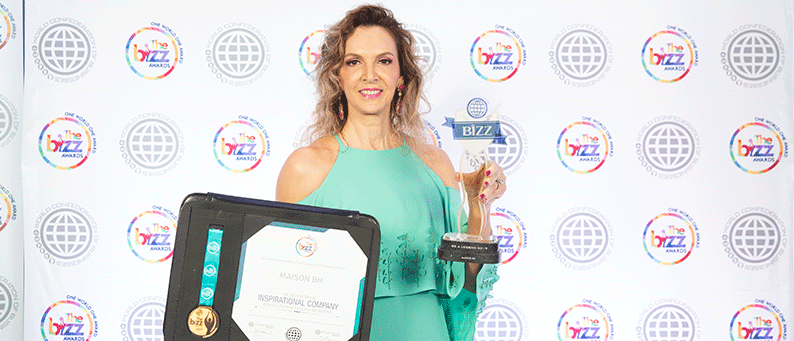 SPA MAISON BH is rewarded with a reliable reputation, a more comprehensive range of services
Brief description of your company:
SPA MAISON BH, opened its doors in Angola in 2008 and operates in the area of ​​beauty and well-being; started its activity with 5 national employees and today, proudly, we are a team with more than 40 employees.
Business sector:
Our daily Core Business is the beautification of people, providing physical, mental and spiritual well-being for a healthier and more enriching life.
What does it mean for you and your company to receive the THE BIZZ award at several consecutive times?
As a Woman and Entrepreneur, in an increasingly competitive business world, it is with great pride that I see my work recognized so comprehensively.
The awards bring us, as a Team, greater responsibility, greater motivation, resulting in a much more satisfied and loyal customer; however, we can position ourselves in our area as a credible and reference company in Angola.
What has been achieved by your company since its creation?
SPA MAISON BH is rewarded with a reliable reputation, a more comprehensive range of services, a greater number of customers to positively publicize our brand, which makes us a reference and a business model.
What projects did your company develop?
In addition to our services we have inaugurated this week the first Yoga Shala  developed by us, it is an innovation in our business area and in the Angolan market.
We are in the process of executing a new concept in the WELLNESS area.
This "Relax" concept will be aimed at combating stress that is increasingly present in our day-to-day lives, providing our client with more harmony, balance and self-esteem.
What are the objectives to be followed by your company in the coming years?
Angola is a deficient market in the Training and Qualification of Staff, which led us to develop a PROFESSIONAL TRAINING CENTER dedicated to the areas of beauty and aesthetics; We will also invest in the distribution of high quality products, consumables and equipment for the beauty and WELLNESS area.
Eliane Hansen
Eliane Hansen is a brazilian Business woman, the CEO of MAISON BH in Luanda, Angola, offering SPA treatments with benefits of health, beauty and well-being. Both quality and human care makes her business difrent.