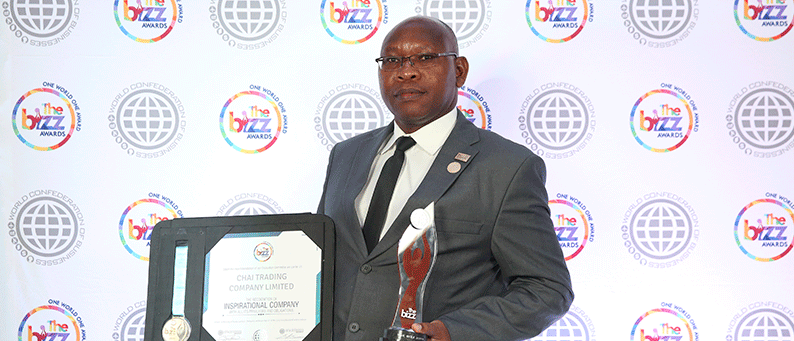 Chai Trading Co. Ltd has the biggest and ultra- modern warehousing space in the region
A brief description of your company
Chai Trading Company Limited (CTCL) is a wholly owned subsidiary company of Kenya Tea Development Agency Holdings Limited KTDA (H) Ltd based in Mombasa, Kenya; the Holding Company KTDA (H) Limited is the single largest producer of Black CTC tea in the world. Chai Trading Co Ltd does tea trading, value addition and exports. It also provides integrated solutions in logistics, clearing & forwarding ,warehousing and distribution. The vision of Chai Trading company as espoused in its strategic direction is " To be a world class organization in tea trading and logistics and other related services". The mission statement that guides the company is "To market high quality tea products globally and offer world class logistics and other related services, for the benefit of all stake holders". The core values that underpin the organization's performance and culture include:- Customer focused; uphold high standards of ethical practices; Socially responsible; Equal opportunity employer; Teamwork; and Efficiency, creativity and innovation. The organization has a staff establishment of 192 employees.
2.Business profile of your company?
Chai Trading Company Limited has two business units namely the Freight Division and Trading Division.
The Freight Division has combined capabilities in Warehousing, Logistics, Ships' Agency and offshore marine support to offer complete solutions for project moves of any scale and complexity in supply chain. The Division offers a wide range of services under one roof which include: Warehousing, Clearing & forwarding, Air Freight cargo services, Project cargo handling services, Ships' Agent, NVOCC groupage cargo services, Commission Agents, Transport and integrated forwarding services to fully free a client from care about cargo delivery. In terms of warehousing, Chai Trading manages a total warehousing capacity of 988,600 sq.ft; mainly specializes in tea warehousing from across the region as well as other commodities like fertilizer, machinery among other items. Additionally Chai Trading owns 2 hectares of open storage space all in Mombasa, Kenya making her the largest warehousing company in the region.
The Trading Division is engaged in buying and selling of teas (Black CTC tea & Orthodox teas) of all origins from the Mombasa Tea auction, KTDA Direct sales and other private factory offers; it trades in both straight-line teas and blended types. It is currently ranked amongst the top ten major buyers at the Mombasa Tea auction. In terms of tea value addition, it sources fresh teas from KTDA owned factories and pack through its multi-million modern packaging equipment which addresses the desire to have teas blended and packed in a cleaner and healthy environment. The Division also trades teas through the KTDA Dubai Multi-Commodity Centre (DMCC) based in Dubai, United Arab Emirates; the Dubai Centre serves Tea customers from the Middle East countries, Russia and Kazakhstan.
3.What are the competitive advantages of your company?
▪ Chai Trading Co. Ltd has the biggest and ultra- modern warehousing space in the region ; besides it is the only warehouse with tea racking facility in the region.
▪ Chai Trading Co. Ltd has a modern tea blending and packing facility which guarantees that tea is packed in a cleaner and healthy environment.
▪ Chai Trading Co. Ltd has a wealth of experience in cargo discharge/stevedoring operations at the port of Mombasa in Kenya.
▪ Chai Trading Co. Ltd has established an efficient road transport services through own fleet of trucks and as an agent for various trucking companies.
▪ Chai Trading Co. Ltd is certified in both ISO 9001:2015 Quality Management System and ISO 22000:2005 Food Safety Management System which guarantees a system based approach in her operations and hygiene conditions in tea handling.
▪ Chai Trading Co. Ltd is able to source fresh teas directly from KTDA owned factories and thus guarantee faster shipments.
▪ Chai Trading Co. Ltd ensures Pre-auction tea samples are 100% tasted two weeks prior to the auction as a quality control measure.
4.What has been achieved by your company since its creation?
▪ Turnover has grown to USD 0.1930 billion.
▪ Tea purchased at the Mombasa Tea auction has grown to 36,100,137 kilograms.
▪ Among the top ten buyers at the Mombasa Tea Auction.
▪ Warehousing space has increased to 988,600 sq.
▪ Installed tea racking facility  in the warehouse making it the only warehouse with such a facility in the region.
▪ Installed a modern tea blending and packing machine.
▪ Awarded by the Export Agency in Kenya as the best exporting company in adoption of ICT & E- Commerce and second runners-up in the overall category in exports in Kenya during the Kenya Exporter of The Year Awards 2019.
5.What are the goals to follow by your company in the upcoming years?
For the Freight Division, it is to be at epicenter of the supply chain and this will be done by operating a Logistics Centre that is currently being put up at the Kenyan capital city Nairobi; this Logistics Centre will take advantage of its proximity to the Inland Container Depot (ICD) and the Standard Gauge Railway (SGR) station  to maximize on the opportunities provided by multi modal movement of cargo from all over the world to the Kenyan capital and beyond.
For the Trading Division, it is to continue cementing the position of the company as the preferred supplier of Black CTC tea in the key global markets as well as source for new markets for other varieties of teas like the orthodox tea. On value addition there will be increased activities in sourcing for markets for blended teas.