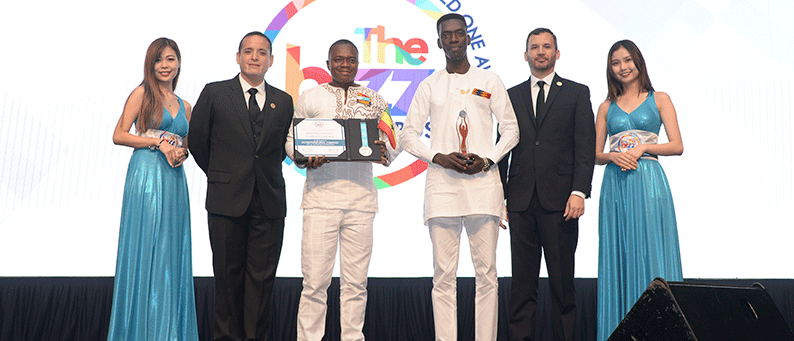 Winning Andisel Company Limited: "The company has been able to support over 120 people to find employment in and out of Ghana"
Company Brief Description
Winning Andisel Company Limited was incorporated in 2011 as a limited liability company in Ghana by the Registrar General of Ghana under the Companies Code of 1963, Act 179. The company is authorised to carry out the following:
Real Estate Development and Brokerage
General Trading, Export and Imports
Vehicle Dealership
Recruitment Services
Business Representatives for multinational companies
The company is owned by Mr. Andrew Akyeampong Okyere a young entrepreneur and a graduate of Marketing with more than 10 years of working experience even at a very young age.
Business Profile
Company Name: Winning Andisel Company Limited
Mail Address: P.O. Box CE 12198, Ghana, West Africa
Office Location: Tema, Ghana
Email Address: info@winandisel.com
Web Address: www.winandisel.com
Type of Ownership: Limited Liability
Accountants: Eddy Netoi Accounting Consultancy, Accra, Ghana
Bank: GT Bank Ghana Limited
Business Phone: +233-244-795-759/ +233-303-217-878
Competitive Advantage
The competitive advantage of the company includes the following:
Relationship of the owner with major stakeholders in industry and government that cab be leveraged for the benefit of the company and its clients
Ability to draw on a pool of professionals with various expertise to meet the needs of clients/ customers.
Achievements
The company can currently pool more than 100 employees directly and indirectly for various projects from an initial employee number of 5
The company and its founder has been recognised by national and international bodies
The company has been able to support over 120 people to find employment in and out of Ghana
The company has been able to close over 50 real estate deals over the last five years.
The owner is a regular motivational speaker for various religious and educational platforms because of the achievements of the company.
Future Plans
The company plans to build a multipurpose-ultra modern office within the next five years to house its administrative operations
A 100 acre land is being acquired to develop an exclusive residential property made up of flats, detached and semi-detached properties with a sports complex and a medical outpost.
The company is working with other stakeholders to set up an inland terminal for haulage companies in the west African sub region.
Director Profile
Andrews Akyeampong Okyere is a graduate of Presbyterian Secondary School and the Accra Technical University with Honors. He graduated 8 years ago as a professional marketer. He had since worked with a number of companies and businesses in Ghana. He served as an instructor in Marketing Studies at Mericom Professional Institute and during those year also graduated with an Advanced Diploma.
In Marketing from the Institute of Commercial Management. He also works on part time as a market researcher at Alpha Samuzz Consult, a business development firm in Tema, Ghana. He also serves as General Manager for Oodda Company Limited.
He is the founder and CEO of Winning Andisel Company Limited. He is responsible for formulating policies and programmes that drive the company forward. Andrew believes this is an exciting time to serve people. He is a board member of the Presbyterian Secondary School in Tema.