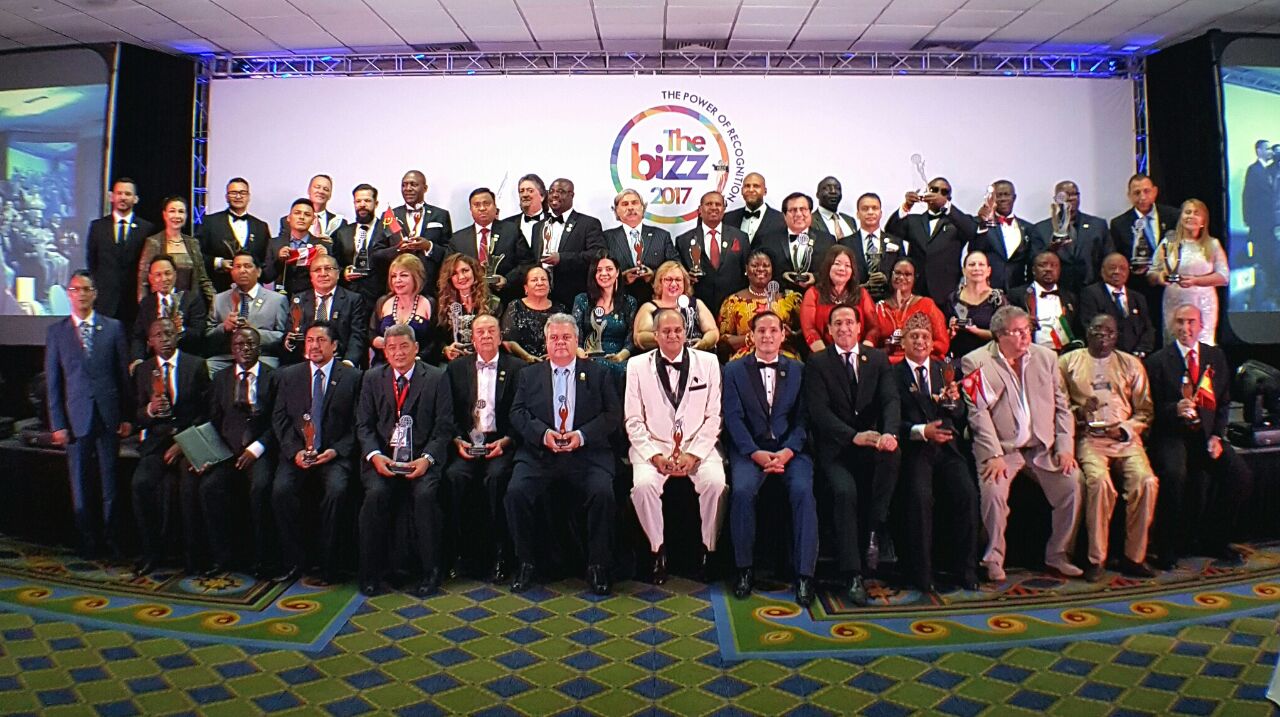 Prestigiosas compañías a nivel mundial ganaron el premio THE BIZZ 2017
La ceremonia de entrega de los premio THE BIZZ AWARDS 2017 se llevó a cabo el 27 de julio en Frenchman's Reef & Morning Star Marriott Beach Resort. El galardón fue otorgado por la Confederación Mundial de Negocios (WORLDCOB)
En este evento participaron todas las empresas que han logrado desatacarse por sus altos estándares de liderazgo empresarial, sistemas de gestión, calidad en sus productos y / o servicios, innovación y creatividad, responsabilidad social, así como otras áreas.
En esta edición, el premio THE BIZZ fue otorgado a las siguientes empresas: 4 Space Interior Design (EAU); Centre D'Oncologie al Azhar (Marruecos); Neurogen Brain & Spine Institute (India); National Water and Sewerage Corporation (Uganda); Odotobri Rural Bank LTD. (Uganda); First Sky LTD. (Ghana); Fareast Islami Life Insurance Company Limited (Bangladesh); Stadium Management South Africa (PTY) LTD (Sudáfrica); Becerril Coca & Becerril (México); University of Abomey-Calavi (Benín)
Also Cabinet J Monteil & Cie (Senegal); Restaurant Las Canastas S.R.L. (Perú); Bio Sthetic International Inn S.A. (Paraguay); Ecuambiente Consulting Group Cía LTDA (Ecuador) ; Sanaire (México); Deco Locks Inc (Panamá); Macros Consulting, Marketing, Advertising (Honduras); CAMServ (SL) LTD (Sierra Leona); DMI Medical Supply Company Philippines; (Filipinas) ; Labclinics S.R.L. (Bolivia) ; Puncak Niaga Holdings Berhad (Malasia); National Water and Sewerage Corporation (Uganda); Xavier University Bhubaneswar (XUB) (India).
Michelangelo Ristorante (Bolivia); Serba Dinamik SDN. BHD. (Malasia); Tanah Aina SDN BHD (Malaysia); G.G.I. Intenational (NIG) LTD (Nigeria); Fesempre – Federação Dos Servidores Públicos Municipais e Estaduais (Brasil); Eclipse Microfinance Limited (Ghana); National Hotel Angue Ondo (Guinea Equatorial); Controlsa (España); UTIP (Angola);
Comfortsleep (Guyana); ORDA – Organization for Rehabilitation & Development in Amhara, Ethiopia ( Etiopia); Minera Tauro S.A.C. (Perú);  Mount Kailash Resort (Nepal); Associação de Jardins-Escolas João de Deus (Portugal); Producción Panameña de Hielo S.A.(Panamá); Awaritse Nigeria Limited (Nigeria); Avant Garde Security Services (PVT) LTD (Sri Lanka); Habeas Data México S.A. de C.V (México).
El evento incluyó el taller: "Leadership and Recognition" llevado a cabo por la Directora de Desarrollo Humano, Nancy Branger.
Asimismo, este año, el eslogan de los premio es "The power of Recognition" porque se busca incentivar y motivar a las compañías a participar activamente en el mundo empresarial para que así puedan ser ejemplo para otras en sus respectivos países, haciendo contribuciones valiosas en temas laborales, económicos y sociales.
Es importante destacar que WORLDCOB promueve el desarrollo económico de 3 000 empresas en más de 120 países por más de 11 años, a través de sus diferentes redes empresariales.