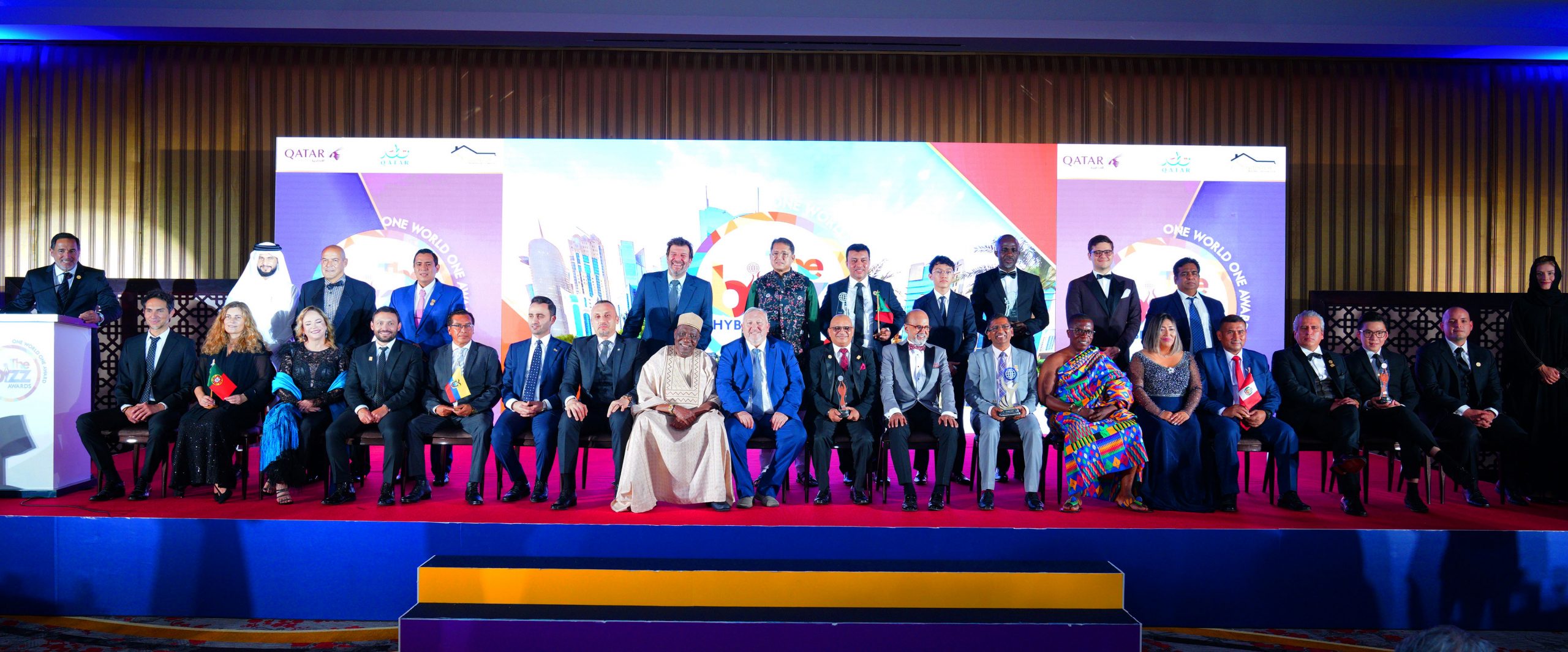 Una Nueva Era de THE BIZZ dio Inicio en Doha-Qatar
Desde el pasado 23 al 25 de noviembre se celebró en el hotel The St. Regis de Doha, Qatar el premio THE BIZZ AMEA 2021, ahora como evento híbrido, donde más de 30 empresas fueron galardonadas con el reconocimiento empresarial más importante del mundo.
El evento contó con el apoyo oficial de Qatar Tourism, máxima institución turística del país, Qatar Airways y con el auspicio de SIGNATURE GLOBAL REAL ESTATE LLC (Emiratos Árabes Unidos) ganadores del premio THE BIZZ en la categoría "Inspirational".
"Después de un largo tiempo finalmente tenemos el privilegio de celebrar esta edición en Doha y no podemos estar más contentos con el inicio de esta nueva era de THE BIZZ en una ciudad que nos resulta tan familiar y cercana, realmente nos honra enormemente contar con el apoyo de grandes instituciones locales como Qatar Tourism y Qatar Airways para realizar THE BIZZ AMEA 2021 en Qatar." – Jesus Moran (Presidente de WORLDCOB)
En el evento de 3 día empezó el 23 de noviembre con una recepción de bienvenida para todos los miembros representantes de las empresas galardonadas en la edición, luego, al día siguiente disfrutaron de un Workshop  dirigido por Nancy Branger (Directora de Desarrollo Humano), posteriormente en la noche se realizó la gala de premiación y cerró el día 25 con un city tour guiado por la ciudad de Doha, exclusivo para los ganadores.
"El año pasado exploramos la virtualidad  con los recognition meetings y el WORDLCOB Virtual Summit  y aprendimos de cerca sus beneficios, por eso este año introducimos la experiencia híbrida" – Comenta Daniel Javier, Director de Calidad y RSE de WORLDCOB durante su discurso de inauguración en relación a que THE BIZZ es ahora un evento hibrido que combina el evento virtual con el evento presencial.
Adicional a las actividades in-situ que los miembros de WORLDCOB pudieron disfrutar, el evento también podía ser seguido en tiempo real a través de www.thebizzhybrid.com, plataforma totalmente interactiva que permitía a los usuarios interactuar en tiempo real con empresarios alrededor del mundo, visitar los stands de las empresas de esta edición de THE BIZZ y la transmisión en vivo de la ceremonia de premiación.
Entre las empresas locales que fueron premiadas en esta edición tenemos a WEST BAY PETROLEUM CO.WLL (Qatar),  DOHA BANK (Qatar), DARWISH INTERSERVE FACILITY MANAGEMENT (QATAR) Y AI INTEGRATED QFZ LLC (Qatar).
La cita es ahora para el 2022 donde se celebrará THE BIZZ Eurasia 25 al 28 de mayo en Kazajistan y THE BIZZ Americas el próximo 29 al 31 de julio en Toronto, Canadá.