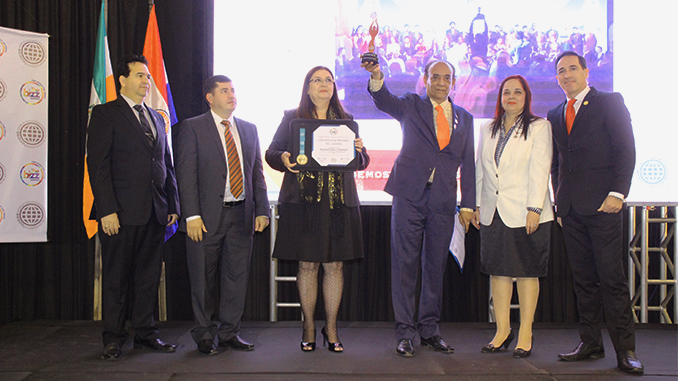 Universidad Privada de Guairá Recibió THE BIZZ Award en ceremonia Privada
La Universidad Privada de Guairá ubicada en Villarrica en Paraguay se ha hecho acreedora del premio a la excelencia empresarial THE BIZZ 2018 en la "Inspirational Category", siendo esta la primera vez que la organización recibe este reconocimiento por parte de WORLDCOB.
Para la occasion se preparó una ceremonia privada en la ciudad de Villarrica donde  asistió nuestro Dirctor de Calidad y CSR, Ing. Daniel Javier, para hacer los honores al rector de la Universidad Dr. Arístides Gaspar Fernández Bittar quien recibió el reconocimiento en nombre de la organización.
Universidad Privada de Guairá es una institución de enseñanza terciaria con más de 20 años de trayectoria en la ciudad de Asunción y en la ciudad de Villarrica, Departamento del Guairá que nació con la misión de promover el desarrollo de hombres y mujeres en los diversos órdenes del conocimiento, formando profesionales con educación integral basada en principios humanos, científicos, tecnológicos y éticos; líderes capaces, con vocación de excelencia, creativos y cultos que aporten positivamente con el desarrollo de una sociedad más justa, progresiva y competitiva, inspirada en valores democráticos, resguardando y enriqueciendo el acervo artístico, cultural, nacional y universal.
La Universidad ofrece las carreras en: Ciencias de la educación, ciencias sociales, ciencias jurídicas, letras, ciencias y tecnología, entre otras.
Con este reconocimiento internacional la organización espera  seguir creciendo dentro de su región, así como incentivar la confianza de sus miembros y estudiantes.