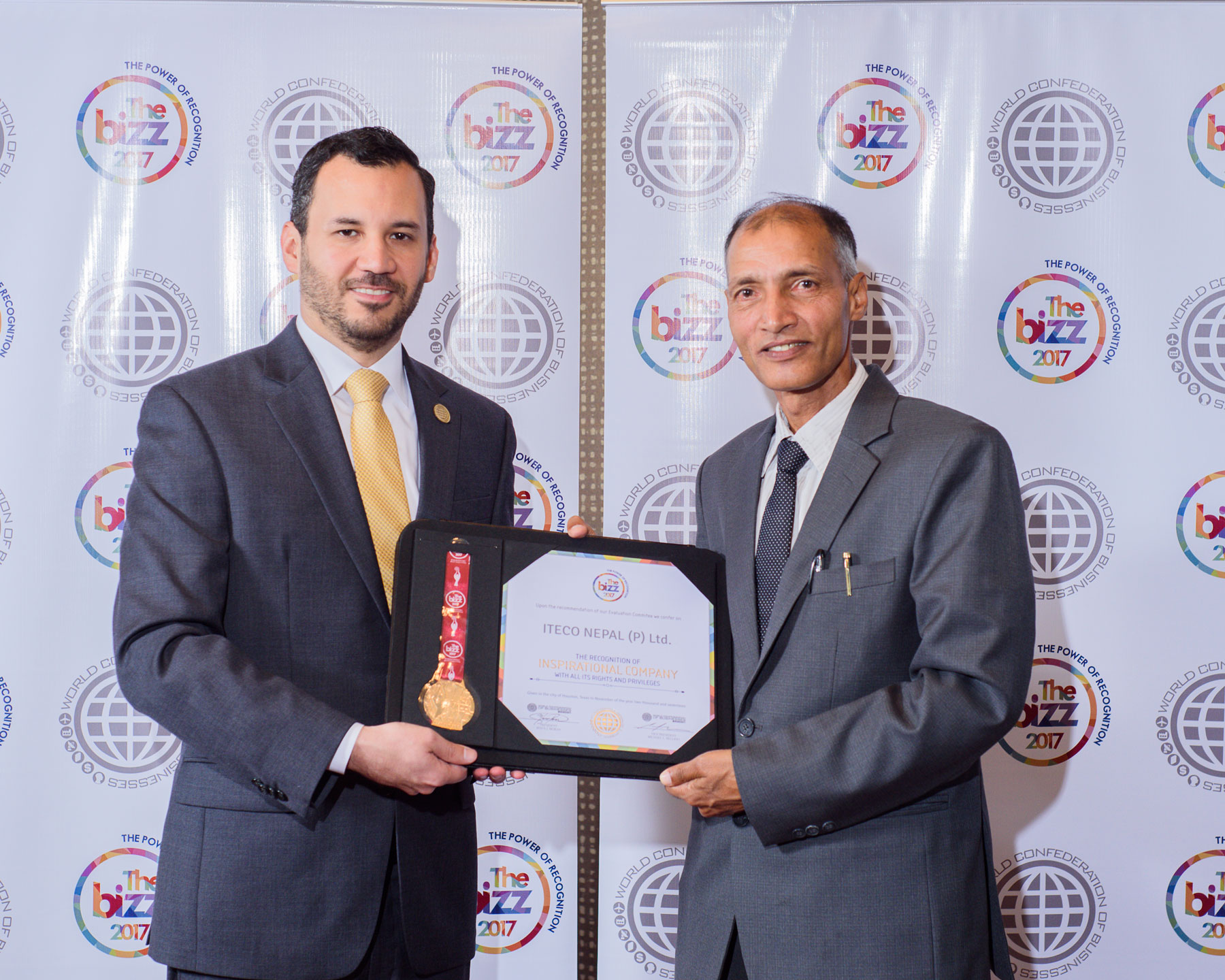 WORLDCOB premió a reconocida empresa de Nepal
Por su excelente desenvolvimiento empresarial, el liderazgo de sus gerentes y su visión de éxito,   WORLDCOB premio a la empresa Iteco Nepal el 25 de noviembre del presente año en la ciudad Houston, Texas, Estados Unidos.
La empresa recibió el trofeo THE BIZZ en la categoría Inspirational  otorgado a las organizaciones ganadoras del THE BIZZ por segunda vez y que han mantenido un éxito continuo siendo un ejemplo para su comunidad.
El presidente de la compañía, el Sr. Tuk Lal Adhikari recibió el reconocimiento en representación de toda la compañía, el cual fue otorgado por el vicepresidente de WORLDCOB, Sr. Michael Bellido.
THE BIZZ es el premio empresarial más importante del mundo. Su objetivo es fomentar, reconocer e impulsar el desarrollo de las compañías a nivel mundial. Este es otorgado a empresas más destacadas de su país y líderes en su sector, como es el caso de Iteco Nepal.
Para obtener este importante reconocimiento, el comité de Evaluación califica a las empresas postulantes a través del "Cuestionario de Excelencia Empresarial", que evalúa: Liderazgo Empresarial, Sistemas de Gestión, Calidad en los Productos y/o Servicios, Creatividad e Innovación Empresarial, Responsabilidad Social Empresarial, Logros y Reconocimientos.
Es importante resaltar que este galardón se entrega todos los años en 3 ceremonias de gala.
Sin embargo, existe la alternativa de recibir el premio en una ceremonia privada, como lo hizo Iteco Nepal. Otra alternativa, es que la compañía pueda recibir la visita de un representante en sus instalaciones.
Se felicita nuevamente al Iteco Nepal por tan merecido reconocimiento.