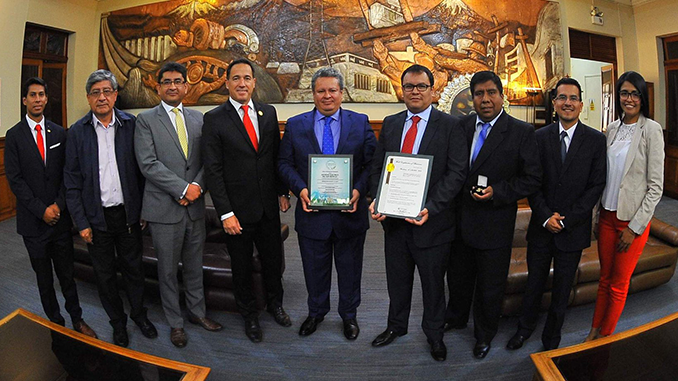 A Leading Company in Peru's Electrical Sector Receives WORLDCOB-CSR Certification
A leading company in Peru's electrical sector, "Sociedad Eléctrica Del Sureste Oeste" (SEAL) received the WORLDCOB-CSR:2011.3 certification after a thorough assessment process. The satisfactory results guarantee that the operating practices of this organization align with the international standards of Corporate Social Responsibilities.
SEAL has a 113-year trajectory and is controlled by the Peruvian State through FONAFE (National Fund for the State's Business Activity Financing). The company was incorporated in 1905 as Sociedad Eléctrica de Arequipa Ltd. and is dedicated to the distribution of electric power in the Peruvian Region, where its headquarters are currently located.
The award ceremony took place in Arequipa on November 26 of the present year at a press conference, where the company CEO, directed by the Executive Manager, José Málaga, received the plaque from our Director of Quality and CSR, Daniel Javier.
"This is an important milestone among the changes currently taking place at SEAL; we feel that the electricity business goes beyond the simple distribution of energy; our task is to strengthen the Arequipa people and change the lives of the individuals that have no access to this basic public service," says Málaga
"At SEAL, we feel that our activities were not properly disseminated nor structured to provide the social impact that we intended" – José Málaga, Executive Manager (SEAL).
The WORLDCOB-CSR certification, awarded to the company, is proof of the Peruvian state's position in face of the correct application of CSR policies. It also opens the path for other companies in this sector to start aligning and measuring their actions hand in hand with sustainability.
"This is a fairly new process and doesn't end with this certification. We see ourselves as an ally of SEAL in relation to Corporate Social Responsibility subjects in the future. Also, as an organization, something I would like to highlight is that the Peruvian government, in some way, have identified CSR and sustainability as pathways to the sustainable development of their society," declared Daniel Javier (Director of Quality and CSR WORLDCOB).
For more information, please visit us online at http://www.seal.com.pe  and www.worldcob-csr.com
Company: Sociedad Eléctrica del Sureste Oeste (SEAL)
Company's representative: José Málaga
Position: Executive manager
Website: http://www.seal.com.pe