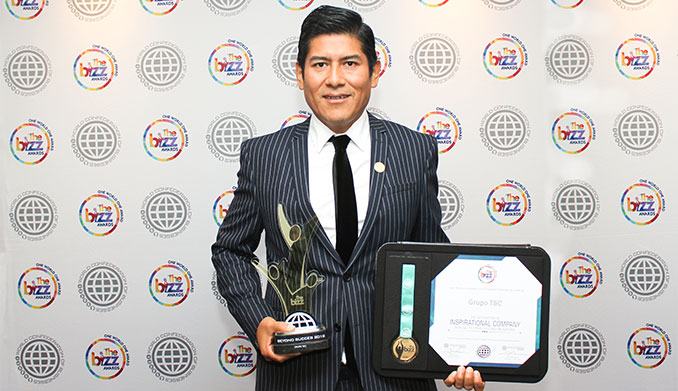 Grupo T&C: More than 16 Years of Experience in the Development and Construction of Real Estate Projects
Grupo T&C is one of the most important companies in the real estate sector of Peru. This company has developed many projects in the country like multi-family houses, hotels, and offices, among others.
On October 30th of the present year, the company received the BEYOND SUCCESS trophy award from Jesus Moran, Co-founder and President of WORLDCOB in a ceremony held in the city of Lima, capital of Peru. This was the third time that the company received this recognition for their business achievements.
In relation to this event, we interviewed Victor William Ticona Cuadros, General Manager, who shared the following information.
A brief description of your company
Grupo T&C is a real estate developer positioned as one of the top leaders in this sector with more than 16 years of experience in the development and construction of real estate projects.
The group's main business centers on the purchase of property in strategic locations with optimal and efficient designs in multi-family housing projects, supervised construction, and the promotion and sale of real estate units. The group has developed more than 20 real estate projects resulting in the construction of more than 310,000 m2 of built area. In the last 4 years, the average sales volume exceeded USD 30 million annually.
In 2013, Grupo T&C, as part of its diversification strategy, decided to invest in the construction of hotel projects. It was essential to associate with international chains with expertise in the field of hotel operations to further this initiative.
In recent years, Grupo T&C have successfully invested in the development and construction of boutique office projects to prepare them for subsequent sales. This marketing strategy involved the creation of the "IQ Office" brand to promote these real estate units.
What are your company's goals?
To position ourselves as the industry's top leading company in this sector.
Generate value to the finished product to ensure customer satisfaction.
Successfully break ground in new districts with the development of well-built and efficient projects.
Grow 3% in sales volume for the upcoming year
What are the competitive advantages of your company?
Projects placed in strategic locations
Optimal and efficient designs.
Competitive prices.
Alliances with international chain operations.
What goals have your company achieved since it was founded?
Sustained growth.
Creation and promotion of the IQ Office brand for the office division projects.
The launch of a second office project known as IQ Parodi in San Isidro.
Start of construction of the second hotel complex developed by the group.
What have been the most significant challenges for your company?
Significantly exceed the sales volume achieved in the last 4 years.
Duplicate the number of projects in our portfolio.
Venture into new market territories like Barranco and Santiago de Surco.
[kad_youtube url="https://www.youtube.com/watch?v=1G2ezCm9LVY&t=7s" ]
Institutional Information
Company: Grupo T&C
Company representative: Victor William Ticona Cuadros
Position: General Manager
Website: http://www.grupotyc.com/