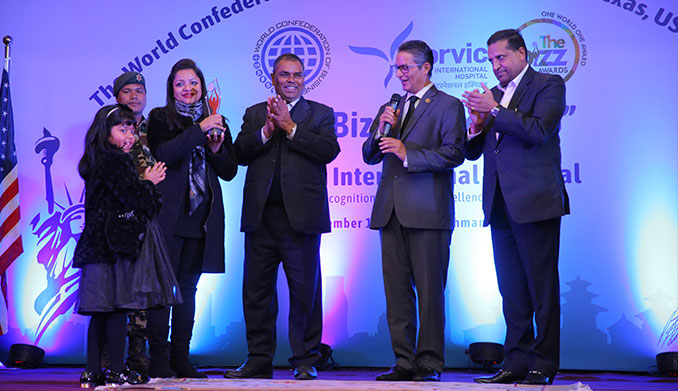 Norvic International Hospital: "Norvic is the first Hospital in Nepal with NABL accreditation"
Norvic International Hospital is the leading medical specialists located at Nepal who recently received THE BIZZ Award on a private ceremony, conducted by the Director of International Relations, Nicolas Caffaro.
Regarding this recognition and event, we had an interview with Ms. Megha Chaudhary, MD  of the company, who told us the following.
A brief description of your company.
Norvic International hospital is the leading medical specialty established in 1993, 25 years ago by Chaudhary Group, one of the leading corporate houses in Nepal. Norvic International hospital is the state-of-the-art, super-specialty general hospital located in the heart of Kathmandu city in Nepal.
As a testimony to its high standards, Norvic is the first Hospital in Nepal with NABL accreditation with high-tech laboratory services and also certified for ISO 9001:2015 standards. Norvic takes pride in providing in-depth expertise in the spectrum of advanced medical & surgical interventions, a comprehensive mix of inpatient and outpatient services. A combination of cutting edge technology in the hands of renowned in and across the country has set new standards in healthcare. Stellar services within a warm and flexible environment paired with affordability, has made Norvic one of the most dependable hospitals in the country.
The hospital plays an active role in promoting and improving health within the community actively participating to build a strong and integrated system for the regional healthcare and delivery.
Norvic also believes in giving back to the society and has involved itself in many of the CSR activities. Currently, it has institutionalized its CSR activities through Lions Club of Kathmandu Norvic.
Business Sector:
Critical care or tertiary care in medical treatment is the core business sector of Norvic International Hospital. As this region's one of the leading and pioneer multispecialty general hospital, Norvic provides preventive, diagnostic, therapeutic and rehabilitative medical care in most  faculties of medicines. However, it provides the best in class medical care in Cardiology and Cardiac surgery, Orthopedics, Neurosurgery, Gastroenterology & Hematology, Obstetrics & Gynecology Pulmonology and so on.
What are the goals of your company?
There are many ambitious goals set by Norvic International Hospital. The major ones are:
To convert it into a fully equipped nuclear medicine centre thereby gaining the status of the country's first choice medical referral centre. Another goal as set by Norvic management is to take a lead in the medical tourism sector of the country. In doing so, Norvic plans to revamp some of its medical faculties and convert them into super specialized centres. The centres to be up-graded into super specialty centres are: Cardiology Centre, Pulmonology Centre, Digestive Disease Centre, Obstetrics & Gynecology Centre, Orthopedic and Trauma Care Centre, etc. Norvic will also add up specialized Mother and Child Section,
What are the competitive advantages of your company?
Regarded as the most credible Healthcare Centre in the country, committed to Quality Health Care in the service of the Nation, Norvic has numerous competitive advantages in the field of medical care. A few of them are:
Availability of the best team of medical/surgical expertise/doctors round the clock.
Highly dedicated management team supported by loyal staffs.
Well-developed/established brand of Health care in the country.
Most credible health care service provider.
Dependability of patients for critical treatment.
Other competitive advantages are:
Personalized and Compassionate patient care
Clean & hygienic workplace
Centrally located in the heart of the city
Certified with ISO 9001 : 2015 Quality Management Systems
Member of "Global Green & Healthy Hospitals (GGHH)," for biomedical waste management.
NABL Certified Pathology Laboratory.
Professional Management with a dedicated team of experts and employees
Tied up with over 50 International Medical Insurance Companies worldwide
Currently affiliated to one of India's largest Corporate Hospital Groups Fortis Group of Hospitals,
We are an internationally acclaimed multi-disciplinary hospital with multi super specialization celebrating 25 years of compassionate care in Nepal. Equipped with state of the art medical equipment manned by a professional team of experts. With the motive to serve the international and domestic patient, it has Norvic Clinic present inside the airport so that the patient can be attended on time.
What has been achieved by your company since its creation?
During 25 years of services, Norvic has achieved 'Many Firsts' in the medical history of Nepal. A few of them are:
First Pace Maker Implants and BMV Procedures carried out.
First International symposium entitled "Cardiac Surgery and Cardiology at the Dawn of New Millennium" took place.
The first CABG procedure carried out successfully pioneering Open Heart Surgery in Beating Heart state. Subsequently, procedures like Coronary Artery Angioplasty (PTCA), Trans esophageal Echocardiography (TEE) were also carried out gradually
First hospital in the country to launch "Mission Save Heart" programme with Mobile CCU. Now, Norvic has a fleet of the 5 such mobile CCUs for the service of the patients.
Peripheral, Cerebral, Renal and Carotid Angioplasties were also carried out in a great degree of success.
The first surgery carried out to open the Carotid Artery Blockade successfully.
Many diagnostics, therapeutic and rehabilitative measures with high end technology have helped Norvic to be a most reliable critical care centre of the country with facilities of Nuclear medicines.
Likewise, the following are the other achievements gained so far:
Norvic started the 'Centre for Neurological & Allied Sciences'.
Norvic established the Country's first Catheterization Laboratory converting the hospital into a global member of definitive cardiac therapy.
Norvic started the country's first and dedicated, specialized Gastro Intestinal Intensive Care Unit (GICU) under its Digestive Disease Centre (DDC). The DDC also houses the Endoscopic-Ultrasound (EUS; 1st in the country), Enteroscopy (1st in the country); Capsule Endoscopy, UGI & LGI Endoscopies and ERCP services making the DDC one of the best equipped GI centres in the country.
Norvic revamped its surgical facilities by starting three state-of-the-art, JCI standard Modular Operating Suites. After installation of this facility all surgical interventions carried out here did match with the world-class surgical interventions.
Norvic further modernized its Diagnostic Centre with addition of one of the world's most advanced 128 Slice CT Scan and 3 Tesla MRI facilities.
What projects has your company developed?
Projects are inevitable for a viable and vibrant company. It's a continuous process. If we talk about recent development of projects at Norvic, I wish to mention the following:
New specialty added: Norvic has just recently added Oncology and Hemodialysis services. Apart from medical and surgical management of oncology, chemotherapy has been going in full swing
Service up gradation: Norvic has further upgraded the services of its Digestive Disease Centre with addition of facilities such as Argon Plasma Coagulation (APC),
Launch of new services: Norvic is geared up to launch the services of Chiropractic medicine, specialized Colo-rectal treatment services and Anti-ageing medicine 1st ever in the medical history of Nepal.
What are the most challenging goals that your company has accomplished?
The major challenges in health care domain in this part of the world are:
Non-availability of qualified medical human resources,
Lack of adequate financial resources,
Lack of technology and technical knowhow,
High Turnover of human resources.
Norvic has acquired required amount of technical know-how from its international associates/affiliates. To make any projects/scheme/goals viable, Norvic invests adequate amount of financial resources as well.
Norvic has managed and mobilized its funds very effectively and efficiently in upgrading the quality of health care services in the county.
Now, Norvic is in the verge of converting itself into the nuclear medicine centre as it has revamped drastically its diagnostic measures with the addition of the latest versions and most advanced CT and MRI facilities.
To speak medically, Norvic has accomplished a number of other challenging goals such as implementation of high end technologies, commencement of high priority medical practices, online test results, reporting and follow-ups, reduced the risk of health care associated infections (infection control); improved the effectiveness of communication among care givers (nurses and doctors); effective, management of clinical documentaries and so on.
[kad_youtube url="https://www.youtube.com/watch?v=a-ccDxBiGZ4″ ]
Institutional Information
Company Name: Norvic International Hospital
Company Representative: Ms. Megha Chaudhary
Country: Nepal
Website: https://norvichospital.com/