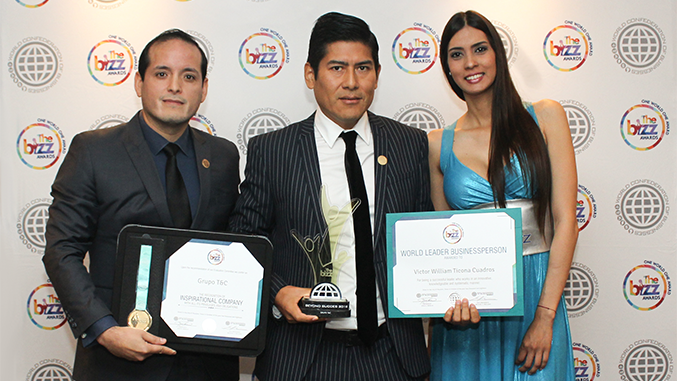 Important Company in Peru's Real Estate Development Sector Receives THE BIZZ Award in Privately Ceremony
Grupo T&C—one of the largest real estate developers in Peru—has been selected by WORLDCOB'S Board of Directors as the winner of the Business Excellence Award, THE BIZZ, for the third time in their company's history.  The BEYOND SUCCESS trophy was awarded in a privately held ceremony in Lima, Peru, on October 30, 2018.
The ceremony was organized by the co-founder and president of WORLDCOB, Mr. Jesús Morán, who awarded the trophy to the General Manager of the organization, Mr. Victor William Ticona Cuadros. In addition, Mr. Cuadros received the WORLD LEADER BUSINESS PERSON recognition thanks to his contributions and leadership as the head of the company.
"Seeing us move forward and that such an important organization like WORLDCOB took notice of our efforts by granting us this recognition, makes us feel delighted and very satisfied with the results of all our achievements", declared Mr. Victor William Ticona Cuadros.
In the past, the company had received their awards in ceremonies held in Paris and Hawaii. On this occasion, they were pleased to receive the recognition in their own country in a privately held ceremony, which is an alternative that WORLDCOB offers to its Elite Members. Many of the company's collaborators, including clients and associates attended this event.
Victor William Ticona Cuadros notes, "Previously, we participated in the award ceremonies held in Paris and Hawaii, which were wonderful, but only a few members of the organization were present. In this opportunity, to do it in our city and in our own offices allowed us to invite many more collaborators to this event, which was very gratifying".
Currently, the company is working on projects in Peru's hotel industry and expect to continue growing and consolidating their leadership in the real estate development sector.
Company: Group T&C
Company's representative: Victor William Ticona Cuadros
Position: General Manager
Website: http://www.grupotyc.com