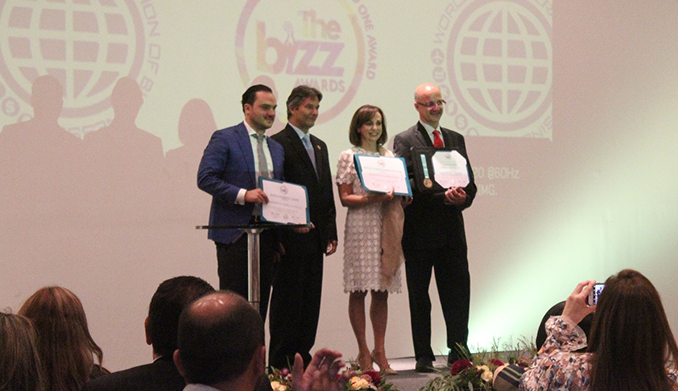 CORPORATIVO TEMBO of Mexico Winner of THE BIZZ
For the first time, CORPORATIVO TEMBO, S.A DE C.V of México has been awarded THE BIZZ award in a private ceremony held in the Toluca Cultural Center on July 27 of the present year.
Corporativo Tembo is a proud Mexican company, with more than 17 years of experience. Over the years, this company has developed more than 1,500 homes always with the goal to satisfy their clients with quality, by surpassing expectations and providing a great quality of life.
The ceremony was directed by Nicolas Caffaro, director of International Relations and during the event, Ms. Martha Doménica Naime Atala—Corporate Director—thanked all of the organization's collaborators for this recognition.
"I'm really proud that our efforts are being recognized, especially for all of the hard work that is required to build a house. I am deeply indebted to my collaborators, the clients who prefer our services, and the organization that is giving us this recognition today because this is only a recognition. Each year we need to apply for other categories and we are going to do it. This is a promise and a source of great pride for us," declared Tembo's Corporate Director, Ms. Martha Doménica Naime Atala.
At the ceremony, other members received individual recognition as well. Lic. Mariano Salgado Naime, the Architect María Fernanda Salgado Naime, and the General Director Antonio Naime Atala, whose contributions were key to reach the company's objectives.
With this recognition, this business group is emerging as a leader in their field within the region, and this provides a platform to expand their prospective goals.
Source: http://diarioportal.com