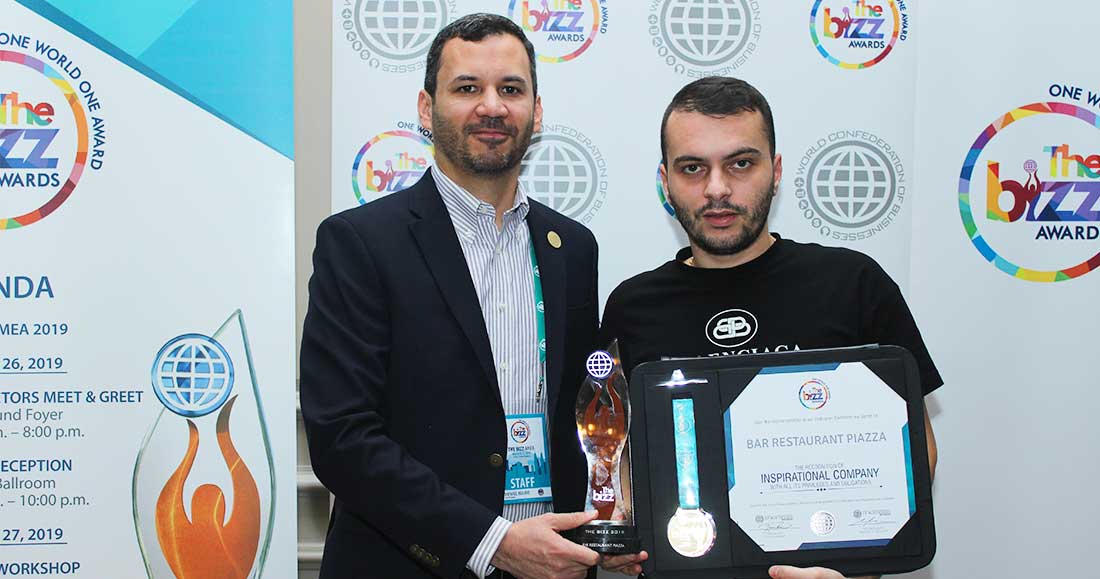 Bar Restaurant PIAZZA: "Established in 1993, it soon became a meeting place for artists and intellectuals"
Bar Restaurant Piazza is a large meeting place in Albania that recently receives THE BIZZ Award for the first time in their history, on the most recent ceremony of THE BIZZ AMEA in Kuala Lumpur, last November 26 and 27.
Regarding this recognition, Mr. Kreshnik Morinaj (administrator) have us an interview where he shared what this important business recognition means for the company.
A brief description of your company
Established in 1993, it soon became a meeting place for artists and intellectuals, a place for painting exhibitions, book promotions, meeting of generations, etc., thanks to a very good location in the center of the capital of Albania, with a beautiful  green garden which seems an oasis of palm trees and multi-colored plants, and high-quality services it provides.
Business profile of your company?
Piazza Bar Restaurant offers to its customers: coffee bar, Piano Bar & Restaurant.
Coffee Bar & Fast Food welcomes all its customers throughout the year by providing quality service for coffee bar and fast food products, cakes, etc. During the Spring-Summer season live music in the garden area is offered to the customers.
The piano bar with classic-style facilities and a special private area (wine room) welcomes customers not only for private parties and birthdays but also live music is offered during the autumn-winter season.
What are the competitive advantages of your company?
Thanks to the long experience and to the commitment of the chef and all staff, Restaurant Piazza has managed to be one of the most remarkable restaurants in Tirana.
At our restaurant, you have the opportunity to taste different dishes, Italian, Mediterranean and Albanian as well as fast dishes like Italian pasta.
What are the goals to follow by your company in the upcoming years?
Our objectives in the future are to introduce new assortments into the restaurant menu, continuous training of the staff in order to offer always qualitative and contemporary service for our customers, and also give high importance to  marketing as an indispensable and modern tool of advertisements to society