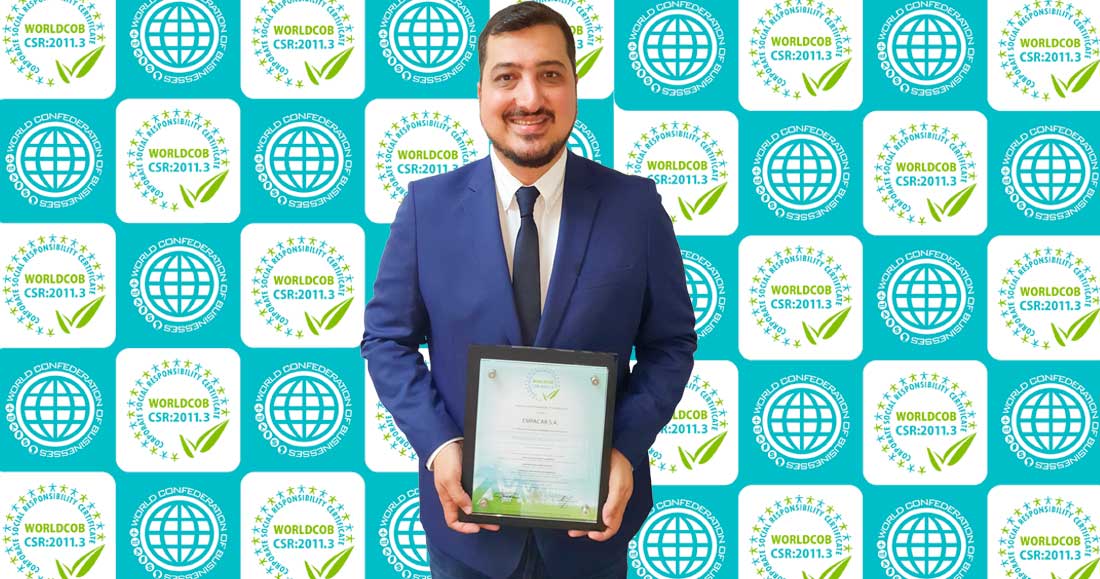 EMPACAR S.A: "Recycling has been our main activity"
"Empacar" from Bolivia has obtained for the first time the WORLDCOB-CSR certification for its business practices in harmony with sustainability.
Given this most recent achievement by the company, Carlos Limpias Elío, General Manager of the organization, shared his impressions after receiving this certification in Corporate Social Responsibility, and the achievements in terms of sustainability in which the company has been involved.
Brief description of your company
The EMPRESA DE ENVASES PAPELES Y CARTONES S.A., "EMPACAR" S.A., was founded more than 40 years ago in Bolivia and recycling has been our main activity. We were born with "Kupel"—the first paper industry—in 1977. Over the years, that industry continued to evolve with other products such as toilet paper, sanitary female pads, diapers, and then the manufacturing of cardboard boxes in 1988. Today, this trend has not changed. We continue to manufacture and produce all types of packaging and containers (both cardboard and plastic), occupying a niche among Bolivia's main industries, for exports and local sales.
From the start, we have sustained the expansion of our company through competitive business performance.
We have five work departments:
Corrugated Cardboard Department
Plastics Department
PP Injection and Thermoforming Department
Collection Department
Services Department
Category of your company
The company is INDUSTRIAL – Manufacturing of plastic and corrugated cardboard containers.
What are the goals of your company?
To become a leading national company in the field of packaging, diversifying our current production, and always maintaining a high level of efficiency and profitability.
What are the competitive advantages of your company?
High-tech injection machines
We manufacture high quality products, supported by the ISO 9001 certification
Our products comply with all safety requirements, and is supported by the FSSC 22000 certification
EMPACAR S.A. complies with the CIRCULAR ECONOMY model, by allowing our discarded bottles to be transformed into new containers through the recycling process (bottle to bottle)
We are committed to the preservation of the environment
We set a continuous standard for improvement strategies
What aspect do you think CSR improves in companies?
We consider 2 very important aspects:
A good relationship between the Company and the collaborators, that is, the officials, suppliers, customers, contractors, and the entire community.
To promote and encourage society to care for the environment.
What value have you recognized in the process of obtaining the WORLDCOB-CSR certificate: 2011.3?
EMPACAR S.A., recognized an INTEGRATION value with all stakeholders and the friendly protection of our Planet.
What are the benefits of obtaining a CSR certification?
Be recognized worldwide as a responsible company
Mitigate the environmental impact through recycling campaigns by educating society
Increased employee retention
Greater loyalty to the consumer
Company Image and Brand value
Long term business sustainability
What is your message for companies interested in obtaining a certification in Social Responsibility?
 To share with all Organizations the importance of obtaining a Corporate Social Responsibility Certificate. Because by means of this certification process, a well-developed Business culture—within the framework of sustainability and social responsibility—can be demonstrated at a universal level.