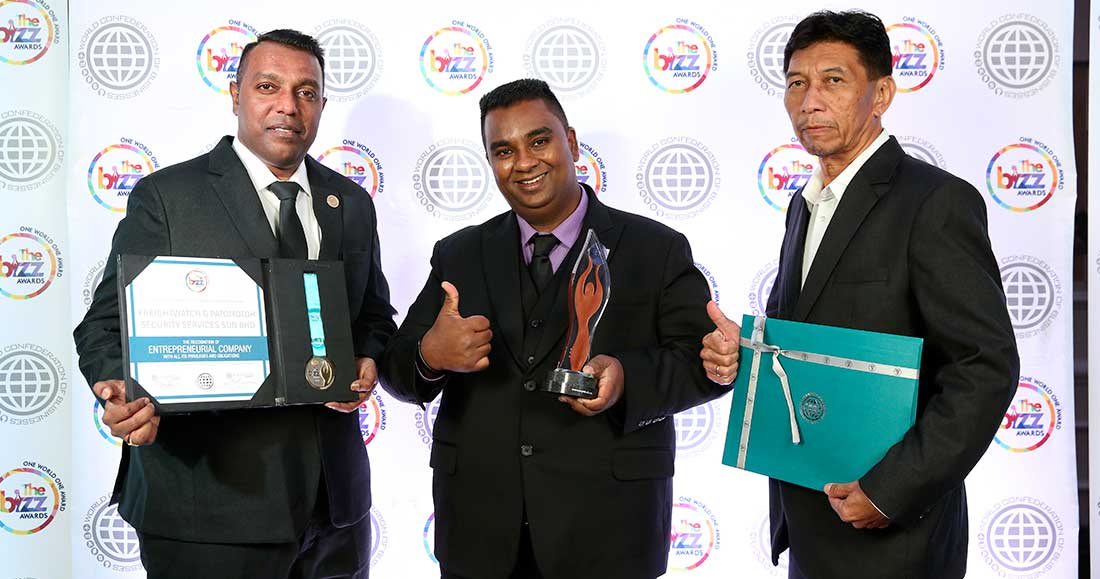 FREIGHTWATCH G PATOMOTOH SECURITY SERVICES: "Focus in delivering full one stop security solution rather than just selling service and equipment"
Freightwatch G Patomotoh Security Services Sdn Bhd from Malaysia has receives THE BIZZ award in the Entrepreneurial category for the first time, in the last ceremony of THE BIZZ AMEA in Kuala Lumpur, back in November 26 & 27.
In that order, Dato' Sri Gandi Muthusamy (Managing Director) gave us a very interest interview where he shares their thoughts on receiving this important business recognition.
A brief description of your company?
Freightwatch G Patomotoh Security Services Sdn Bhd. (FWG)., formerly known  as Patomotoh Security Services Sdn Bhd, Our experience in providing security services to industries and government had earned us an unparalleled reputation for quality and value among our distinguished clients, peers as well as our competitors. We at FWG focus in delivering full one stop security solution rather than just selling service and equipment. makes us different from a generic Security Service Provider is that we FWG have moved one step further from just providing "Guns, Guards and Gates" by integrating Systems and Solution such as CCTV, VMS, GPS, CMS etc. Besides that, we also specialised in Security Risk Assessment, Business Continuity Planning and also Security Allied Consultancy.  As to step of optimisation on the current country' s development with minimum wage increase, most of our clients are moving towards Electronic Security Solutions for better and easier management control. Therefore, we at FWG have evolved aligned with the Industry's demand and tailor made our solution to be known as business partner rather than a client vendor relationship.
Business profile of your company?
Freightwatch G Security Services Sdn Bhd have a wide range of management expertise and experience, we understand the importance of quality security solutions (physical man guarding, Security Solutions and Security Risk assessments and Loss Prevention) We maintain a fluid and flexible approach to our business which allow us to change, amend or adjust our operations as and when required by our clients FWG had a very humble beginning at Seremban in the year 1995 and now with all the experience, knowledge and skills incorporate for the past 23 years in the Security Industry we have spread our wings by providing our security services nationwide within the whole Peninsula Malaysia and right up to Sabah and Sarawak. Our Success in Malaysia has also enabled us to spread our wings to countries like India and moving into Singapore. This success also demonstrated in the wide range of clients, most of which are Multi-National Companies (A further key factor in our success is our management approach to business At FWG, the team management insist on meeting with our clients on a regular basis our (on site) team's performance and make any adjustment when and where necessary This approach Approve provides a platform for open dialogue and ensure any issues are addressed immediately.
What are the competitive advantages of your company?
Provides consistent, reliable and quality service to our clients through a commitment to service excellence supported by best practices and effective technology.
What has been achieved by your company since its creation?
     International Gold Star for Quality Award, International Star Quality Convention Geneva

–          Under the Quality Management QMR100 category for standards and structured documentation. This is just the entry level

September 2015
     European Awards for Best Practices in the Gold Category, Brussels Belgium

–          This award was obtained on the Best practices illustrated on the Standard Operating Procedures (SOP) and compliant processes been followed and managed for MNC and Global companies in Malaysia

June 2016
     International Quality Crown Award, London

–          This award for the best practices under the expert category and achievement of ISO 9001 standards as week as Occupational Health and Safety (OHSAS)

November 2016
     Prime Business Destination, The Academic Union Oxford, London

–          Significant Opportunities for the Best Debate Award for Investment Attractiveness in Malaysia.

     The Winner 2019 Trophy Awards, International Business Magazine, New York
July 2019
What are the goals to follow by your company in the upcoming years?
Envision to be the top provider of security services in the country. FWG will achieve this through Top Management Commitment, Professionalism, Provision of Excellent security Service, Teamwork, Customer Focus, regular Employee Training, latest technology, conducive work environment and adherence to a comprehensively documented ISO 9001:2015 Standard Quality Management System, targeted towards Total Customer Satisfaction, Continuous conforming to the requirements and expectations of all interested parties.