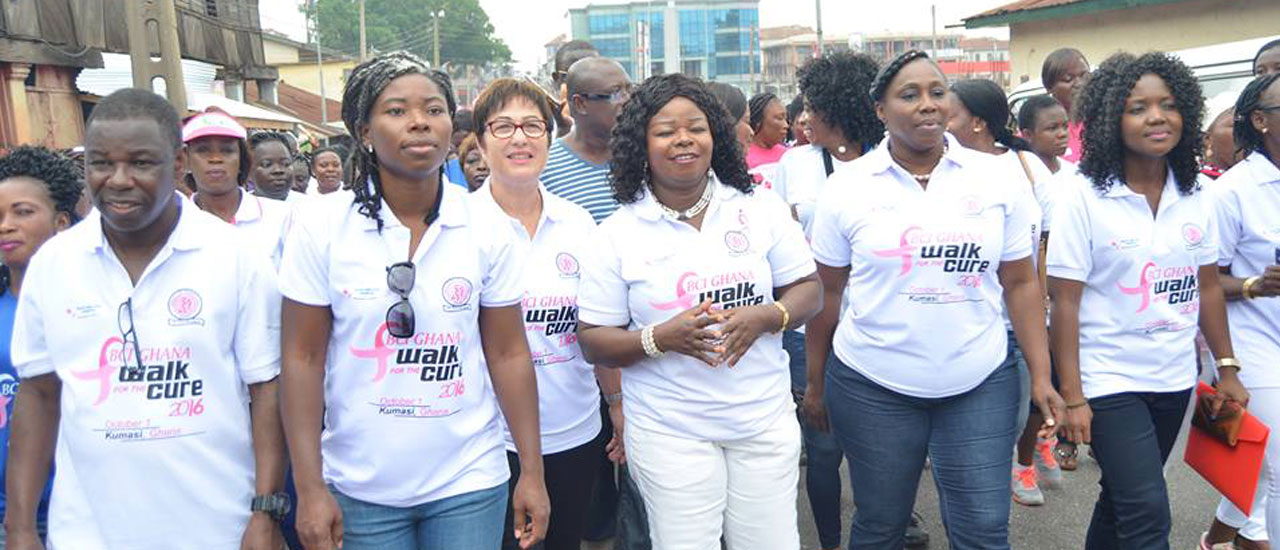 BCI: The struggle against breast cancer in Africa
Breast Care International (BCI) Africa's foremost anti breast cancer campaigner has over the past fifteen years been conducting outreach programs for women, especially those in deprived communities of Ghana: educating, and screening the public for breast cancer – a killer disease that has a matchless attitude to destroy the lives of women in their prime.
Their aim is to bring hope, health, and empowerment to communities in Ghana through the provision and dissemination of quality breast health education, screening, counseling, advocacy, research, treatment, and support to intensify breast cancer awareness and improve the quality of life of women at risk with breast cancer.
Their president and founder, Dr. Beatrice Wiafe Addai tells us more about the details of the organization's plans
1. What has been achieved by BCI since creation?
Since currently there are no specialized oncology nursing schools in Ghana, Peace and Love Hospital and BCI has successfully trained registered nurses on prevention strategies of cancer with minimum screening techniques on the two most common women cancers of breast and cervical.
To date, nearly 100 nurses from 50 health facilities have benefited from this program.  The overall objective of the Oncology Nursing Training Program is designed to empower nurses with specialized knowledge in Oncology, skills for screening, diagnoses and treatment.
As part of BCI's social responsibility and giving back to the nation, many drugs were donated to hospitals and clinics in the country. These drugs were received from National Cancer Coalition (NCC), USA assisted by Krebsallianz, Germany to assist the poor but needy patients suffering from breast cancer and other related diseases.
We organized a workshop for the media on cancer to increase the knowledge of this topic in order to improve the coverage of issues around non-communicable diseases as a way of stopping women cancers in Ghana. The training was focus on breast and cervical cancers, which are the two most prevalent cancers affecting Ghanaian women.
2. What are the goals of your organization?
Strengthen breast cancer awareness through outreach educational programs and conduct free breast screening campaigns in local community groups, faith based organizations, educational institutions, and civic organizations.
Educate and counsel women diagnosed with breast cancer on availability of different and modern types of breast cancer treatment options.
Promote the establishment of training programs for peer navigators and voluntary workers who provide outreach homecare services to breast cancer patients in their communities
Establish Breast Care Centers throughout the country where breast cancer patients and survivors can get together to share and exchange information, ideas, and provide support for each other.
Constantly organize meetings, seminars, symposium, and conferences to share and exchange ideas and information about breast cancer to give support to breast cancer patients.
Provide training to healthcare professionals in oncology especially in the area of breast cancer.
3. What are the competitive advantages of your company?
Breast Care International is national in character, complete with chapters and clubs in various institutions of learning.
Breast Care International has visibility, media acceptance and global recognition.
Breast Care International has won several National and Global awards.
The credibility of the leadership of BCI is a distinguishing mark.
BCI has since 2011 been organizing the annual "WALK FOR THE CURE", our flagship WALK designed to galvanize the country against the breast cancer scourge.
BCI has clinically screened over eighty thousand women in the last decade.
Showcasing survivorship is one of the very important engagement of BCI, an exercise meant to reduce the fear surrounding Breast Cancer and also to demystify and remove the misconception surrounding the disease.
4. What are the most challenging goals that your company has accomplished?
Helping demystify wrongly held traditional notions that breast cancer is variously caused by superstition, including, but not limited to witchcraft.
The formation of the survivors group and fighting off stigmatization.
Encouraging survivors to step out of their shadows and educate the public that the disease is treatable , curable and  survivable, and ;
Organizing the historic BCI Ghana Walk for the Cure.
Institutional Information
Company: Breast Care International (BCI)
Name: Dr. Beatrice Wiafe Addai
Position: President / Founder
Country: Ghana ( Kumasi)
Web: www.breastcareinternational.org
Mail: info@breastcareinternational.org
Telephone: +233 (0) 32 206 0407