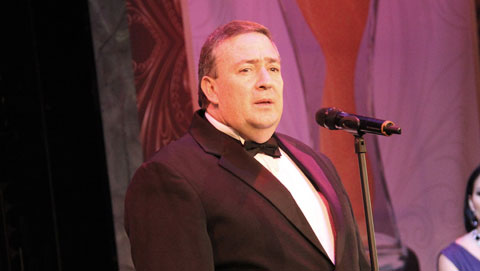 More than 30 years of quality Service
Over 36 years ago, La Colina del Chef was founded with the idea to offer a quality service to guarantee the maximum satisfaction of its clients in a demanding market. This Ecuadorian Company specializes in gourmet and institutional catering services.
Today, these strategic alliances are maintained to provide services to the CIESPAL Convention Center, Tentadero La Cantera, Laguardia Event Center, and Hacienda La Querencia, among others.
The owner of the Company, Andres Miño Ortiz shares more details on the upcoming projects of La Colina del Chef.
1.What are your Company's goals?
To open several types of markets, which can be developed with lower spending power by providing the same type of services, with our characteristic Company guarantee. In addition, we also plan to offer a complete service to our clients.
2. What are the competitive advantages of your Company?
As with all markets, there are a great variety of competitors. In other words, people or Companies that offer the same or similar products or services. Our advantage is that we offer great prices and quality service.
3.What has your Company achieved since it was founded?
We are well known in the market as a Company that provides quality service.
4. What type of projects has your Company developed?
Our Company is starting its expansion phase with the creation of other businesses ventures like:
Le P´tit Café: This is a unique type of cafeteria adapted to consumers who are willing to travel. This has worked well at the airports in Quito. In addition, the brand can be relocated to events and trade fairs where innovative products are well-received.
Panpe Alimentos Cia Ltda: This is a self-supply Company that was created to market goods to different Companies like baking and pastry shops. Gradually, we are making strides in the management and operations services to the VIP lounges at the National and International food sector of the Mariscal Sucre International Airport;
Dr. Bistro: This is a Company dedicated to the supply of clinics and hospitals. Currently, it is operating at the AXXIS Integral Medical Center, where food is being supplied to the patients and the cafeteria.
5.What has been the most significant challenges to your Company?
The main challenges are innovating new products, devising new presentations to satisfy our clients, providing a steady increase in productivity, and promoting our services by means of the proper media channels
6.How did you feel when you won THE BIZZ Award?
On behalf of La Colina del Chef, we are honored to take part in this prestigious award.
Company: La Colina del Chef
Name: Andres Miño Ortiz
Position: Owner
Country: Ecuador
Website: http://www.lacolinadelchef.com.ec/
Email: banquetes@lacolinadelchef.com.ec
Telephone: 5932 601 6680