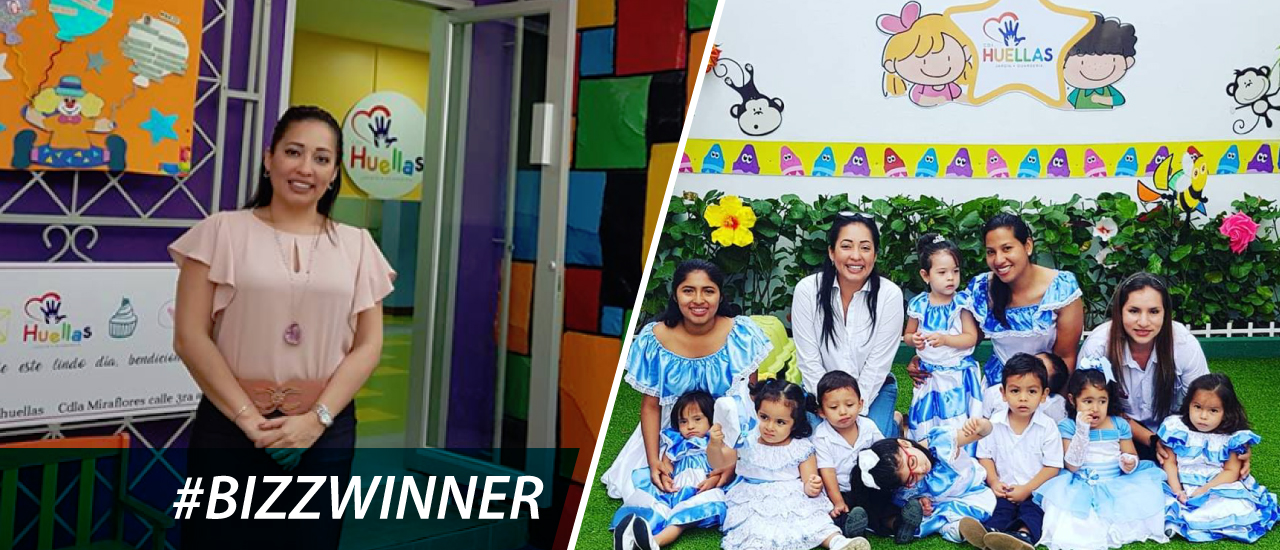 C.D.I. HUELLAS: Our goal is linked to the development of our boys and girls
C.D.I. HUELLAS from Ecuador has received THE BIZZ 2018 award for the first time in the Entrepreneurial Category. This company was recognized by WORLDCOB as a solid and socially responsible leader within the sector in which it operates.
In relation to this recognition, we interviewed the organization's Director, Lic. Sara Carvajal de Huayamave, who shared the following information with us:
A brief description of your company
C.D.I. HUELLAS is a completely suitable place for little ones to enjoy kindergarten surroundings. This is where little ones grow in learning and knowledge and have fun at the same time. Playing games bundled with laughter is an essential part of the entire process guiding young ones toward independence. This, in turn, forms a strong base to help them develop in life with respect for others.
What are the company's goals?
Our goal is linked to the development of our boys and girls. We want our little ones to form a part of our dear "HUELLAS", to help them feel capable and cared for. Our desire is to help little ones develop the ability to express themselves and demonstrate their needs to become full grown individuals with marked values. We want their personality and the foundation it rests on to be strong in love and, above all, love for God. We want them to know that they can develop normally in their next school stage.
What are the competitive advantages of your company?
We instill and maintain as our mission the love of God as a fundamental part of our daily process.
We are blessed with a team of competent, qualified, and stable teachers with a singular purpose in mind and their work revolves around this objective.
"HUELLAS" works by encouraging positive discipline with our little ones; their personalities are forming, and they need adequate guidance, based on respect and love for others.
We believe that art is a necessary part of a prepared and capable society. Therefore, we foster teaching that includes dancing, theater, music, and painting. These artistic skills help us to observe the abilities and diverse capabilities of our students.
We offer live streaming camera services so that parents can easily observe their little ones from their home or office during their child's preschool day.
What goals have your company achieved since it was founded?
We are officially recognized by the Guayaquil media in our city and known as a comprehensive childcare center. And "C.D.I. HUELLAS" is placed among the best childcare centers highlighting the love and care we show to our children.
Over the years, we have striven to maintain a team of collaborators committed to our singular mission who, in turn, adopt the same ideology of loving and serving our little ones.
What projects have your company developed?
The most important one of all: inclusion from the day we opened our doors almost 13 years ago. In our society, it was not a common practice for educational centers to admit children with special abilities or needs. At "HUELLAS", we believe that all of our little ones have the right to an education and peer socialization even if their abilities are different. This project requires constant staff training to move as a team in the same direction with the same objectives. We believe in our goal to provide this opportunity for many families, so their little ones do not feel excluded. This will give them the opportunity to grow within a family and social unit with the best expectations in life and relationships with others.
Family project. We know that when families and "HUELLAS"" work together, the best and most satisfying objectives are achieved. For this reason, we stress that the relationship between the individuals of a household should be stable. So, parents also receive guide training and speeches to help them better understand the tools used to reach our children. Parents are also invited to constant activities during the school year with the intention to feed the bond of love that a family should always maintain.
 "Say NO MORE" project.  Statistics consistently show a high rate of individuals who have suffered sexual abuse during their childhood years; at "HUELLAS", we work through speeches, stories, sketches, puppets, etc… that teach us how to care for our bodies and how to internalize with young ones and their families regarding sexual abuse, tactics, warning techniques, and how to avoid them. Special counseling on this subject is provided by the organization @EcuadorDiceNoMas
What has been the most significant challenges for your company?
To prepare the personnel to become a part of our Garden Nursery. This is a significant challenge that requires attention, a lot of time, and investment. The methodology at "HUELLAS" requires constant preparation and breaks the mold of popular systems and ideologies. Although we do not reject them as a whole, they are simply not the same standards we apply to our center. Our collaborators go through a rigorous selection process which is measured primarily by love, constancy, attendance, attention to the little ones, and for the very special care required by this tiny but very important group in our society: Our children.
One of our most common phrases within the center is this: C.D.I. HUELLAS has MASTER GARDENERS who know a lot about LITTLE SEEDS.
INSTITUTIONAL INFORMATION 
Company name: C.D.I. HUELLAS
Company Representative: Lic. Sara Carvajal de Huayamave
Country: Ecuador
Telephone number: (04)2202367
Email: cdihuellas@hotmail.com
Website: www.cdihuellas.com