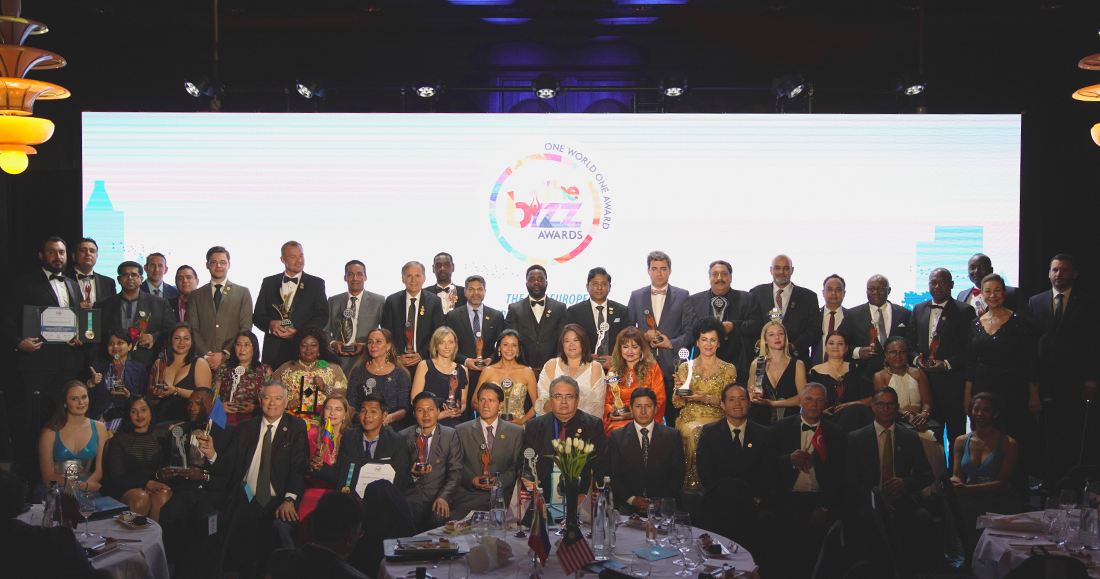 Conoce a los Ganadores de THE BIZZ Europe 2019
La más reciente edición de THE BIZZ Europe se realizó el pasado 13 y 14 de mayo en la ciudad de Ámsterdam capital de Países Bajos, donde 22 de empresas se dieron cita para ser reconocidas por sus logros empresariales, en la ceremonia que tuvo lugar en las instalaciones del Sofitel Legend The Grand Amsterdam Hotel.
Como ya es costumbre, WORLDCOB ha reconocido la excelencia empresarial de diferentes orgabizaciones alrededor del mundo con THE BIZZ, el premio empresarial internacional más importante que ha llegado a su edición número 36. En esta ocasión los asistentes pudieron disfrutar de una Recepción de Bienvenida el día 13 de mayo, ocasión perfecta para conectar y hacer networking.
Luego, el 14 de mayo los empresarios asistieron al WORKSHOP dirigido por Nancy Branger, Directora de Desarrollo Humano de WORLDCOB y, finalmente, a la ceremonia de premiación, donde se entregó por primera vez el trofeo "A DECADE OF EXCELLENCE", el galardón más importante, a la fecha, otorgado por La Confederación Mundial de Negocios a las empresas que han logrado alzarse con THE BIZZ en 10 oportunidades consecutivas o más; siendo en esta oportunidad  LIMKOKWING UNIVERSITY OF CREATIVE TECHNOLOGY de Malasia, Centro de educación superior líder en Asía, la primera organización en recibir este galardón.
Así mismo, WORLDCOB otorgó premios especiales adicionales a los empresarios más destacados de esta edición, siendo reconocidos líderes como: TAN SRI DATO SRI PADUKA DR LIM KOK WING (GREATEST INNOVATOR OF ALL TIME) de LIMKOKWING UNIVERSITY OF CREATIVE TECHNOLOGY (Malasia); DR. GEORGIOS LAKATAMITIS (GLOBAL LEADER IN COMMERCE MANAGEMENT) de WEST BAY PETROLEUM CO.WLL (Catar); IRIANA MALOFF HERNANDEZ (GLOBAL LEADER IN MANAGEMENT SERVICES) de AGENCIA DE SEGURIDAD URRACA (Panamá) y Dr. RAGHAVAN SEETHARAMAN (WORLD LEADER IN FINANCE AWARD) de DOHA BANK (Catar), entre otros destacados empresarios.
Algunas de las empresas reconocidas en la pasada ceremonia encontramos a: ANKOL SP. Z O.O. (VICTORIOUS) de Polonia, OMAN & UAE EXCHANGE CENTRE & CO LLC (VICTORIOUS) de Sultanato de Oman, COIMBATORE INSTITUTE OF TECHNOLOGY (TRIUMPH) de India y HYDRA ARC (PTY) LTD (GLORY) de Sudáfrica, entre otras.
Por su parte, al menos 18 empresas recibieron THE BIZZ por primera vez en su historia: AL AMAR CONSULTING GROUP S.A. – AMG EGYPT de Egipto, MUNICIPALITY OF LUDBREG de Croacia, COMUNA KICHWA SANI ISLA de Ecuador, PLÁSTICOS JOLUCE, SA de Portugal y DR SHALINI / BROWN & WHITE NUTRACEUTICALS PVT. LTD. De India.
Puedes disfrutar de la galería completa de ganadores a través de este enlace -> https://www.facebook.com/pg/TheBizzAwards/photos/?tab=album&album_id=2447070742010436
Disfruta además la ceremonia completa a través de este enlace -> https://www.facebook.com/TheBizzAwards/videos/685532085229930/
La cita es ahora en Lisboa, donde se realizará THE BIZZ Europe 2020 el próximo 23 y 24 de mayo desde el Corinthia Hotel Lisbon, para ello las postulaciones están abiertas a través de nuestro sitio web www.thebizzawards.com