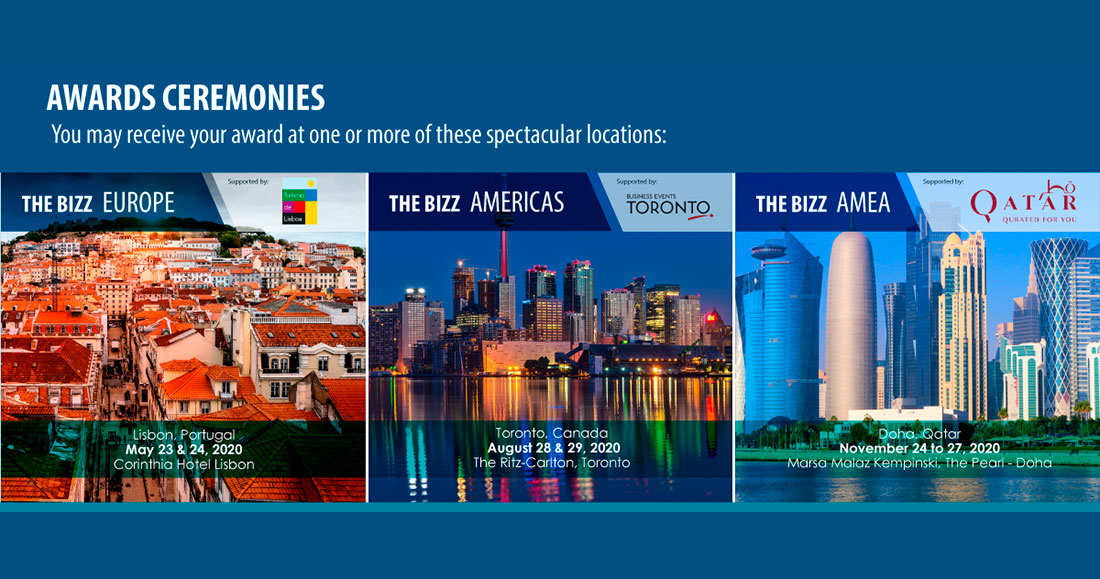 En 2020, Tres Nuevas Ciudades Vivirán la Experiencia THE BIZZ
En 2020, tres nuevas ciudades vivirán la experiencia THE BIZZ, llevando nuestras ceremonias de premiación a:
Lisboa, para THE BIZZ Europa en el Hotel Corinthia de Lisboa, los días 23 y 24 de mayo, con el apoyo de la autoridad turística de Portugal "Turismo de Lisboa".
Luego, la ceremonia de Premios THE BIZZ para las Américas tendrá sede en Toronto, en el Hotel Ritz-Carlton, los días 28 y 29 de agosto con el apoyo de "Business Event Toronto" (Eventos de Negocios Toronto)
Y, por último, los Premios THE BIZZ para la región AMEA se celebrará en Qatar, en el Marsa Malaz Kempinski, La Perla del 24 al 27 de noviembre apoyado por el Consejo Nacional de Turismo.
Ahora, ¿quieres ganarte el trofeo THE BIZZ en cualquiera de estos eventos?
Visita www.thebizzawards.com y solicita que tu empresa sea reconocida con este importante reconocimiento empresarial.