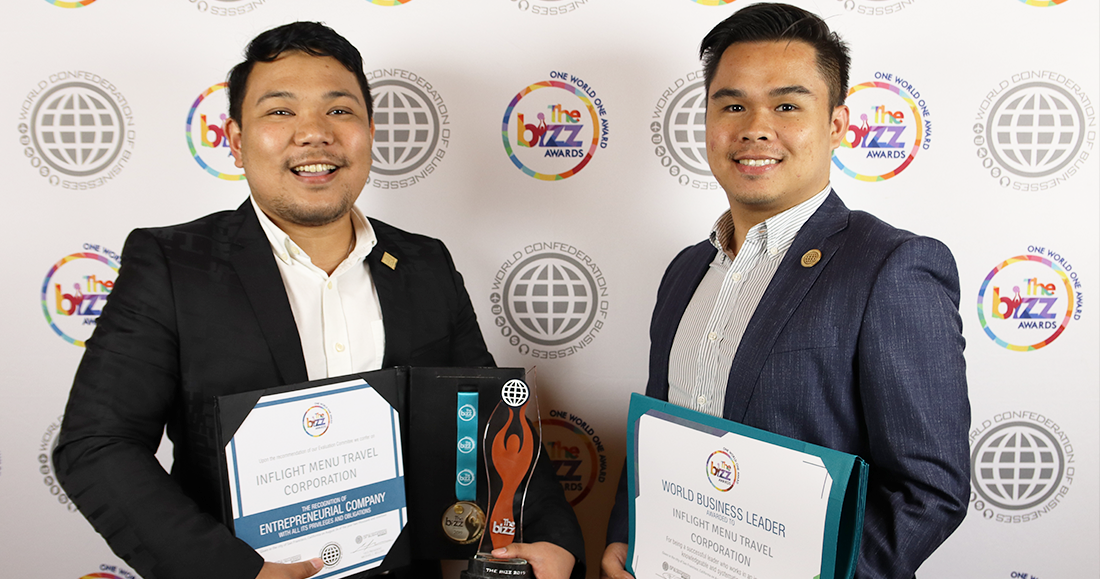 Inflight Menu Travel: From Single Proprietorship to a Stock Corporation
Inflight Menu Travel from The Philippines have receives THE BIZZ Awards for the first time in its history in the ceremony which took place at the city of San Francisco, C.A last august 24.
In that order. Mr. Ron Aldrich Golingo (co-founder) gave us an interview to share their impressions regarding this new recognition.
1.Brief description of your company
Inflight Menu Travel Corporation started as Inflight Menu Travel & Tours under single proprietorship in 2015. Incorporated last January 11, 2017, the brand name Inflight Menu has been actively competing to Travel Industry giants offering more personalized services!
Founders of the company once dreamt of having a restaurant and a coffee shop. Through their creative minds and combined efforts with their passion of traveling the world, this travel agency was founded with a unique theme of TRAVEL MENU! Its products and services will let you crave to travel more and further every traveler's wanderlust!
Corporate Accounts comprise the portfolio of IMTC. From the 7,101 islands in the Philippines, top-caliber companies trust Inflight Menu As their in-house travel agency catering to all travel needs of employees.
With the company's mission to provide complete travel and tours products and services with the most competitive and reasonable prices thru incomparable assistance and customer service, there is no doubt that IMTC is achieving its vision as the travel agency of choice not only in the Philippines but even with foreign customers and investors.
Competition in the travel industry is at stake, not to mention the number of active travel agencies in the country. But word of mouth is Inflight Menu's greatest weapon. IMTC does not do the selling, its customers and loyal partners do the selling for them!
Started very small with only 2 employees, IMTC is now a family of 26 with branches in Tacloban City, Eastern Visayas Philippines under the brand name of Inflight Menu Travel Shoppe.
And with its newest business initiative – RADAR.PH (the newest booking platform in the country today), IMTC is confident that the name INFLIGHT MENU will be present wherever you go!
2.Business sector
Travel and leisure, Business to business
3. What are the goals of your company?
To open 2 more branches in 3 years located in the Visayas and Mindanao regions.
To provide more jobs as we continue to increase our operational demands
To be the leading B2B (Business-to-Business) Travel Operator in the Philippines
To be the travel agency of choice of top-caliber companies in the Philippines
To encourage more investors for Inflight Menu
4. What are the competitive advantages of your company?
A well-identified stock corporation and compliant to business laws.
IMTC is an accredited Travel and Tours Company by the Department of Tourism – Philippines.
IMTC has been chosen and awarded as an Elite Company and Most Trusted Travel Agency in the Philippines.
IMTC has 24/7 back office and support system.
IMTC is internationally acclaimed, awarded as one of Best Enterprises by the Oxford Committee in London, United Kingdom.
The brand name says it all. The business concept is unique and already been trusted by many.
5. What has been achieved by your company since its creation?
Inflight Menu was converted from single proprietorship to stock corporation.
Inflight Menu was able to open and is operating 3 branches (1 in Manila, 2 in the Visayas)
Inflight Menu became the accredited ticketing agent of Philippine-based airlines.
Inflight Menu was accredited by the Department of Tourism after two years in operation.
Inflight Menu employs the best workforce in the field.
Inflight Menu was able to create and launch its own Business-to-Business booking portal (with flights, hotels and activities products)
Inflight Menu has been recognized by local and prestigious award-giving bodies worldwide.
6. What projects has your company developed?
Our biggest project is the creation of our very own Booking Platform (Radar.ph), which helps aspiring travel entrepreneurs in putting up their own Travel & Tours businesses.
7. What are the most challenging goals that your company has accomplished?
The most challenging would be to stay alive in the industry. Our 4-year existence in the travel market is already a huge accomplishment. It's easy to start a travel agency; Establishing the target market, creating our base customers and continuing to improve with a lot of business initiatives that we can do to compete with those legends in the tourism sector are challenges we faced and we are facing every day.