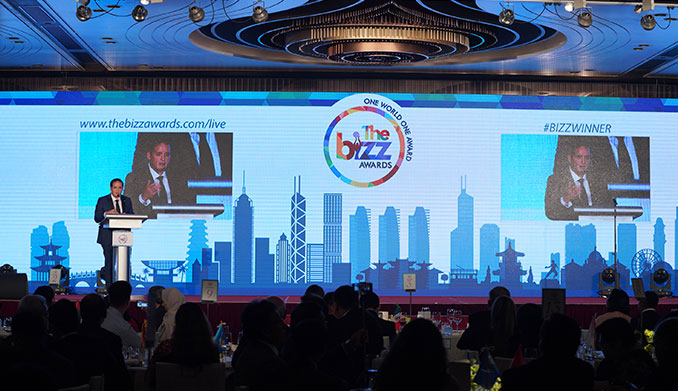 La Más Reciente Edición de THE BIZZ Awards AMEA se llevó a cabo en Hong Kong
Hong Kong  fue la sede de THE BIZZ Awards AMEA 2018, cita en la que se congregaron representantes de 50 empresas provenientes de 31 países de alrededor del mundo, en el Intercontinental Hong Kong Hotel los días 13 y 14 de noviembre del presente año.
En esta edición, la junta de directores de WORLDCOB, reconoció además los logros individuales de un selecto grupo de empresarios con condecoraciones especiales, entre los que destacan: Ali Khaled Alhashmi (UNION NATIONAL BANK) de Emiratos Árabes Unidos quien recibió el THE WORLD LEADER IN FINANCE AWARD, Juan Manuel Rodriguez Garcia (UNIVERSIDAD DE SOTAVENTO A.C.) de México y Dr. S.R.K.Prasad (COIMBATORE INSTITUTE OF TECHNOLOGY) de La India recibieron respectivamente el WORLD LEADER IN EDUCATION AWARD, por sus contribuciones en el campo académico.
Por su parte, Dato Sri Dr Ong Thiam Boon (SMART READER WORLDWIDE SDN BHD) de Malasia y Abdoulaye Diaw (CABINET CONSEILS ASSOCIES EN AFRIQUE-SENEGAL "C2A SEN") de Senegal recibieron distinciones únicas, el GREATEST ENTREPRENEUR OF OUR TIME AWARD y el VISIONARY LEADER EXTRAORDINARY AWARD respectivamente.
Empresas como DANDY MART de Australia, "THE RESEARCH-CLINICAL CENTER FOR CARDIAC SURGERY AND TRANSPLANTOLOGY" LLP de Kazajistán  y LABORATORIOS K-LLER CORP de Panamá recibieron THE BIZZ por primera vez en su historia; mientras que SMART READER WORLDWIDE SDN BHD de Malasia y UNIVERSIDAD DE SOTAVENTO A.C. de México recibieron la más alta distinción entregada por WORLDCOB, THE DIAMOND AWARD, por lograr alzarse con el premio THE BIZZ por 9 veces consecutivas.
La ceremonia fue conducida por el Director de Calidad y CSR de WORLDCOB, Daniel Javier y encabezada por los miembros de la Junta de Directores de WORLDCOB, Jesús Morán (Co-Fundador y Presidente) Michael Bellido (Vice-Presidente), Nancy Branger (Directora de Desarrollo Humano y Nicolas Caffaro (Director de Relaciones Internacional).
A la premiación también asistieron representantes de los consulados internacionales en Hong Kong; Sr. Nart Kolo  (Consul General de Nigeria), Sr. Yobani Velasquez (Consul General de Colombia), Sr. Roderico C. Atienza (Consul de Filipinas) y Sr. Tolegen Ismailov (Consul General de Kasajistán).
La próxima edición de THE BIZZ para la región de Asia, Medio Oriente y África será el 26 y 27 de noviembre en la ciudad de Kuala Lumpur en Malasia y las postulaciones están abiertas a través del siguiente link -> http://www.thebizzawards.com/