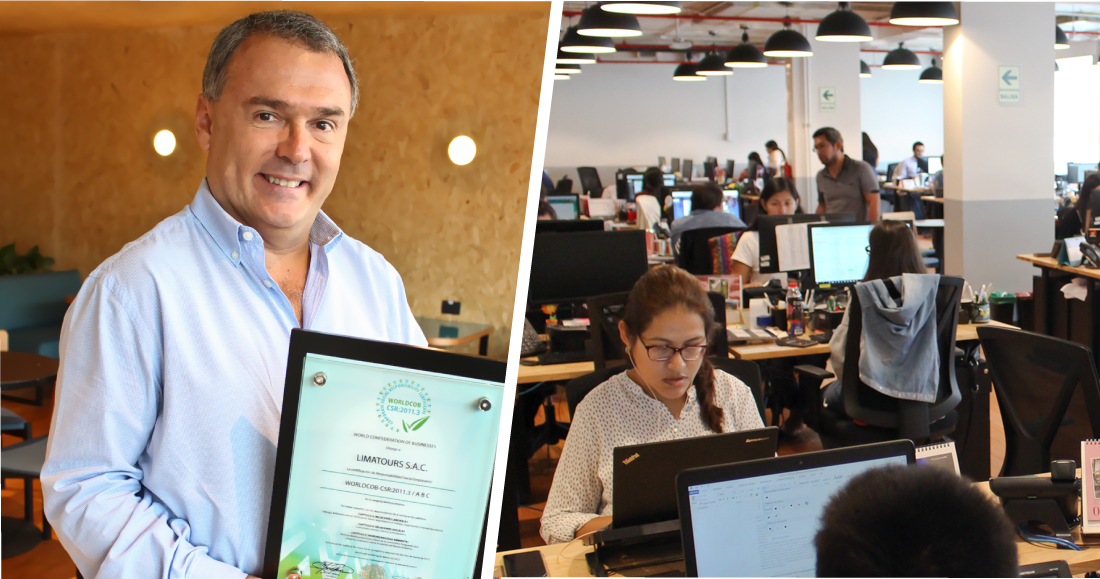 LIMA TOURS: "The Main Benefit for us is Belonging to a Global Organization that Upholds Corporate Sustainability and Responsibility"
LIMA TOURS S.A.C is a tourism operator based in Lima, capital of Peru, specialized in receptive tourism with special emphasis in cities like Arequipa, Puno, Cusco, and Lima.
The company, after an audit and evaluation process, has achieved the WOLRDCOB-CSR certification as a company with a high value of sustainability and social responsibility in its commercial activities.
For this reason, José Octavio Pedraza, General Director, shared his impressions on having obtained—for the first time—this important certification of international importance.
Brief description of your company
LimaTours is a tourism operator. The main business of the company is receptive tourism in Peru. We have four offices in the country, in the cities of Arequipa, Puno, Cusco and Lima, where our main office is located.
What are the goals of your company?
The goals this year is to grow 10% in relation to the previous year, to implement our virtual Aurora platform, and to continue maintaining a 98% rating in customer satisfaction.
What are the competitive advantages of your company?
Our competitive advantages are the following:
Our own operating experience in the most important tourism destinations in Peru.
We have the fastest Catamaran on Lake Titicaca.
The quality of our services has more than a 98% rating in customer satisfaction from our clients, as well as the end passenger.
–   We are certified under four international standards, ISO 9001, OHSAS18001, Rainforest Alliance (NEPCon), and now WORLDCOB.
Our Aurora services platform confirms passenger reservations of our clients in real time.
–  New informative platform for MASI clients, with a 24/7 Chatbot system, and useful messages before, during, and after the trip.
–  Super competitive and quality prices, because of the strategic alliances we have with our suppliers.
–  We are a company that thinks and acts, based on responsible and sustainable tourism.
What aspect do you think CSR improves in companies?
The aspect that improves is the impact with our stakeholders, which will be added to the project of becoming sustainable in business.
What value have you recognized in the process to obtain the WORLDCOB-CSR certificate: 2011.3?
The value that we have obtained is to reconfirm that our business efforts are aligned with the UN global compact.
What are the benefits of being CSR certified?
The main benefit for us is belonging to a global organization that upholds corporate sustainability and responsibility. This reinforces our image of a company that seeks to grow with respect in our communities, our culture, and the environment.
What is your message for companies interested in obtaining a certification in Social Responsibility?
LimaTours is committed to making a better world by creating awareness through good practices in collaboration with society, our (employees), collaborators, passengers, and being responsible with the environment; to work with indigenous communities, promoting initiatives that contribute to childhood development and the conservation of the environment. We firmly believe that sustainability is the only way to run a successful business to create value in a sustainable manner. We invite all companies to certify their social responsibility actions, to have clear objectives and to consolidate their image as an organization that works for a greater purpose.