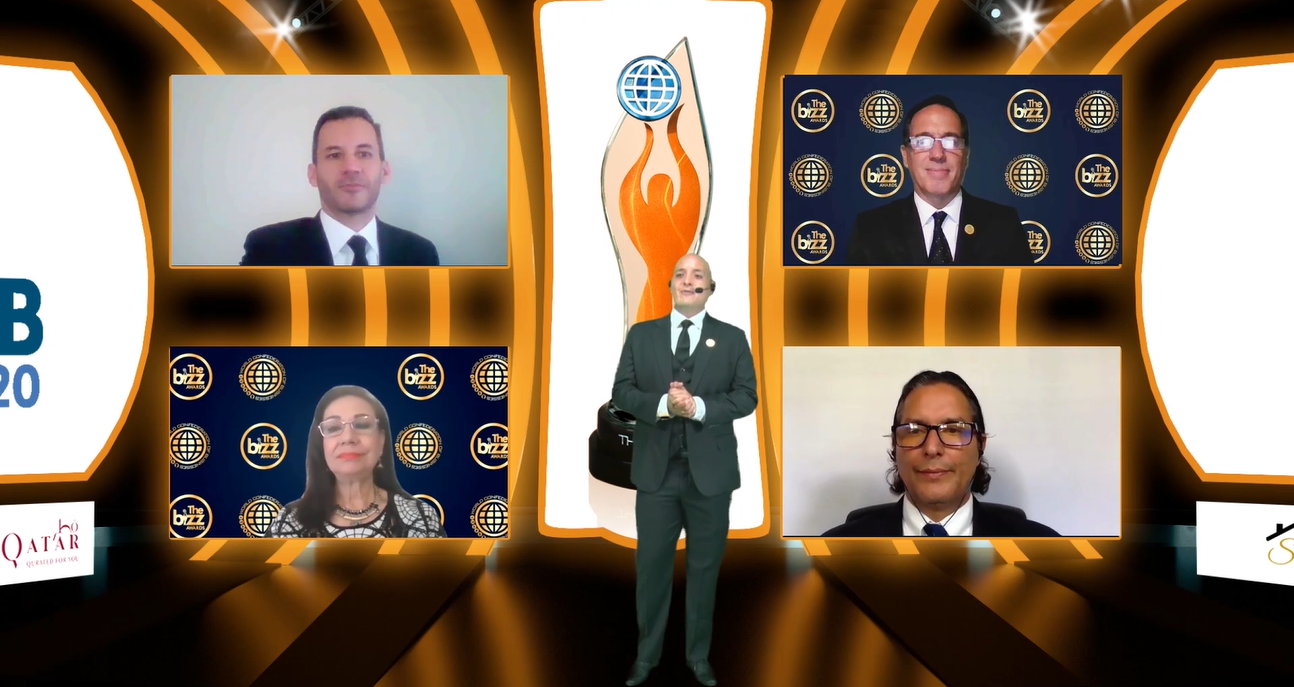 Mas de 30 Empresas Fueron Premiadas en la Primera Edición de THE BIZZ Virtual
En 2020 la Junta de Directores de WORLDCOB llevó a cabo la primera edición de THE BIZZ en formato totalmente virtual, una alternativa que nos permitió seguir vigentes y reconocer la excelencia empresarial alrededor del mundo.
Para esta ocasión, hemos diseñado los recognition meeting, encuentros virtuales personalizados donde premiamos a las empresas ganadoras de esta edición y que culminó con la realización de la ceremonia de THE BIZZ Virtual 2020 presentada por la Junta de Directores de WORLDCOB y que fue emitida en le marco del WORLDCOB Virtual Summit.
En esta primera edición de THE BIZZ Virtual fue presentado la condecoración mas alta otorgado por la Confederación Mundial de Negocios, THE BIZZ Gold Edition, concedido a las empresas ganadoras de THE BIZZ en más de 11 ocasiones consecutivas; siendo LIMKOKWING UNIVERSITY OF CREATIVE TECHNOLOGY de Malasia y CAJA MUNICIPAL DE AHORRO Y CRÉDITO DE SULLANA S.A. de Perú las dos empresas acreedoras de este premio.
Otras empresas destacadas reconocidas en esta edición fueron  WEST BAY PETROLEUM CO.WLL de Qatar (VICTORIOUS Award), COIMBATORE INSTITUTE OF TECHNOLOGY de La India (PINNACLE Award), LEBANESE AGRICULTURAL RESEARCH INSTITUTE de Lebano (TRIUMPH Award) y STANDARD INSURANCE CONSULTANTS LIMITED de Nigeria (BE A LEGEND Award), entre otras.
La cita es ahora para para las tres premiaciones en formado híbrido (virtual/presencial) que están programadas para realizarse este año THE BIZZ Americas en Toronto desde el 27 y 28 de Agosto y THE BIZZ AMEA en Doha del 23 al26 de noviembre, and THE BIZZ Eurasia en Kazajistán desde el 25 a 28 de mayo, 2022.
Disfruta nuevamente de la ceremonia para a región de Americas -> https://youtu.be/lzCrnTcSKPY
Disfruta nuevamente de la ceremonia para la región de Europa, Asia y África ->   https://youtu.be/C0gJgHPwHjk