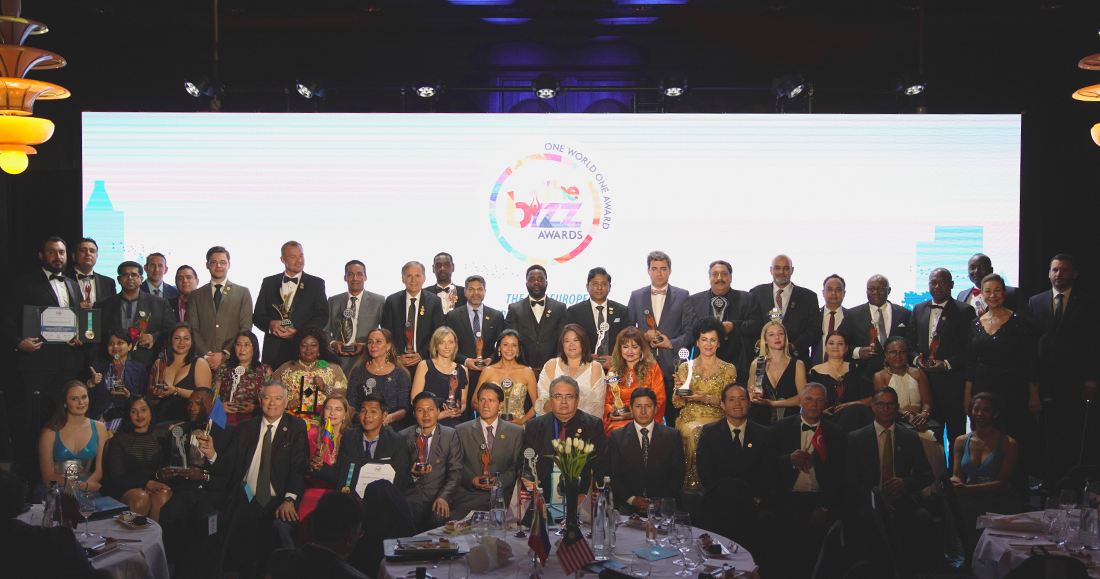 Meet the Winners of THE BIZZ Europe 2019
The most recent edition of THE BIZZ Europe was held on May 13 and 14 in the city of Amsterdam, the capital of the Netherlands, where 22 companies gathered to be recognized for their business achievements, at the ceremony that took place at The Sofitel Legend The Grand A Amsterdam Hotel.
As usual, WORLDCOB recognized the business excellence of different organizations around the world with THE BIZZ award, the most important international business award ever recorded in the edition number 36. This time the attendees enjoyed a Welcome Reception on May 13, the perfect occasion to connect and network.
Then, on May 14, the entrepreneurs attended the WORKSHOP led by Nancy Branger, Director of Human Development of WORLDCOB and, finally, the award ceremony, where "A DECADE OF EXCELLENCE" trophy was presented for the first time. The most important award, to date, granted by The World Confederation of Businesses to companies that have been awarded THE BIZZ on 10 consecutive or more occasions; on this occasion, it was the LIMKOKWING UNIVERSITY OF CREATIVE TECHNOLOGY of Malaysia, Executive Leadership College in Asia, the first organization to receive this award.
Moreover, WORLDCOB granted additional special awards to the most outstanding businessmen of this edition, notable leaders such as: TAN SRI DATO SRI PADUKA DR LIM KOK WING ( GREATEST INNOVATOR OF ALL TIME ) of LIMKOKWING UNIVERSITY OF CREATIVE TECHNOLOGY (Malaysia); DR. GEORGIOS LAKATAMITIS ( GLOBAL LEADER IN COMMERCE MANAGEMENT ) of WEST BAY PETROLEUM CO.WLL (Qatar); IRIANA MALOFF HERNANDEZ (GLOBAL LEADER IN MANAGEMENT SERVICES ) of AGENCIA DE SEGURIDAD URRACA (Panama) and Dr. RAGHAVAN SEETHARAMAN ( WORLD LEADER IN FINANCE AWARD ) of DOHA BANK (Qatar), among other prominent businessmen.
Among some of the companies that were recognized at the last ceremony are: ANKOL SP. Z.O.O. (VICTORIOUS) from Poland, OMAN & UAE EXCHANGE CENTER & CO LLC (VICTORIOUS) from the Sultanate of Oman, COIMBATORE INSTITUTE OF TECHNOLOGY (TRIUMPH) from India and HYDRA ARC (PTY) LTD (GLORY) from South Africa, among others.
On the other hand, at least 18 companies received THE BIZZ for the first time in their history: AL AMAR CONSULTING GROUP SA – AMG EGYPT of Egypt, MUNICIPALITY OF LUDBREG from Croatia, COMUNA KICHWA SANI ISLA from Ecuador, PLÁSTICOS JOLUCE, SA of Portugal and DR SHALINI / BROWN & WHITE NUTRACEUTICALS PVT. LTD. From India.
You can enjoy the complete gallery of winners through this link -> https://www.facebook.com/pg/TheBizzAwards/photos/?tab=album&album_id=2447070742010436
Also, enjoy the complete ceremony through this link -> https://www.facebook.com/TheBizzAwards/videos/685532085229930/
Lisbon is the next stop, where THE BIZZ Europe 2020 will take place on May 23 and 24 from the Corinthia Hotel Lisbon. Nominations are now available on our website www.thebizzawards.com