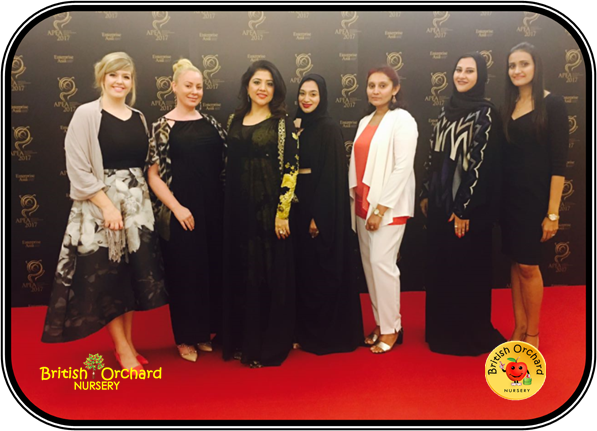 Taking care of children's wellness
British Orchard Nursery (BON) is the Middle East's largest nursery chain that operates all over the UAE with 15 convenient locations in Abu Dhabi, Sharjah, and Dubai, including prestigious government partnerships with DEWA, Municipality, ADCO, and Dubai Women's College.
This important company follows the British National Early Years Curriculum guidelines, focusing on developing Early Years Education through an in-depth unique planning programme, which offers personal assessment for every child and is measured termly ensuring that their needs are met. In addition, offers a varied learning environment with facilities such as a sensory room, a role play area, outdoor play areas, and a specialized children's gym
Their aim is to provide each child with well thought-out opportunities to develop his/her potential within a nurturing and safe environment.
Ms. Vandana Gandhi, CEO and Founder tell us more about this important company.
What are the goals of your company?
British Orchard Nursery (BON) has had clear goals this sets the tone for the direction (goals) of the company.
BON's goal is "to be a leader in nursery education, providing high quality international early years provision through best practice." This vision is the cornerstone of the organization and propels the company forward and had led to the adoption of Quality Management Systems (QMS) such as ISO certification, the EFQM model, and the Balanced Scorecard method, allowing BON to reach its goal to provide high-quality international standard preschool education across all its 16 branches.
Its mission is "Sowing Seeds of Success."  This serves as a mantra for its staff, reminding them that the final goal of the company is to nourish young minds with the knowledge they will need to succeed in the next phases of their studies and lives. BON's staff provide the building blocks that today children will utilize to become tomorrow's leaders.
Looking toward the future, BON intends to expand its horizons, growing to include branches not only in UAE, but throughout the GCC, in India, and in the UK.
What are the competitive advantages of your company?
BON has many competitive advantages compared to other nurseries in the UAE.
First of all offers extended nursery hours for working parents, allowing them to drop off their child earlier and pick them up later, also a GymJuniorz classes with specialized children's fitness equipment as well as gymnastics classes with a UK Gymnastics Association certified coach.
What has been achieved by your company since its creation?
BON was the first nursery chain to have an in-house teacher training centre with the British Orchard Centre, offering (UK) teacher certification and short term Continuing Professional Development (CPD) courses for aspiring and current practitioners, parents, nannies, and caregivers.
What projects has your company developed?
This company has 16 nurseries across the Emirates, 2 British Orchard Centre locations (1 in UAE and 1 in UK) for teacher training and development to provide BON's staff, as well as the general public, the opportunity to earn UK teacher certification. It allows these learners to fulfill the mandatory volunteer hours of the course in BON branches. Additionally the centre supports the general public, offering CPD courses, parenting classes, first aid classes, and more.
Also BON developed the Baseline Assessment Book in-house with a dedicated team of international childcare experts over a three year period.
What are the most challenging goals that your company has accomplished?
BON's most challenging goal was to ensure the best quality of care to all children in its care. Also catering to children of different nationalities & cultures is an added challenge in the field of childcare services.
It's important to know that early years' education poses a far greater challenge owing to the tender age of the children (0-4yrs).
Also the mindset of parents, past schooling & cultural learning, nuclear family environments, multi lingual, and multi religious facets of a varied ethnic population creates added hurdles in this dynamic field, which involves layers of human interface.
BON's strategy is to differentiate itself in market place by providing high standards of quality education and care for young children through regular risk assessments, strict health and safety procedures, regular doctor visits.
BON's strategy development process has identified stakeholder satisfaction, compliance with internal procedures and regulatory bodies & CSR as critical success factors to its operations.
Institutional Information
Company: Brithish Orchard Nursery
Name: Ms. Vandana Gandhi
Position: CEO / Founder
Country: United Arab Emirates
Web: http://www.britishorchardnursery.com
Mail: info@ britishorchardnursery.com
Telephone: 9714 388 9710