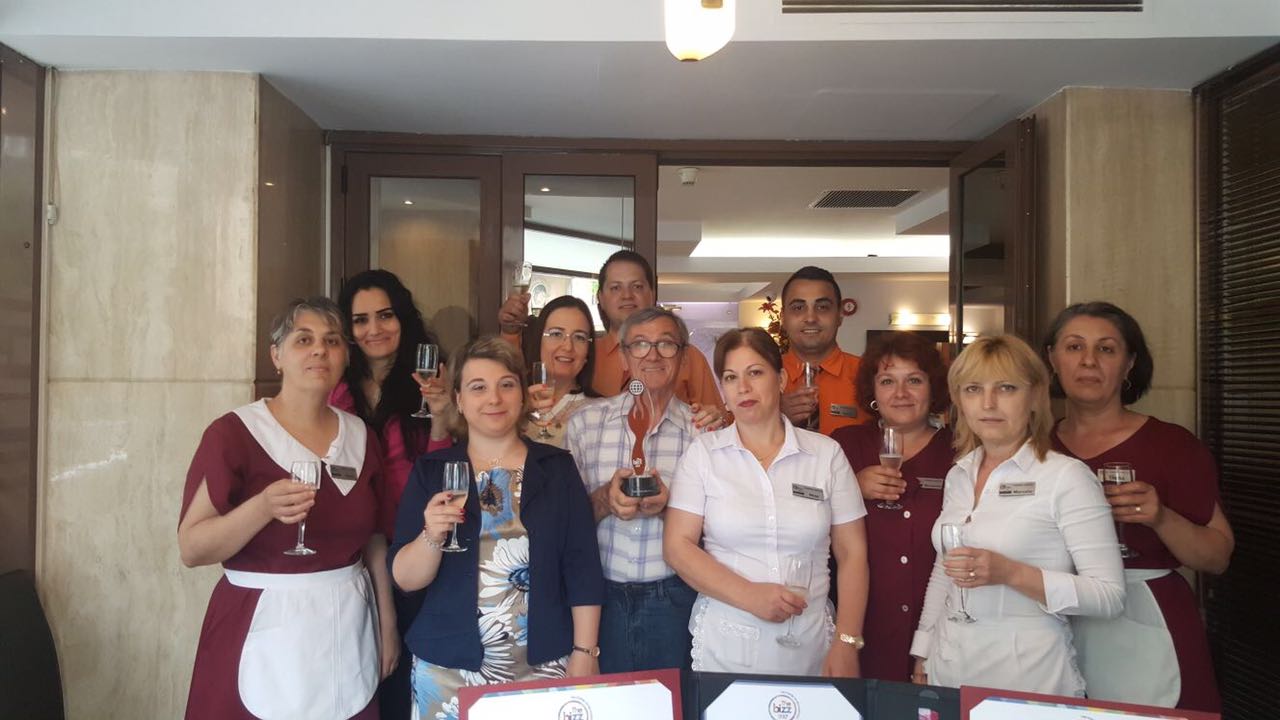 Tempo Hotel Bucharest was honored with the BIZZ 2017 "Business Excellence"
Tempo Hotel Bucharest, a three-star hotel in the heart of Bucharest, was presented "the BIZZ 2017 Business Excellence" award from the World Confederation of Businesses (WORLDCOB) for being an entrepreneurial company that works in an innovative, knowledgeable and systematic manner.
The hotel was opened as a Turkish investment in 2004 at the very beginning of Romania's tourism development, before the country's EU accession. The hotel is renowned for its happy and positive corporate culture, which is driven by a strong desire to create happiness for all its stakeholders.
Tempo Hotel's third party verified strong sustainability culture is driven by strong leadership commitment to sustainability, and supported by its highly engaged team members who strive to go the 'extra mile'. This small yet significantly impactful hotel is currently in the process of reducing its greenhouse gas emissions from 105
tones of CO2/year to 80 tones of CO2/year through energy efficiency, and has also recently signed off a carbon-offsetting project.
During a speech she gave at the press meeting for the BIZZ 2017 award, the owner-manager Dr. Gulen Hashmi said: "Tempo Hotel Bucharest proved to be a very fruitful investment, which recouped itself in only 5 years. We opened the hotel at a time when the market demand-supply dynamics were at its best. More importantly, at the time of our investment, we had the awareness that it's not how big companies grow, but rather how they grow big that matters for their sustainability. That's why our corporate vision centers around the happiness of all our stakeholders.
Our customers consistently mention that our staff members have smiles on their faces. We spend a lot of time finding the right staff and this effort has paid off over the years with our employee retention rate. 70% of our staff members have been working with us since the hotel opening in 2004. We strive to make our team members happy and when they serve from a happy heart, our guests feel happy too."
Dr. Gulen Hashmi further expressed: "During the economic recession that started off in 2009, we continued to attract guests because our guests appreciated the best-value-for-money we offered them. Over the past couple of years, we have been enjoying an average 34% repeat guest ratio".  The majority of Tempo Hotel's guests are Romanian visitors to Bucharest, followed by international tourists from Italy, Israel, the UK and Germany, respectively. The hotel caters mainly to corporate travellers although over the last couple of years, the hotel has been witnessing an increase in the number of leisure travellers.
Tempo Hotel Bucharest is delighted to be a member of WORLDCOB, which, as an international business organization, aims to recognize, motivate and stimulate leading companies from around the globe with the most important business award in the world, THE BIZZ.
Dr. Gulen Hashmi further expressed: "We are proud to be presented the BIZZ 2017 award by WORLDCOB, and feel privileged to be in the WORLDCOB family. We will do our best to contribute to WORLDCOB's novel value creation and networking initiatives worldwide, especially in the fields of CSR and sustainability" said Dr. Gulen Hashmi.
About Tempo Hotel Bucharest:
Tempo Hotel Bucharest has 31 guestrooms, each equipped with a minibar, cable TV, free high-speed Wi-Fi internet connection, individually controlled air-conditioning and heating, direct-dial telephone, a safe and an electric kettle. Some rooms have terraces. The hotel's amenities include a breakfast room, business services, reception 24/7, concierge services, meeting room for up to 10 guests, a bar and an airport shuttle for a surcharge.
For information and media relations:
Dr. Gulen Hashmi +90 532 2618027, email: gulen.hashmi@tempohotel.com
For bookings and supplier relations:
Cristina Solomon +40 21 3101216, email: cristina.solomon@tempohotel.com