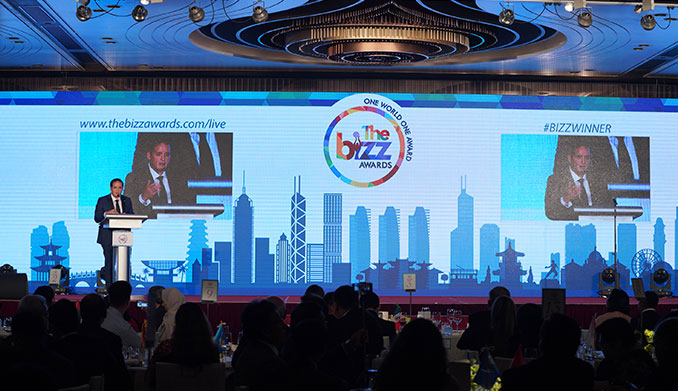 The Latest Edition of THE BIZZ Awards AMEA was Held in Hong Kong
THE BIZZ Awards AMEA 2018 was held in the city of Hong Kong where representatives of 50 companies from 31 countries around the world assembled at the Intercontinental Hong Kong Hotel on November 13 and 14 of the present year.
In this edition, WORLDCOB's Board of Directors recognized the individual achievements of a select group of entrepreneurs with special awards, in particular: Ali Khaled Alhashmi (UNION NATIONAL BANK) of the United Arab Emirates who received THE WORLD LEADER IN FINANCE AWARD. In addition, Juan Manuel Rodriguez Garcia (UNIVERSITY OF SOTAVENTO) of Mexico and Dr. S.R.K. Prasad (COIMBATORE INSTITUTE OF TECHNOLOGY) of India received, respectively, the WORLD LEADER IN EDUCATION AWARD for their contributions in the academic field.
On the other hand, Dato Sri Dr Ong Thiam Boon (SMART READER WORLDWIDE SDN BHD) from Malaysia and Abdoulaye Diaw (CABINET CONSEILS ASSOCIES EN AFRIQUE-SENEGAL "C2A SEN ") from SENEGAL received unique recognitions, namely, the GREATEST ENTREPRENEUR OF OUR TIME AWARD and the VISIONARY LEADER EXTRAORDINARY AWARD.
Companies like DANDY MART of Australia, "THE RESEARCH-CLINICAL CENTER FOR CARDIAC SURGERY AND TRANSPLANTOLOGY " LLP of Kazakhstan and LABORATORIES K-LLER CORP of Panama received THE BIZZ for the first time in history; while SMART READER WORLDWIDE SDN BHD of Malaysia and the UNIVERSITY OF SOTAVENTO of Mexico received the highest recognition granted by WORLDCOB, THE DIAMOND AWARD, for achieving THE BIZZ award for the 9th consecutive time.
The ceremony was led by WORLDCOB's Director of Quality and CSR, Daniel Javier, and headed by the members of WORLDCOB's Board of Directors, Jesús Morán (Co-founder and President) Michael Bellido (Vice-President), Nancy Branger (Director of Human Development) and Nicolas Caffaro (Director of International Relations).
Also, in attendance at this ceremony were representatives from the Foreign Consulates in Hong Kong; Mr. Nart Kolo (Consul General of Nigeria), Mr. Yobani Velasquez (Consul General of Colombia), Mr. Roderico C. Atienza (Consul of the Philippines) and Mr. Tolegen Ismailov (Consul General of Kazakhstan).
The next edition of THE BIZZ for the region of Asia, the Middle East, and Africa will be on November 26 and 27 in the city of Kuala Lumpur in Malaysia. Applications are available through the following link-> http://www.thebizzawards.com/