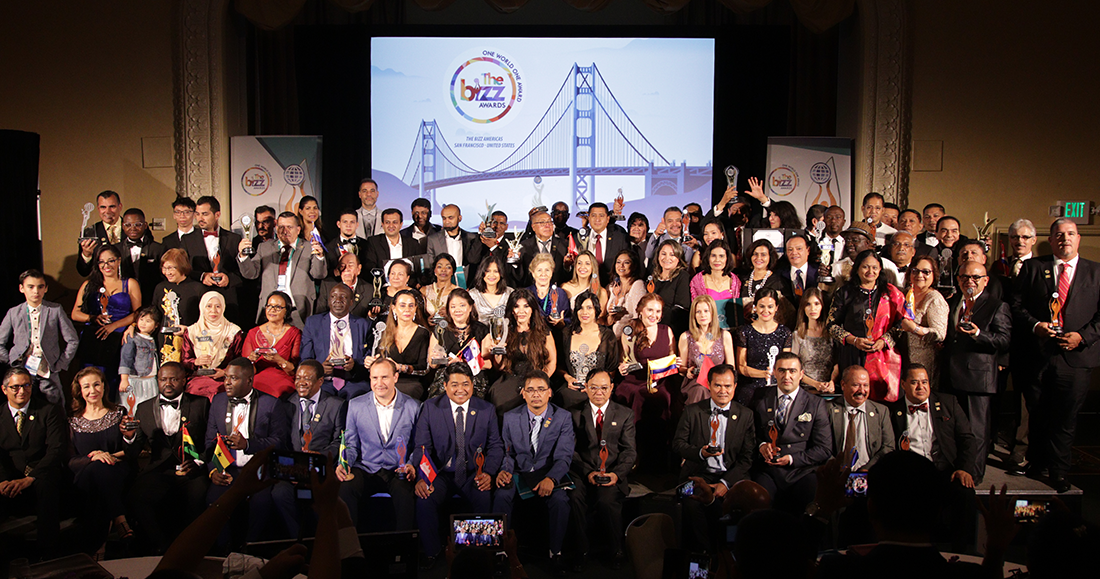 These are the winners of THE BIZZ Americas 2019
The most recent edition of THE BIZZ Awards for the region of the Americas took place in the city of San Francisco, California on August 23 and 24 at the InterContinental Mark Hopkins hotel.
During this edition, around 150 guests representing 63 companies were awarded with THE BIZZ in their different categories, at a two-day event where WORLDCOB Platinum Members were able to enjoy different activities designed to promote integration between entrepreneurs and business development.
In this edition, our Director of Human Development, Nancy Branger, conducted the Workshop "Neuroleadership to Empower Your Business Mind" for attendees, which provided tools for the continuous development of more effective business strategies to achieve the proposed objectives.
The award ceremony was presented by our Director of Quality and CSR, the Eng. Daniel Javier, and was attended by the Board of Directors of WORLDCOB, Jesus Moran, Founder and President; Michael Bellido, Vice President, Nicolas Caffaro, Director of International Relations and Kelly Taravay, Brand Director.
Companies with a long history in WORLDCOB such as SANAIRE S.A. OF C.V. of Mexico and J.C. & ASOCIADOS CONTADORES PÚBLICOS Y CONSULTORES S.A. from Costa Rica received the "DIAMOND" trophy, the second highest distinction awarded by the World Confederation of Businesses.
ANILA KALLESHI'S CENTER of Albania received the VICTORIOUS trophy, the third highest distinction, while DECO LOCKS INC from Panama and S.C. CORAL IMPEX, SRL of Romania received the PINNACLE trophy for winning THE BIZZ prize for the seventh consecutive time.
In this edition, more than 35 companies received THE BIZZ award for the first time, companies such as DANIELA FLAUSINO SOCIEDADE DE ADVOGADOS from Brazil, PIPE – PLAST COMPANY from KAZAKHSTAN, EL CUTO CONSULT LTD from Ghana and FONSECARQ & TECH – VIVIENDAS INDUSTRIALIZADAS of Ecuador, among others.
In addition, during the event and ceremony, the management and leadership of those companies committed to Corporate Social Responsibility certified by WORLDCOB with the CSR international standard, WORLDCOB-CSR, were recognized.  And companies such as J.C. & ASOCIADOS CONTADORES PÚBLICOS Y CONSULTORES S.A. from Costa Rica, S.C. CORAL IMPEX, S.R.L from Romania, COOPERATIVA DE PRODUCCION Y PRESTACION DE SERVICIOS CUAUHTEMOC S.C.L. from Mexico, ARIES FORTALECE TU PATRIMONIO SA DE CV of Mexico and COLEGIO ONLINE LTDA. from Chile were highlighted.
The next edition of THE BIZZ Americas in 2020 will take place in the city of Toronto Canada on August 28 and 29 at The Ritz-Carlton Hotel and will be supported by "The Business Events Toronto". Applications are currently open and can be accessed on our website at www.thebizzawards.com