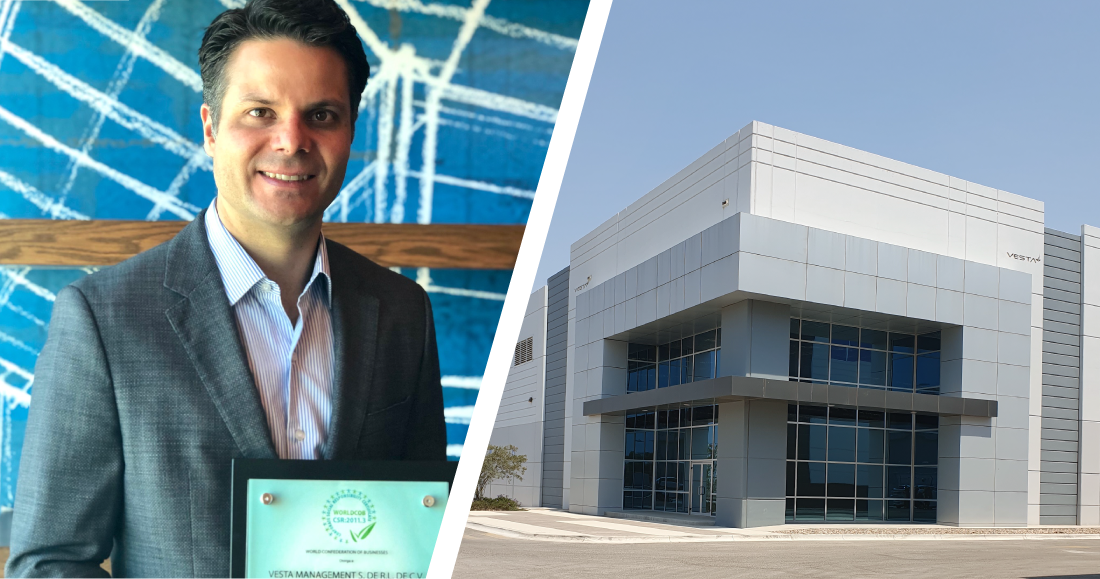 VESTA MANAGEMENT: "Corporate Social Responsibility is a transversal concept that affects different areas in company management"
VESTA MANAGEMENT of Mexico has obtained the WORLDCOB-CSR certification for its commitment to sustainability. For this reason, Lorenzo Dominique Berho, General Manager of the organization, gives us an interview where he expressed how his company has been impacted by a corporate social responsibility certificate.
Brief description of your company
Vesta is a developer, operator, and owner of industrial buildings and distribution centers in Mexico. As of March 31, 2019, Vesta had 187 properties located within modern industrial parks in 14 states of the Mexican Republic. The total leasable area was 2.83 million m² (30.4 million ft²). The company's customers operate in 21 different industries, notably as follows: aerospace, automotive, beverages and food, logistics and medical devices, among others. For more information, please visit: www.vesta.com.mx.
What are your company's goals?
Based on our strategic Vesta Vision 2020 plan, which began in 2014, our goal to grow in gross leasable area is projected for 36.6 million square feet. In 2014 we only had 16.6 million, which was the benchmark company in the industrial real estate area of Mexico. In addition, we are currently pursuing a culture with solid foundations in terms of corporate social responsibility (social and environmental), human rights, transparency, and risk management.
What are the competitive advantages of your company?
Strategic focus and discipline in its execution; locations in the most dynamic and strategic industrial corridors in the country; a quality portfolio and world class customers; a highly specialized and committed team, regional offices where our clients and prospects are located to offer the best service on time; continuous improvement of processes and training; and a service culture focused on our customer needs.
What aspect do you think CSR improves in companies?
Corporate Social Responsibility is a transversal concept that affects different areas in company management. However, to guarantee its permanence and support in companies, it is necessary to generate basic activities related to the core business of the company and, above all, it implies the commitment of senior management to ensure proper implementation of its principles. It crosses the boundaries of the company or organization, that is, it involves all its stakeholders -both internal and external- and these in turn impact many of the company's decisions. Finally, by working together with their respective stakeholders, a "Shared Value" is created, which means making decisions that benefit in both directions. This, in turn, transforms to generate a competitive advantage over a company's main competitors and, in this way, contributes to the management of sustainable development.
What value have you recognized in the process to obtain the WORLDCOB-CSR: 2011.3 certificate?
For Vesta, it is extremely important to be consistent in whatever we do and say. For this reason, this certification grants us external recognition by an independent and fully accredited entity that endorses, through an on-site audit, the design, development and implementation of a social, environmental, and governance management system within the company and our respective stakeholders. Moreover, we discovered our areas of opportunities, and are already designing action plans to respond to each one of them.
What are the benefits of being CSR certified?
In general, being certified in Corporate Social Responsibility…
Contributes to the reputation of a company.
Generates greater trust and credibility between a company and its stakeholders.
Contributes to productivity and satisfaction, increasing loyalty, commitment, and the motivation of stakeholders.
Offers competitive advantages over those companies that do not possess such environmental, social, and governance strategies.
What is your message for companies interested in obtaining a certification in Social Responsibility?
In general, having a sustainability management system (with aspects of social, environmental, economic, governance, and integrity) can guarantee greater competitiveness, reduce risks and, above all, improve the management of an institution. This is because to obtain a certification, the company must guarantee that it will comply with the applicable legislation and regulations in each country and/or state.
Finally, having a third-party certification allows for greater trust and credibility between companies and their stakeholders, which can translate into a better reputation overall.
Lorenzo D. Berho's image
Image Vesta Park Guanajuato 1