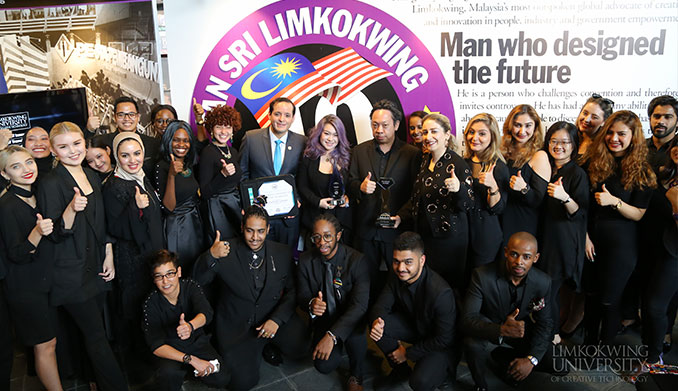 Top University with presence in Asia, Africa, and Europe receives THE BIZZ Award in a Privately Held Ceremony
Limkokwing University and its founder received honorary awards from the World Confederation of Businesses in a privately held ceremony on November 12 in Malaysia.
The Co-founder and President of WORLDCOB, Jesús Morán, arrived in Kuala Lumpur, capital of Malaysia, where he was received by Dato' Tiffanee Marie Lim (VP Brand Creativity and Talent Development) and Dato' Sri Timothy Limkokwing Jr (Centre for Content Creation CEO) in representation of Tan Sri Dato' Sri Paduka Dr Limkokwing, head of the organization, who, in addition, received the LEGEND IN INNOVATION AWARD, a unique and special recognition created by WORLDCOB to honor his career and accomplishments achieved over the past 40 years.
Similarly, Limkokwing University received THE DIAMOND AWARD, the highest recognition to date, awarded by the World Confederation of Businesses to companies that have been awarded THE BIZZ in nine consecutive opportunities.
"This is a tremendous recognition for a legend that has paved the way for many more to come," said Dato' Tiffanee after accepting the award.
Limkokwing University is currently undertaking projects to inaugurate head offices in 4 new countries for the upcoming year, namely, Nigeria, Namibia, Uganda, and Zambia.
[kad_youtube url="https://www.youtube.com/watch?v=NXlFqRG7knU&t=13s" ]